Sky Sports Scout - Valmir Berisha
Sky Sports Scout is where we scour the globe looking for the best talent. Next up is Valmir Berisha.
By Sky Sports Scout - Tweet me: @skysportscout
Last Updated: 21/05/14 12:10pm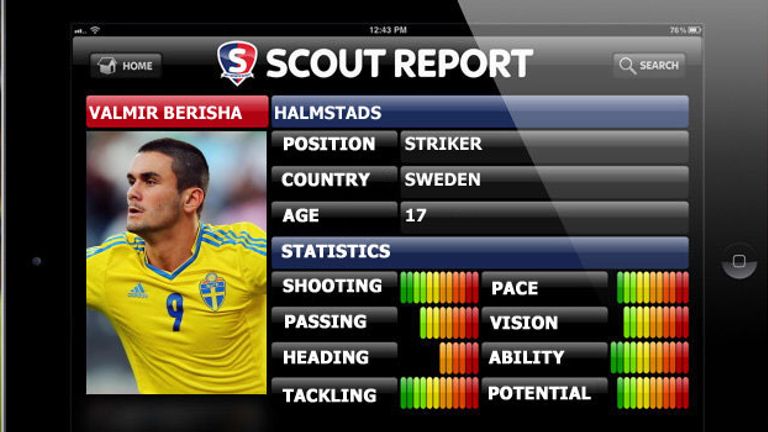 Our scout will report back and you can comment on what you think of their appraisal.
You can only nominate a player by emailing here, including the word 'Scout' in your subject line, and please check to make sure we have not already covered the player.
You can also now interact with the scout via his Twitter feed! You can get in touch with him and interact here or just search for @skysportsscout.
The latest player to be spotlighted is Swedish starlet Valmir Berisha.
The scout reports...
You get many players branded the 'new' and then add a name of one of the world's top footballers, and that is happening in Sweden - but we look to see whether Valmir Berisha could very well be the 'new' Zlatan Ibrahimovic.
Like Ibrahimovic, Berisha has strong Eastern European links - indeed he was actually born in Kosovo before moving to Sweden aged just two.
Berisha's footballing talents were soon picked up on by Halmstads, who have brought him to the edge of their first team.
But it is not with Halmstads where Berisha has caught the eye of what seems every major club in Europe - it is with Sweden's Under-17 side.
Berisha, who turned down Albania to play for Sweden, was picked for the Under-17 World Cup and he took the tournament in the United Arab Emirates by storm.
Berisha finished with seven goals, including one back-heeled goal which had people raving about his astonishing skill.
Now having returned from international duty, Halmstads are desperately trying to convince him to remain with them and continue his football education - but with Real Madrid, Juventus, Manchester United and Arsenal just some of the clubs interested, the pull for him to leave is huge.
It is no surprise when you see Berisha in action. He is yet to be tested against anyone other than his age group, but he does look outstanding.
Standing at nearly 6ft, he is strong but it is his close control and eye for goal that stand him out. Good in the air but clinical, it is very easy to see why he is often likened to the mighty Ibrahimovic, and the clubs watching him can clearly also see that.
The scout says...
Despite looking likely to leave Halmstads, Berisha says he wants to join a club where he can learn but also play from the off.
Because of this Berisha has already turned down trials at Man United, Arsenal and Real Madrid, as he wants to make an instant impact at the club he joins. It will be intriguing to see who will win the race for his signature.
The Scout rating...
Shooting: 7 out of 10
Passing: 7 out of 10
Tackling: 5 out of 10
Heading: 6 out of 10
Pace: 7 out of 10
Vision: 7 out of 10
Current ability: 7 out of 10
Potential ability: 10 out of 10
OVERALL SCOUT RATING:56/80
Current value: £2million
Potential value: £70million
Your opinion...
You have read our opinion of Valmir Berisha - now we want your views. Have you seen Berisha in action? Do you agree with our assessment? Do you think he will make it?
Get in touch, either using the form below, email or the scout's Twitter feed - @skysportsscout.
Pick your Sky Sports Fantasy Football team for the chance to win over £100k in prizes. Play for free here.