Fine margins
It's a weekend of close calls as Premier League crunch time intensifies, says Paul Merson.
Last Updated: 26/04/13 1:37pm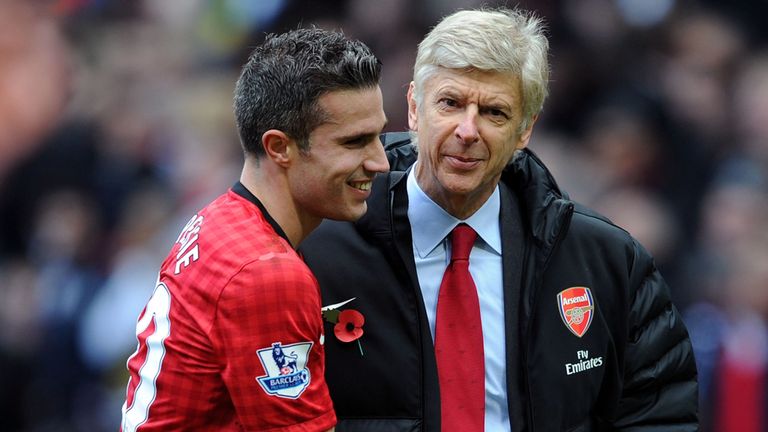 As ever, you can follow all the Premier League action this weekend on Sky Sports.
We asked Soccer Saturday expert Paul Merson to cast his eye over another eye-catchling list of fixtures and give us his verdict on where the games will be won and lost.
Every week he'll be here on skysports.com to share his views on who he expects to be the winners and losers of the weekend.
So read on for his shouts and don't forget to let us know your views via the comments box...
Ford Super Sunday: Arsenal v Man Utd
3.30pm, Sun, Sky Sports 1 HD
If Robin van Persie plays in this match, I don't see him getting a good reception - but I'd be surprised if Sir Alex Ferguson picks him. They've just won the league and I don't see the point of putting him through that.
All the United lads were out the other day partying having won the league and rightly so. When you've won the league you can go out and think 'we'll win this game and play free-flowing football' but I think Arsenal have too much to play for and I don't see them losing. I think it's going to be a draw.
Arsenal are in a position where they can't afford to lose this football match. The loss of Olivier Giroud to suspension is a massive problem, though, because he's the focal point of their attack. Let's hope Van Persie doesn't come back and stop Arsenal finishing in the top four! He should win the PFA Player of the Year in my opinion.
PAUL PREDICTS: 1-1
Monday Night Football: Aston Villa v Sunderland
7pm, Mon, Sky Sports 1 HD
Sunderland will be alright in my opinion because they've just gone bang-bang to get a quick-fire six points under new manager Paolo Di Canio.
For Villa, it could be a free swing if Tottenham beat Wigan - or Paul Lambert's men could start the game in the bottom three should the Latics prevail at the DW Stadium.
Lambert has had to play the youngsters because he's not been given a lorry-load of money and I've always said that if they can stay in the league this year then they'll be so much better next year.
Fair play to the Sunderland board because I'll hold my hands up and say I wasn't sure about the appointment of Di Canio and he's pulled up trees, if we're being honest. It's happened an absolute treat. His enthusiasm is second to none.
PAUL PREDICTS: 2-1
Ford Super Sunday: Reading v QPR
1pm, Mon, Sky Sports 1 HD
I think QPR have been a little bit unlucky. The most important thing Harry Redknapp wanted to do was give them a chance and at one stage he certainly did that. The problem now is what to do with all their players when they go down to the Championship. Do you keep all the players and let them prove that they can get them out of that league, or do you sell them all and start again?
Reading have had a good go but sometimes you have to just hold your hands up and admit that the squad wasn't good enough. They won three games before the January window and only went in for a couple of players, didn't get them and that was it.
PAUL PREDICTS: 2-2
Wigan v Tottenham
PAUL PREDICTS: 1-1
If Wigan win this game, they are right back in the relegation fight. I think this is another game they can't afford to lose, which is good for Arsenal. For Spurs, if you want to be top four material then you have to win football matches like this and they'll know it's a must-win rather than relying on Arsenal not getting something against United.
Wigan played very well at the Etihad Stadium but got nothing from the game and that's been the worry for them all season. I hope this is a draw. Tottenham could nick it but I've got to go for the draw.
Chelsea v Swansea
PAUL PREDICTS: 3-0
I don't give Swansea a chance here. I've watched them a couple of times recently and they're completely on holiday. I think they might lose a few players in the summer and they have to hope Michael Laudrup buys well out of Spain again.
This is a massive game for Chelsea because they go to Old Trafford next up. It looks like they'll be in the final of a European competition, too - not the best one but that's all you can do. It'll have been physically draining for them but mentally inspiring.
Stoke v Norwich
PAUL PREDICTS: 2-0
They both had massive results last week. If they hadn't have gone the right way then this game may well have been game of the weekend.
Norwich have had a strange campaign. They've had about three seasons in one. They went on a long run of not being able to buy a win, then a sparkling run of form followed by another barren spell. Overall, though, they'll be delighted with their efforts.
Stoke play to their strengths. They're a team without a lot of stand-out individual players. Ryan Shawcross and Robert Huth have been great together but in general they've struggled recently. I think last week's result will have eased the pressure, though, and I see Stoke winning comfortably.
Newcastle v Liverpool
PAUL PREDICTS: 2-2
Without Luis Suarez, I don't see Liverpool having much chance of winning this game. The team is all geared to play around him and he touches the ball 20 or 30 more times than he would in a team that was less focused on one player.
Newcastle were doing really well last year but I said at the time that I wouldn't be surprised if they finished in the bottom 10 this year. They were punching well above their weight. They've got some decent players but you wonder why they aren't bringing loads of kids through because it's such a big catchment area.
I think it'll be an open game again.
Southampton v West Brom
PAUL PREDICTS: 2-1
West Brom will be keen not to let it slip now because they've been there or thereabouts all season. Their problem next season is that they'll presumably be without the services of Romelu Lukaku next season. You look at him and you look at Chelsea and you think he might be in their team next season.
The thing with West Brom is they'll be desperate to finish as high as possible because it makes a massive difference financially to a club like that. It'll be another player, or at least another one's wages.
As for Southampton, I've been impressed with them. They play a good squeezing game and in Luke Shaw they have a real starlet at left-back. He's a very good player and if he keeps his head screwed on and stays injury-free, he could be an England player for a very long time.
Everton v Fulham
PAUL PREDICTS: 3-1
Everton aren't really in the Champions League race at this moment but they'll still be looking to win as much as they can in order to cement their chances of finishing above Liverpool.
Fulham did really well with 10 men against Arsenal. You thought the Gunners would rip them to shreds but it never materialised. They've got some solid players and then Dimitar Berbatov is the talent.
Man City v West Ham
PAUL PREDICTS: 3-0
West Ham have done brilliantly and I don't think they've been given enough credit. It's been forgotten that they came up through the play-offs behind Reading and Norwich and they're now above both of them. I think that's a great achievement.
Manchester City will turn it on for their fans at home, though, and I see a routine afternoon for the former champions.