Stunning swan song
Merse predicts a big send-off for Fergie, plus vital points for Newcastle, Norwich and Sunderland.
Last Updated: 10/05/13 1:03pm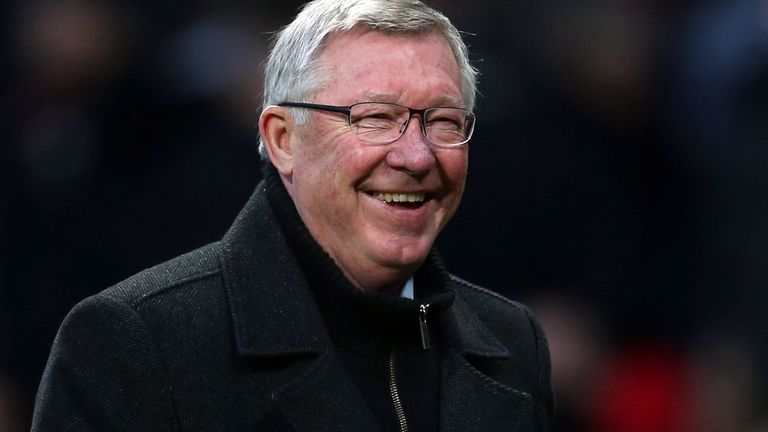 As ever, you can follow all the Premier League action this weekend on Sky Sports.
We asked Soccer Saturday expert Paul Merson to cast his eye over another eye-catchling list of fixtures and give us his verdict on where the games will be won and lost.
Every week he'll be here on skysports.com to share his views on who he expects to be the winners and losers of the weekend.
So read on for his shouts and don't forget to let us know your views via the comments box...
Ford Super Sunday: Man Utd v Swansea
3.30pm, Sun, Sky Sports 1 HD
Sir Alex Ferguson's retirement was a real bolt out of the blue and I was shocked to see him end his career.
I can't speak highly enough of the man. I remember when I was manager of Walsall, I rang him about a player and he rang me back in the car on the way to work and he was on the phone to me for about 30 minutes. He was asking me about the job and how I was finding it.
He'd offer advice on players that would or wouldn't be good for me and he was a different class. I'd ring other managers who were nowhere near the same class as him and they wouldn't even bother ringing back. He would do though, which is unbelievable.
His final home game will be a big occasion and you couldn't pick more comfortable opponents than Swansea. I can't work out how they beat Wigan in midweek because they never looked like winning at all. Wigan gave them the points and it was weird to watch.
So I see Man United winning 4-0 or 5-0 on Sunday. The players will make sure they win this game well because the last thing Ferguson wants is to end his reign with a defeat at home. That would be a sad ending.
I think Man United will put on a show and batter these.
PAUL PREDICTS: 5-0
Ford Super Sunday: Stoke v Tottenham
1pm, Sun, Sky Sports 1 HD
A draw is absolutely useless to Tottenham on Sunday, so this should be a very good live game.
A few weeks ago Spurs had Champions League football in their hands and then lost at home to Fulham, a team that can't beat anybody away, and slipped up against Wigan and Everton. If they don't make the top four they've got to look at themselves and not anybody else.
If Wigan had beaten Swansea then it would have made the Arsenal-Wigan game very interesting and could have put Tottenham in the driving seat to finish fourth, but now I see Arsenal and Chelsea finishing above them.
A 0-0 draw would be pointless on Sunday and they've got to go there and open the game up and risk losing 5-3. Stoke are safe now, so they'll be feeling pretty upbeat and as a result it'll be a good match to watch.
Emmanuel Adebayor has taken a lot of stick this season, but I think in the second half against Chelsea he looked unbelievable and was back to being the player he was against Arsenal. The frustrating thing about him is why he's not like that all the time. If he plays like that again I think Spurs should win.
I don't often go against Stoke at home, but I just think Tottenham HAVE to win the game and will take mega chances to do so. Stoke won't be strong enough on the break to punish Tottenham so I predict an away win.
PAUL PREDICTS: 1-3
Ford Football Special: Aston Villa v Chelsea
12pm, Sat, Sky Sports 2 HD & Sky 3D
If Chelsea had beaten Tottenham then Champions League football would have been wrapped up and they could focus on the Europa League Final. Rafa Benitez could have rested the whole team - and I still think he will make a few changes - but they definitely need a result at Villa Park.
They are three points clear of Tottenham with a better goal difference, but Spurs have an easier game on the final day - so I reckon a point here is essential for Chelsea. To be honest, I think a point for both teams would be ample. In my eyes Aston Villa are safe now because I can't see Wigan beating Arsenal and closing the five-point gap.
I've not been surprised by Villa's good form. If you look at the whole season, they had a horrible run around Christmas when they got battered a couple of times but they haven't really been slaughtered apart from that. This team shot themselves in the foot a lot, that was their problem, but they've addressed it now and it's no surprise to see them climb the table.
This should be a good game because Villa always give as good as they get going forward, even at Old Trafford the other week, and I expect an open game. Frank Lampard should start and he needs a goal quickly to equal Bobby Tambling's Chelsea scoring record. I don't see him being there next season, so he might only have a couple of games to do it.
But even with a few changes, Chelsea should be good enough to get a result. A draw would suit both teams.
PAUL PREDICTS: 2-2
FA Cup Final: Man City v Wigan
As a kid I used to get up at 8am and watch the build-up to the FA Cup Final all the way through to kick-off at 3pm. Nowadays I can't get excited about it. It's kicking off at 5.15pm, which is a stupid time, and it takes place before the season has finished. It's like they're doing everything they can to spoil it.
I used to get friends over to watch the FA Cup Final, but on Saturday I might not even watch it. I'll make sure I watch Aston Villa v Chelsea, which is a must-watch game for me, but I'm not even sure if I'll catch Man City v Wigan. I might be doing something else. For me, playing in the FA Cup Final was a dream. As a kid you'd play a game called 'Wembley' up the park and so to play there was incredible, but to be honest, this isn't even Wigan's second biggest game of the week.
I don't give Wigan a chance, but I don't think it will be a thrashing because Cup Finals aren't like that. We've seen Birmingham beat Arsenal and Cardiff take Liverpool all the way in League Cup Finals and I don't expect Wigan to get a total run-around.
But Wigan have let in two goals in each of their last three games and Man City always play well at Wembley. They always perform on that big pitch and I worry for Wigan. I can't see anything but a Man City win. I think it will be comfortable, but won't necessarily be a big scoreline. It'll be like when they beat Stoke a couple of years ago - it wasn't a big win but it was very comfortable
PAUL PREDICTS: 2-0 to Man City
Everton v West Ham
PAUL PREDICTS: 2-1
David Moyes has been at Everton for a long time and it was always going to come to an end sooner or later. I expect him to take Marouane Fellaini and Leighton Baines to Man United, so it'll be hard for the next manager, whoever it will be. Moyes has gone to one of the biggest clubs in world football so surely the Everton fans, who know their football, will appreciate that on Sunday. This will be a hard game, though, because Sam Allardyce looks at the prize money for each league position and uses that to motivate his players. West Ham won't lie down, but I just think Everton will sneak it.
Fulham v Liverpool
PAUL PREDICTS: 1-4
Wigan's defeat to Swansea is big news for Fulham because they were on a glass slope towards the bottom three. Losing at home to Reading is a 'holiday' result in my eyes and I can't see them beating Liverpool. It seems that Liverpool struggle if they don't score early - we saw that again against Everton - but I can't see them failing to win at Craven Cottage. I think they'll rip them to shreds.
Norwich v West Brom
PAUL PREDICTS: 1-1
After Wigan lost to Swansea, I think Norwich, Newcastle, Sunderland and Southampton just need a point - and I think they'll all get it on Sunday. West Brom are a bag of Revels - they tore Southampton to shreds and then lost to Wigan at home - and so Norwich will look to get the point they need. I think they're good enough to make sure of their safety on Sunday.
QPR v Newcastle
PAUL PREDICTS: 1-1
If Wigan had beaten Swansea we'd have got two weeks of absolute drama, but now I think Newcastle are a point away from safety. Personally, I don't see QPR losing this game but I think a draw would see Newcastle safe because I can't see Wigan getting anything at the Emirates on Tuesday night. I think Newcastle will get the point they need to survive - but they can't afford to lose this because Wigan could definitely get three points on the final day.
Sunderland v Southampton
PAUL PREDICTS: 1-1
If Wigan had won in midweek then this would have been the biggest game of the season because the loser would have been favourites to get relegated. But now I can't get excited about it because I think a draw pretty much puts both of them safe. OK, you might say both sides won't want to take a chance and will want the three points, but as the game goes on a draw will feel like a good result for both managers. If Wigan manage to beat Arsenal AND Villa in the final two games then they'd deserve to stay up! I think these two will see out another draw.