Paul Merson says Benteke and Suarez exits would cause huge damage
Paul Merson says Villa may go down and Liverpool won't reach the top four without their star strikers.
Last Updated: 11/07/13 5:18pm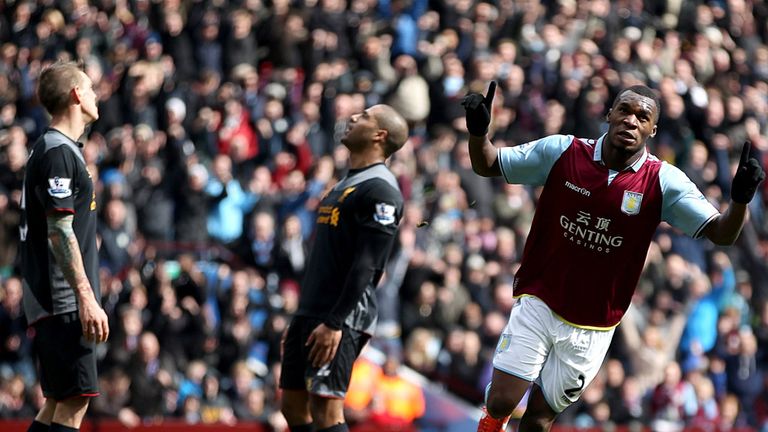 So now the club has to weigh up what they're going to do. They could sell him for a lot of money (and they're talking about £25million, which is a LOT of money) in the belief that he might not play so well again next year.
If they keep Benteke I think they'll be alright because you don't see many teams in the bottom three with a 20-goal-a-season striker, but if they sell him then Aston Villa will be in a relegation battle.
So that's the big gamble. They could take the £25million now, but if they go down it could cost them £100million. And if they wait until next summer he might only be worth £7million.
This is a real horrible one for Paul Lambert and you wouldn't wish it on any manager. The owner of the club will be sat there thinking "I bought this lad for £7m and I can get £25m", but how do you replace him? I can't see Villa going out and spending £15m on a player.
Tottenham are the favourites to sign him and he might do quite well there. With Aaron Lennon and Gareth Bale on the wings getting crosses in, he could be a success.
He'd certainly be more of a success there than he would at Arsenal.
I don't think he's good enough to play for Arsenal. I don't mean that in a horrible way, but I don't think he's clever enough to play for a team that dominates football matches and play in the opposition's half for 75 per cent of the game.
Villa get attacked and opposition sides tend to leave a lot of space in behind and that suits him better. Arsenal are looking at people like Gonzalo Higuain and Luis Suarez, so I'd be shocked if Benteke went there.
I don't see him going to Chelsea, either. I don't want to say he's not good enough, it's just that his game is not right for that club. It's like Demba Ba; I don't think Chelsea suit his game either.
He's also been talked about as a potential replacement for Suarez at Liverpool, but you're talking about chalk and cheese there.
I can only wish all the best to whoever takes his place at Anfield... it's like trying to replace Sir Alex Ferguson at Man United. I wouldn't fancy it!
Sorry
If Liverpool do lose Suarez this summer, then I don't know where they're going. You have to feel sorry for the fans because it's a massive club and all of a sudden people want to leave left, right and centre.
Admittedly he has changed his tune a bit in recent weeks. When he went over to Uruguay he was quoted as suggesting that he wanted to get out of Liverpool, he had a pop at the English media and said people were getting on his back. It seemed to be everybody else's fault but his.
He thought he was going to Real Madrid or somewhere like that, but if I'm being honest it seems like nobody wants him abroad. I don't think people want to pay big money, especially with some of the baggage that comes with him.
All of a sudden he seems to have changed his tune to "I love Liverpool, but I want to play Champions League football". If he'd come out straight away and said that then I don't think you could argue - and Phil Thompson has said that all along!
He's been a sensation at Liverpool and I don't think you could argue with him wanting to move on. But even though he's changed his tune now, people will remember his original comments.
The Liverpool fans would go Radio Gaga, but I could really see him finishing up at Arsenal - and what a buy it would be for Arsene Wenger. He could end up with one of the top 10 players in world football. He would suit them perfectly, but Liverpool's fans would be fuming.
Best
If Liverpool can keep him then I don't see why Liverpool can't finish fourth, especially if they can deny Arsenal a big signing. He's the sort of player who's so good, you just don't know how far he can go.
However, if he leaves then they're a team looking at sixth or seventh. There's no chance of them getting in the Champions League. That's how big he is for them.
I know that people say that players are not bigger than their clubs, and I would go along with that, but Benteke and Suarez carry as much for their teams as any club that plays in the Premier League. The only other player that means as much to his team in Gareth Bale at Tottenham.
Man City's best player is Yaya Toure, but they'd be alright without him. Manchester United would be ok without Robin van Persie. You look at Jack Wilshere at Arsenal, but they played a lot of last season without him and got in the top four.
Benteke and Suarez are the biggest things at their clubs and make the difference between a lot of positions in the league. I can't wait to see what happens by the time the season starts.
Aston Villa will face Liverpool exclusively live on Saturday Night Football on August 24. Only on Sky Sports can you watch 43 live Premier League matches between August and December including every club twice, nine derbies and the big head to heads between last season's top four.