Paul Merson's Premier League predictions - Week 1
The Soccer Saturday pundit tips wins for Man Utd, Man City, Arsenal and Liverpool - but it's bad news for the promoted clubs
Last Updated: 16/08/13 4:08pm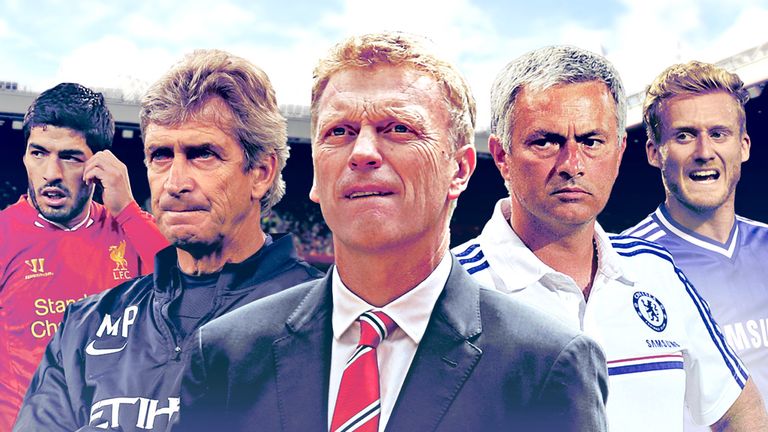 Both of these teams were like a bag of Revels last year; one minute they were great and the next minute they didn't look like the same team. If Man United and Chelsea win, then Man City really can't afford to drop points. People might say there's 37 games left, but you don't want to start giving your rivals a head-start, so I think this is a big game.
Newcastle have got to improve on last season (I know they had injuries, but doesn't everybody?) and I can't see how they can't get better. Demba Ba's departure knocked them sideways last year and I'm not sure they recovered from that, but they have good players with the potential to hurt Man City. But if I'm being honest I don't see anything other than a Man City win. They've bought very well and they did their business early so there was no messing about.
PAUL PREDICTS: 3-0
Chelsea v Hull (3.30pm, Sun, Sky Sports 1 HD)
I don't think Jose Mourinho could have hand-picked a better game than this to start the season. Hull have done well to get Jake Livermore and Tom Huddlestone and will be hard to break down; you can already see the pattern of the match with them getting 11 behind the ball and trying to do something from a set play. They can't afford to get beat fives or sixes on the opening day and some clubs need to get into a mentality that some games will be beyond them. This is a horrible start and they just need to avoid a drubbing.
But I know the way Mourinho plays and they're not usually a team that will go for the jugular. He'll make sure his team doesn't let in many goals and go from there. I can see this being a comfortable 2-0 win and I just hope it doesn't get silly.
PAUL PREDICTS: 2-0
Crystal Palace v Tottenham (12.30pm, Sun, Sky Sports 1 HD)
Crystal Palace will be happy to have their first game at home, but they're up against a difficult team. I think Tottenham have bought very well - Roberto Saldado is a very good player - and have gone under the radar this summer. Nobody seems to be mentioning them because of the Gareth Bale situation, but at the moment they are favourites to finish above Arsenal.
I don't see Bale playing until his future is sorted out in case he gets injured, but I don't think that will affect the team. His team-mates would all want to play for Real Madrid if they got the chance and it's not like he's kicking up a stink to try and get a move to Arsenal. They are player-for-player better than Palace and as long as their attitude is right they should have too much class.
PAUL PREDICTS: 1-3
Swansea v Man Utd (5pm, Sat, Sky Sports 1 HD)
Man United are renowned for starting quite slowly, but I don't think David Moyes can afford to start slowly this season. I know he has a six-year contract but you don't want to be up against it straight away. I find it very strange that they haven't bought anybody because if he doesn't buy anyone than this will be seen as Alex Ferguson's team, plus we saw Man City fail to strengthen when they won the league two years ago and they got caught up. In the past, Man United have been great because they've never stood still and I really believe in that.
I think this is a very difficult game for them. Swansea have already been playing competitive football, but in a way so have Man United because there's no friendlies for that club; they won't have been allowed to stroll around in their pre-season games. Swansea have bought well and tend to keep clean sheets, so I think they'll have another good season and this will be a really difficult game. I think Man United will just nick it though.
PAUL PREDICTS: 0-1
Arsenal v Aston Villa
If Arsenal got Luis Suarez they would be a massive threat to the Premier League, but right now the fans will turn up at the Emirates Stadium waiting to see what happens. They were promised that the club would sign some big players, but they've got nobody; just one free transfer. I went out and bought a sandwich yesterday, so I've spent more money than Arsenal over the summer!
The fans will feel hard done by because they've lost players to lesser teams. Gonzalo Higuain went to Napoli, Gustavo has gone to Wolfsburg and something has gone horribly wrong with the Luis Suarez thing. It's embarrassing and the fans won't be happy. You wouldn't want to go 1-0 down here because Villa have pace on the counter-attack with Christian Benteke, Andreas Weimann and Gabriel Agbonlahor. If Arsenal score first then I see them winning quite easily, so the first goal will be important. I'll go for a narrow home win.
PAUL PREDICTS: 2-1
Liverpool v Stoke
I'm interested to see how Stoke play because Mark Hughes has said he doesn't want to play the Tony Pulis way. But you can only have a passing team if you've got passing players. Peter Crouch and a couple of others are very comfortable on the ball, but you can't turn a team into a passing team if they're not passers. That process will take time, but Hughes can't afford to start slowly because all eyes are on him. I think he's a good manager but people remember the QPR situation and a good start is important.
But I don't think he'll get the result. I think Liverpool are decent and I just wonder if they can handle the pressure at home. Last year if they didn't score early then they tended to struggle and often drew 0-0 with lesser teams. If they score early they can rip a team, but they get very nervous at home if they don't score in the first 25 minutes. However, I think they have gone under the radar a little bit and will score goals this season. I think they'll win this.
PAUL PREDICTS: 2-0
Norwich v Everton
I find this game very interesting because Everton fans will be waiting to see what their new manager can do. They've played great football over the last few years and have done well and then Roberto Martinez has come in and started buying players from Wigan - a team that were relegated and have been in the bottom four for as long as you can remember. I think that buying players you know is sometimes a bit lazy and the manager will be under a bit of pressure.
I'm going for a draw in this game. I think Gary Hooper is a good signing for Norwich because he's a good finisher, but he'll be living on scraps at Norwich instead of the 50-chances-a-game he got at Celtic. Chris Hughton is a good manager and I think this game will be a draw.
PAUL PREDICTS: 1-1
Sunderland v Fulham
I wonder how quickly all of Sunderland's new players will buy into the Paolo Di Canio philosophy? He's a fitness fanatic who trains hard, which is a good thing when you're winning every week. If you start losing then players will wonder why they're doing it and he needs a really big start to the season. If you take away the Newcastle result last year he hasn't had many great wins so he needs to get off to a flyer.
I'm not sure about Fulham away from home, but Adel Taarabt, Dimitar Berbatov, Darren Bent and Bryan Ruiz can rip any team apart. Both of these teams could get sucked in if they have a bad start and it's important to make sure you're not on a downer after these first three games before the international break. Both sides will be looking to get on a high and I'm going for another draw.
PAUL PREDICTS: 1-1
West Brom v Southampton
This will be a tight game between two teams who had good seasons last year and you wouldn't be surprised which one finishes above the other this season. Rickie Lambert will be on a high and a comedown at the same time after his England debut on Wednesday night and everybody will be looking at him. The newspapers will be doing "Lambert watch" or whatever, so it'll be interesting to see how he reacts.
West Brom will miss Romalu Lukaku, but Shane Long is a good player and Nicolas Anelka is there now. I played with him at Arsenal and I thought he'd go on to be one of the best of the best, but you get to a certain age in football and you only get worse. As great as Ryan Giggs is, he's nowhere near as good as he was 10 years ago. It'll be interesting how much they use him because if he fires he'll do damage, but he's at the wrong age for me.
PAUL PREDICTS: 1-1
West Ham v Cardiff
This is a nightmare start for Cardiff because West Ham are pretty strong. They'll be sweating on Andy Carroll because Cardiff will keep it tight and he would provide an outlet. They can get the ball up to him in the box every two minutes and it'll be much easier for Cardiff if he doesn't play.
But I think West Ham will nick it anyway because they're a decent team at home and they'll give all of the big boys a game at Upton Park this year. I think Stewart Downing is a great buy for that football club, especially at that price, and I think him and Matt Jarvis will provide very good service. West Ham could have a good season this year.
PAUL PREDICTS: 2-0