Paul Merson's Premier League predictions - Week 11
Soccer Saturday pundit tips wins for Arsenal, Man City and Spurs on Super Sunday
Last Updated: 08/11/13 5:08pm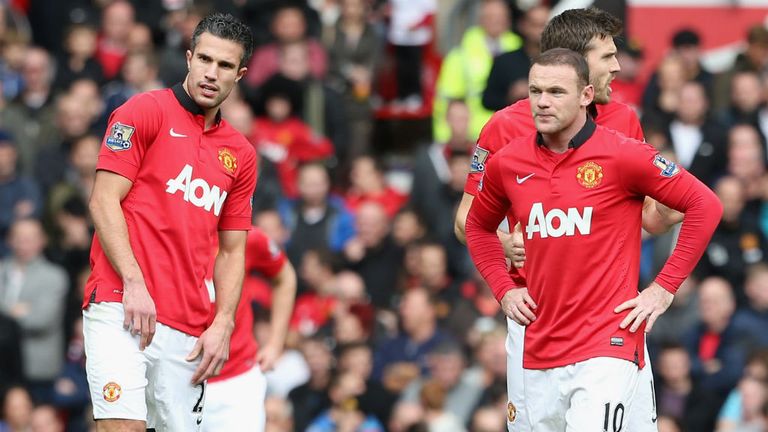 I can't see Arsenal losing this game and if you ask even the staunchest Manchester United fan then I think they would say they'd be worried. If you've watched Arsenal and Man United this season then you'd have to say that. Look at the results - Man United got battered by Man City, beaten by West Brom at home, drew at home to Southampton, fell over the line against Sunderland and probably should have lost to Stoke. They weren't very good in the second half against Fulham last week and against a not-very-good Real Sociedad they only won 1-0 over two games. If Arsenal click then I can see no way that Man United can win this. Their only hope is an unbelievable display from their two genuine world-class forwards Robin van Persie and Wayne Rooney - but will they get the ball because the midfield will be dominated by Arsenal?
I think Man United have got to change their team to accommodate Arsenal. David Moyes will be taking a big gamble if he plays 4-4-2 because even though you can beat Arsenal down the flanks, you risk leaving the two central midfielders exposed and they may not touch the ball.
Arsenal have had a big week and I don't worry about their physical fitness, but mentally they could be quite tired because you can't switch off for a second against a team like Borussia Dortmund. You can afford lapses against lower Premier League sides but their concentration levels will have been drained on Wednesday night. Despite that I don't see Arsenal losing. If Stoke can rip through Man United for 45 minutes then what can Arsenal do? I'm tipping a 3-1 away win and I honestly think that's the easiest call I'm making this week.
PAUL PREDICTS: 1-3
Sunderland v Man City (2pm, Sun, Sky Sports 1)
This is not a happy hunting ground for Man City. They have lost 1-0 there in each of the last three seasons, but despite the stats I'm sure Sunderland aren't looking forward to this one. I'm sure they'd rather be playing Crystal Palace at home, put it that way. I think Man City will end that run because they are just playing too well at the moment.
I also think it will be impossible for them to stop Sergio Aguero. I seriously don't know how anybody can stop him at the moment. I think him and Alvaro Negredo are looking like a very good partnership, but they're not the best in the Premier League just yet. I'd still give that accolade to Luis Suarez and Daniel Sturridge all day long, but I might change my mind by the end of the season if they keep up their current form!
PAUL PREDICTS: 0-2
Tottenham v Newcastle (11.30am, Sat, Sky Sports 1)
Spurs don't look like letting in a goal - but they don't look like scoring one either. It will be interesting to see what the crowd are like for an early kick-off; fans usually need a spark to make them cheer and sing, but Tottenham play at a very slow tempo and maybe need to pick their game up. They need to get the ball moving quickly. They were outstanding in the first-half against Everton and I can't remember a team dominating the football against Everton like that, but never looked like scoring and that's the problem.
I think they might just sneak a win here. Newcastle will be on a massive high after beating Chelsea, but only a few days before that they lost to Sunderland. That's why making predictions in Premier League football is impossible. They keep asking me to make predictions though, so I'll go for a 1-0 win to Spurs!
PAUL PREDICTS: 1-0
Norwich v West Ham (5pm, Sat, Sky Sports 1)
This is a massive game for Norwich. Whenever you get beat 7-0 it comes up as S-E-V-E-N on the vidiprinter and that doesn't help any manager. The fans will be on Chris Hughton's back a bit and you're always under pressure when you're near the bottom of the league, especially when you've just been on the wrong end of a big scoreline. I hope he is given time because he is a good manager and they've had very hard fixtures - Liverpool are the only team in the top seven they haven't played! I think they should be higher in the table. They should have beat Cardiff the other week and a result there might have made them feel a little bit different.
West Ham have kept a few clean sheets of late and have one of the best defensive records in the division away from home. However, I am going to go for Norwich to win 1-0 because I just feel they need it a little bit more than West Ham. The first goal in this game will be as big as any we've seen this season from these teams because it will probably settle the match.
PAUL PREDICTS: 1-0
Swansea v Stoke
Stoke can't pass the ball as well as Swansea can. Swansea have been doing it for years and Stoke have only just started, but this should be an attractive game. I don't usually go against Stoke, but I think Swansea will bounce back from their disappointment against Cardiff last week. Don't get me wrong, this will be a fiercely-contested game and I'm tempted to say 1-0, but I can see Stoke getting caught again if they are chasing the game late on.
PAUL PREDICTS: 2-0
Aston Villa v Cardiff
Cardiff are on a mega high after beating Swansea in the big derby match last week, but I've got to go for Aston Villa here. I don't normally go for Villa at home, but I think they have got to win this game and I think Christian Benteke could be the difference. Villa were unlucky at home to Everton because they started that game well and they drew 0-0 at West Ham last week, which isn't the worst result in the world. They haven't scored for four games, which is a worry, but I'll go for a 1-0 win. I've seen Cardiff play away a couple of times and they haven't been too impressive.
PAUL PREDICTS: 1-0
Chelsea v West Brom
I'm sure Steve Clarke will get a great reception on his return to Chelsea as he worked with Jose Mourinho during some of their best years. He has done a great job with West Brom, but I've got to go for Chelsea here. The Baggies got ripped apart at Liverpool the other week in a game where I thought they would do better and I think this could be a similar match. It sounds like Eden Hazard is going to play after missing the Champions League game, so that will only help their cause.
PAUL PREDICTS: 3-0
Crystal Palace v Everton
Everton got absolutely ripped in the first-half against Tottenham last week, but I think this game will be a walk in the park for them. I don't know where Crystal Palace are going to win their next game and it's a worry that they still haven't sorted out their new manager. Why didn't they ask Ian Holloway to stay a couple more weeks? Games are starting to run out for them and if the teams above them get a couple of results then they could be nine points adrift in no time. I have to go for an away win here.
PAUL PREDICTS: 0-2
Liverpool v Fulham
Liverpool got well beat by Arsenal last week. Luis Suarez had a couple of chances, but otherwise Arsenal were fairly comfortable in the game. I reckon they will bounce back and this is quite a nice game for them to have this week. I'll say they will beat Fulham 4-0 and I think I'm being kind to Fulham when I say that. I haven't been impressed with Martin Jol's side when they've played away from home for a long time.
PAUL PREDICTS: 4-0
Southampton v Hull
This should be a good game. Hull are one of the most organised teams in the league, but they played against nine men of Sunderland last week and didn't put the game to bed. I know they were 1-0 up and didn't need to chase the game, but they didn't even look like putting the game to bed. They won't let in a lot of goals, but they won't score many either and you're always in a game against them. I will just go for Southampton because Adam Lallana and Jay Rodriguez will be buzzing after getting into the England squad. I am a great believer that if you're playing well for your club then you should get in the squad.
PAUL PREDICTS: 1-0
Think you know better than Merse? Prove it with our Super 6 game and win £250,000
in £250,000