Ross Barkley was outstanding for Everton in draw with Arsenal, says Paul Merson
Paul Merson hails young midfielder Ross Barkley after he helped Everton to a 1-1 draw with Arsenal.
Last Updated: 09/12/13 8:24am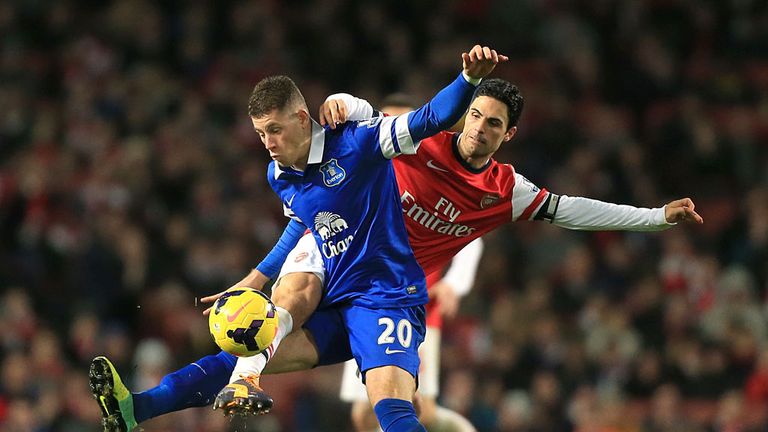 Barkley was handed the Man of the Match award for his performance in Everton's intense 1-1 draw with Arsenal at the Emirates, where he was influential in the Merseyside team's impressive passing game.
Read the full match report here
Merson said: "I thought he was outstanding. It's a hard position to play where he played today. You think it's a sort of free role that's easy, but it's the hardest position on the pitch and you've got to make things happen.
"To play there at a young age - usually you're about 27/28 when you're playing in that position - I thought he was outstanding and he'll get better.
"Sometimes he makes the wrong decision but of course he will, he's only young, but I thought he absolutely outstanding.
"He's got pace, he looks around and he knows everything around him. He thoroughly deserves the Man of the Match award.
"You can't teach people vision and today the simple stuff he did well and believe it or not, sometimes that's the hardest stuff.
"I've watched him a lot this season and he does run with the ball too much at the moment, but today he didn't do that, he ran at the right time and that means he's improving. What a talent and has every chance of being on that plane."
Positive for Arsenal
The Gunners took the lead when an unusually subdued Mesut Ozil nipped the ball in at the far post, but a potential seven-point gap at the top of the table didn't last long as Gerard Deulofeu scored a brilliant equaliser in the 84th minute.
Despite dropping points, Merson believes Arsenal can be positive that they didn't lose the game after being some way from their best.
"I thought this would be a hard game and they didn't play well today, but Everton didn't let them play. They never played well and they never lost," added Merson.
"They've played badly a couple of times this season, once against Aston Villa and once at Old Trafford and they lost both games, that's the positive.
"If you'd have said to Arsene Wenger after 15 games you're going to be five points clear on the first day of the season, surely he would have took that all day long."
Wide open
It what was another confusing weekend in the Premier League which saw Chelsea, Manchester United, Manchester City and Arsenal drop points and Merson believes the title race is still wide open.
"It seems that everyone thinks that Liverpool and Everton are fighting for fourth, but they're up there.
"Anybody can win it, we've seen what can happen with Man United this season, who would have thought in their wildest dreams that Man United would be this far behind.
"Everybody up there now will think they've got a chance of winning this league title especially because Man City can't win away from home for toffee. For me Arsenal have got every chance."