Paul Merson's Premier League predictions - Week 24
Merse expects wins for Newcastle, West Ham, Cardiff and Tottenham
Last Updated: 30/01/14 6:13pm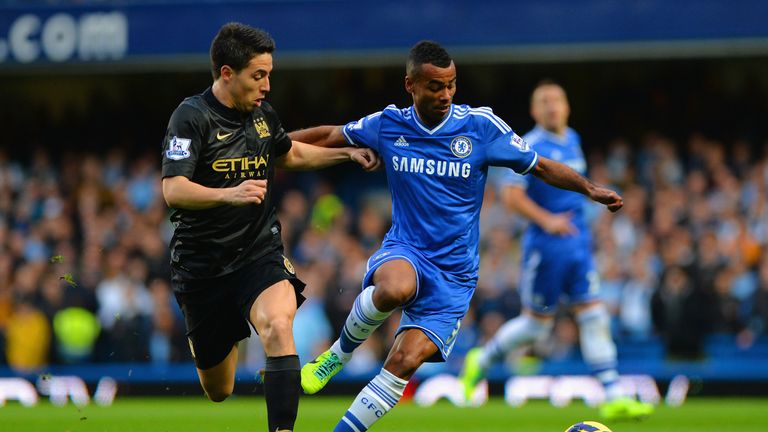 Surely Chelsea won't go to the Etihad and defend. For a start Man City have got no Sergio Aguero and they're a completely different beast without him. The two up front - Edin Dzeko and Alvaro Negredo - will really suit John Terry and Gary Cahill. They will play up against them, rather than dropping off into the hole like Aguero does.
As long as they go for it, then I don't see Chelsea losing. Obviously if they go and defend then Man City will eventually create enough chances to win it. But I've seen Man City several times and they can be very lackadaisical. Crystal Palace, Cardiff and even Watford have gone there and made chances and could have got results. For the big games, they usually tune in but it will be interesting to see what happens if they go behind against one of the top teams in the Premier League, especially a team like Chelsea who have got the players to catch them on the break.
PAUL PREDICTS: 2-2
Arsenal v Crystal Palace (3.30pm, Sun, Sky Sports 1)
I think this is a home banker. I'm not saying Arsenal are going to run riot and win 5-0 or 6-0, but I expect them to win by two or three. I have seen Palace a lot and they are very well organised and they caused problems at Man City, but they will have miles too much for them. Arsenal were disappointing in the first half against Southampton, but they came back and got a draw where a couple of years ago they'd have lost that game. They have not been playing well, have been falling over the line in games and they've been covering over the cracks. They need to start playing well again before the big games come up in February and they need to get their form in order and their players fit. I say Arsenal will win, but what Palace have done since Tony Pulis took over has been phenomenal; I'd be surprised if they went down.
PAUL PREDICTS: 3-0
West Brom v Liverpool (12.30pm, Sun, Sky Sports 1)
There are two bankers this weekend and after Arsenal, this is the other one. I think Liverpool are an absolute certainty to win this game. The lad at the back, Diego Lugano, is just not good enough and West Brom are crying out for Gareth McAuley to get back because him and Jonas Olsson are a really good central defensive partnership. Up front Victor Anichebe is decent, but he isn't going to score a lot of goals, Nicolas Anelka isn't the player he was and Saido Berahino is still a young lad - but it's defensively where I worry. Lugano doesn't have pace and I just wonder what Daniel Sturridge and Luis Suarez will do to him. They can rip him to shreds.
PAUL PREDICTS: 0-3
Newcastle v Sunderland
This is a big game and the pressure will be on Newcastle to win the game, especially now Sunderland are out of the bottom three. If this had been played four weeks ago when they were adrift there would have been major pressure on Sunderland, but the reins are off for them now. However, I think Newcastle are a good team. The sale of Yohan Cabaye was a no-brainer because it's a lot of money for a 28-year-old. The Newcastle fans won't like it, but from his perspective he's going home to a top team in his own country in a World Cup year. Newcastle will miss him, no question, but I still think they will have a bit too much for Sunderland. It should be a good game, though.
PAUL PREDICTS: 3-2
West Ham v Swansea
West Ham went and put 10 men behind the ball at Chelsea, which was the right thing to do, but it's far harder to go and win a football match - and that's what they have to do on Saturday. If they lose or draw this then their hard work at Chelsea will go out of the window; they'd have been better off losing that game and making sure they won this one. I think this home game might have come at the right time for West Ham. Just as Palace and Sunderland had good home games in midweek, I think this is the game Sam Allardyce would choose to play right now. Swansea will be nice and pass it around and you can get stuck into them. They've just had a win so there's no pressure on them and I think West Ham will just nick it.
PAUL PREDICTS: 2-1
Cardiff v Norwich
Cardiff have had two tough games against Man United and Man City and were always going to be in the bottom three by the time this game came along. Now they have to win and for me, if they don't win, I think it's goodbye. I would go that far because if they end up five or six points behind they won't have three wins on the trot in them. I like Ole Gunnar Solskjaer's signings; Kenwyne Jones, for me, hasn't really proved himself over a distance of time, but if you can get him going for six or seven games he could keep you up. I think this is a game they will have targeted and I think they'll win.
PAUL PREDICTS: 2-0
Everton v Aston Villa
Villa will be on a massive high after a big result against West Brom, which takes a lot of the pressure off them. Everton had a bad defeat in their derby, but when you're at the top of the table the name of the game is to bounce back and win straight away to make sure you don't fall out of the top-four race. Villa are a threat on the break and Christian Benteke has looked much fitter in the last couple of games, but I'm just going to go for Everton. However, I wouldn't be surprised if Villa went there and upset them.
PAUL PREDICTS: 2-1
Fulham v Southampton
In the first-half on Tuesday night, Southampton played as well as I've seen any team play for a long time. They were as good as it gets and absolutely ran Arsenal ragged in the first 45 minutes. Yes, Arsenal didn't get going, but they weren't allowed to get going. So Southampton were great, but let in two goals and didn't win which will be frustrating for them. However, Fulham need a win at home and that plays into Southampton's hands. I'd like to see Fulham get a win to ease the pressure on them at the bottom, but I just think Southampton will do it.
PAUL PREDICTS: 1-2
Hull v Tottenham
Tottenham had a man harshly sent off and a goal wrongly disallowed against Man City, but that just covers over the cracks. In a way, those incidents are a result for them because they would always have lost that game. If the first 30 minutes had been a boxing match they would have stopped it because Man City were all over them. Tottenham have reached a stage where draws are no good to them and they need to win games like this so they don't drift away in the race for the top four. I expect them to beat Hull who are on a slippery slope. They have lost four league games in a row now and I think this will be a fifth, which will be a nightmare for them.
PAUL PREDICTS: 1-2
Stoke v Man Utd
There's still a lot to be done at Man United. They have Robin van Persie, Wayne Rooney and Juan Mata in the team now, but the defence hasn't changed and neither has their midfield! I don't think Stoke will go down, but they are only a few points above the drop and are getting sucked into it. Their record at home suggests the Britannia is still a hard place to go - they've only lost there twice in the league this season - and they can't afford to lose this game. I don't like going against Stoke at home and will go for a draw.
PAUL PREDICTS: 1-1
Think you know better than Merse? Prove it with our Super 6 game and win £250,000