Paul Merson says that Tottenham were the better side despite losing 1-0 to Arsenal
Paul Merson says that Tottenham were the better side despite losing 1-0 to Arsenal.
Last Updated: 22/03/14 12:22pm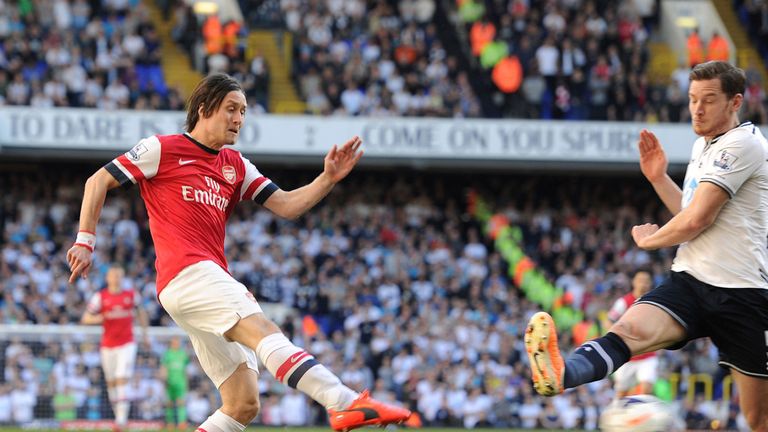 Tottenham responded well to the challenge and despite forcing Arsenal onto the back foot for the majority of the game, they could not breakdown Arsenal's defence.
And while Paul Merson was impressed by the rock-solid defence of Laurent Koscielny and Per Mertesacker, he says Arsenal will not win the title playing that type of football.
"If Arsenal play like that to the end of the season they won't win the league, that is for sure!" said Merson on Sky Sports.
"I thought they were average at best. They scored an early goal and then sat back and rode their luck. They are going to come up against better teams than Tottenham in the run in and if they sit back like that, well other teams will definitely hurt them.
"The two centre-halves were outstanding but you can't rely on that. Arsenal were quite paceless -they have not got a lot of pace in the team going forward without Theo Walcott. That made Tottenham push on even further and they pinned them in for long periods of that game.
"Soldado must have been sitting on the Spurs bench thinking 'I have never seen so many crosses go into the box for a Tottenham game and I am sitting on the bench'.
"Tottenham deserved a draw, you would be mad to sit here and say Arsenal deserved to win that match. I though Tottenham were the better team over 90 minutes but they just did not have that cutting edge, that player in midfield who is going to put the ball through the eye of the needle for you.
"Tottenham are on a bit of a bad run at the moment and you always run out of gas when you are losing matches. However I don't think tiredness is an excuse, I think they ran out of ideas, they could not break down the two Arsenal centre halves and got lost in the end."
Defensive frailties
Graeme Souness was impressed with Arsenal's defence too and says the Gunners of a few years ago would not have won this type of game.
"I have not seen Arsenal play like that for a while - they were on the back foot for the vast majority of the game," added Souness.
"A stat is that they had 41% of the possession - the least they have ever had in any game and I think Wenger will be delighted with that result. The resilience they showed in defending their box was excellent - Mertesacker and Koscielny will need to go home with a paracetamol each tonight because they put their heads on everything.
"It was an unusual performance from Arsenal but they will look to the game in midweek against Bayern Munich as being really hard both mentally and physically. I think that is why they played the way they did today. The Arsenal of the last few years, if they were not dominating the game, got beat."
Souness also believes that Tottenham boss Tim Sherwood will be able to take some consolation from the loss.
"I think Tim Sherwood would be quite pleased tonight - he won't be pleased for losing a derby game but coming into this game he has been under a lot of pressure; they concede a goal within the first couple of minutes but he got a response from his players.
"They did not hide and I think that will be the most encouraging thing for him and the Spurs supporters. They were on the front foot for the vast majority of the game - if not the whole of the game.
"The main threat from Spurs came from Adebayor who I thought worked his socks off today. I have not always said that about him - it was just as well that Mertesacker and Koscielny were up to it today because they stood up to everything that came into the box."