Peter Beagrie
Football League Expert & Columnist
Power transfers
Beags blogs on Gus Poyet's recruitment drive, Bolton's dodgy form, and the virtues of Norwich's Harry Kane.
Last Updated: 12/09/12 1:04pm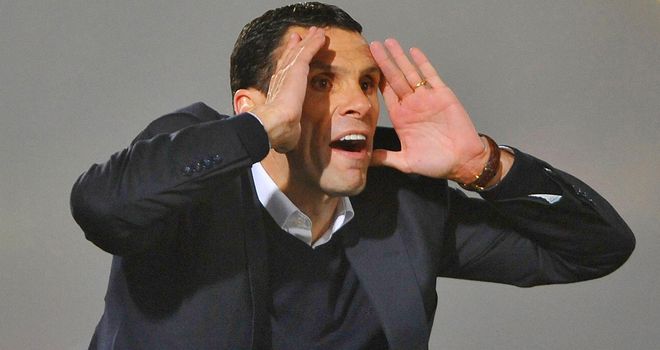 Peter Beagrie is here every week on skysports.com answering YOUR Football League questions.
The former winger, who played over 770 games, representing clubs in all four tiers of the English footballing pyramid, including Manchester City, Everton, Bradford, Sheffield United, Scunthorpe, and Grimsby, forms part of the Sky Sports punditry team for all the big matches in the Championship, League One and League Two.
So if you have a poser for Peter, whether it's about your team, a player, match or incident that has caught your eye, or a wider point on the Football League, make sure you send it in.
Read below for this week's column where Beags gives his take on Brighton's new boys, Birmingham's early-season toils, and the Championship's most underrated player...
Send your question to Beags
1. Mail them to skysportsclub@bskyb.com
2. Use the feedback form at the bottom of this page
TIME FOR CHANGE?
Hi Peter, Is Owen Coyle the right man to lead Bolton back into the Premier League or should Phil Gartside and the rest of the board begin looking for a replacement after a very disappointing start to the season? Thanks, Jonathan Kent (Bolton fan)
BEAGS SAYS: To answer your question on Owen, he is adept at adapting and keeping the faith. He knows that this division is a war of attrition and things will be put in perspective after 15 games. Phil Gartside and his board members are not afraid of making decisions, though, and like the chairmen of Wolves, Birmingham, and Burnley - clubs recently in the Premier League - they would not have expected to be languishing in the bottom six at this stage of the season. Bolton have kept hold of the majority of their best players as well as added in most departments; Keith Andrews, Jay Spearing, Mark Davies, the returning Chung-Yong Lee and the hopefully soon-to-be-back Stuart Holden is a good a collection of creative midfield players as there are in the division, while Chris Eagles is another who will star in the Championship. Plus, Kevin Davies and Marvin Sordell, if kept fit, seem a match made in heaven up front; Davies' physicality and strength in the air will surely complement Sordell's pace and movement. But, and it's a big but, my worry was how they would cope defensively. Matt Mills and Zat Knight always seem to have a howler in the locker, while Tim Ream is a novice in English football, particularly to the rigours of the second tier, so I suggest that the no-nonsense David Wheater, if he gets back to his best Middlesbrough form, would be a shoe-in to start. Five goals conceded in the last two league games has proved my fears right and if a solution with either different personnel or a different formation isn't found, the team with one of the strongest squads in the Championship could fail miserably.
BRIGHTON'S BUSINESS
Hi Peter, How do you think Brighton will get on this season and do you think we have done well with the transfers we made before the window closed? Thanks, Manoli Vachoumis (Brighton fan)
BEAGS SAYS: Well, Manoli, I first must congratulate you on a 99-point, triple-word score name in Scrabble, but to answer your question I think you and your fellow Albion fans can be really pleased with the signings of David Lopez, Andrea Orlandi, Dean Hammond and Stephen Dobbie. Lopez, a winger who starred at Osasuna and Athletic Bilbao, has undoubted talent and should excite, and the same can be said of Orlandi, who has the ability to make an impact either starting or from the bench. Gus Poyet needed players with the capability to get wide and behind teams, particularly after the massive loss of Craig Noone to Cardiff and he has that in Lopez and Orlandi. Former Brighton academy man Hammond made his debut for the Seagulls in 2000 and the club will benefit from his desire to play after being starved of games at Southampton due to the Saints' promotion to the Premier League. And what a fantastic signing Dobbie is. He is a little magician who can score and create goals, has a razor-sharp football brain, a slide-rule pass that can unlock any defence and a big-game temperament; Gus has got a gem. Fourth place with seven points is a sound start so, Manoli, enjoy your new stadium, new-look team and the roller-coaster ride of the Championship.
LAWS ENFORCER?
Hi Peter, If Scunthorpe's poor form continues, do you think Brian Laws would be tempted back to a club that he clearly holds close to his heart? Cheers, Eddie Waring (Leeds fan)
BEAGS SAYS: How the devil are you, Eddie? Still shouting and barking orders at the barracks no doubt! People say you should never go back but Brian is out of work, not by choice I might add, and if the Scunthorpe job became available I'm sure his CV would land on the chairman's desk. Scunny have had a disastrous start but eventually secured a point against nine-man Sheffield United, hopefully giving manager Alan Knill something to build on. As the Iron sit bottom of League One, the only way is up.
WHY SO BLUE?
Hi Peter, What is your view on Birmingham signing Leroy Lita on loan? I'm not entirely sure what to think of it. Also, why are Blues playing so badly? We held onto our 'big players' and are possibly stronger than last year, so who is to blame and what do you reckon needs to be changed? Thanks, Jack Molloy (Birmingham fan)
BEAGS SAYS: I strongly believe that Birmingham are suffering from their Premier League relegation a season later than usual. When they went down just over a year ago, they were in turmoil, losing star players weekly and staring into the financial abyss, but with three games a week due to their Europa League adventures, they had no time to reflect on the situation. I am as baffled as you are, Jack, by Blues' abject performances considering their experience and strength in depth rivals Bolton and Blackburn's. I did their Sky Live game against Watford and was shocked at the lack of desire they had without the ball and their lack of creativity with it, but we must remember that last season Reading had one point after six games and got promoted. Lita is a player who needs to be kept on a three-month contract to keep him hungry! He always does well on loan when he has something to prove, but does need a lot of time and energy spent on getting him focussed.
UNDER THE RADAR
Hi Peter, Who do you think is the most underrated player in the Championship? Thanks, Thomas Murtagh (Man United fan)
BEAGS SAYS:
Thanks for your question, Thomas, which is probably the most testing one I have had causing me to let two cups of coffee go cold thinking about it! The player I have picked is over 30 and his previous clubs include Northwich Victoria, Leyton Orient, Grays Athletic and Dagenham and Redbridge. He is not an illustrious name but always gives great performances and earned a move to Huddersfield, who were then in League One, before a switch to Blackpool brought him more fame and fortune than he could have ever imagined, culminating in promotion to the Premier League. The former roofer form Widnes played 22 top-flight games and scored five goals, including the Tangerines' first in their opening-day 4-0 win over Wigan. He is the only player to have scored at least once in all of the top six divisions in English football. Take a bow Mr Gary Taylor-Fletcher.
ENGLAND HOPEFULS
Hi Peter, Roy Hodgson says he may have to look outside the Premier League to reinforce his England squad? Which one or two players in the Championship might he be looking at? Thanks, Graham Daniels (West Brom fan)
BEAGS SAYS: There is nothing like an easy question to finish on, Graham, and this is nothing like an easy question! The one outstanding candidate at the moment is Thomas Ince, whose qualities I praised in this column a few weeks back; he has really matured and now knows when to dribble and when to release the ball, while he can also deliver brilliantly from the by-line - the hardest cross in the game. The Blackpool star can also drift inside and shoot with his right foot as well as get into the box when his opposite wide man is crossing. I would also give a mention to a lad who has been on-loan at Millwall. Harry Kane is a 19-year-old centre-forward who plays as if he has featured in 500 games. He leads the line brilliantly, is clever with his movement and can make space for himself as well as other and, like all good strikers, is a cool finisher. I would have loved to have seen him get some game time for Tottenham from the bench, but he has gone on loan to Norwich and if he gets a run in the team, he can really go places.
Make sure you check out this week's Sky Live Championship games as Charlton and Crystal Palace (7.30pm, Friday, Sky Sports 1 HD) and Wolves v Leicester (1pm, Sunday, Sky Sports 1 HD) lock horns.