Peter Beagrie
Football League Expert & Columnist
Nott a pretty sight
The managerial sagas at County and Forest, and Watford's Premier League hopes... here's Beags.
Last Updated: 07/02/13 12:37pm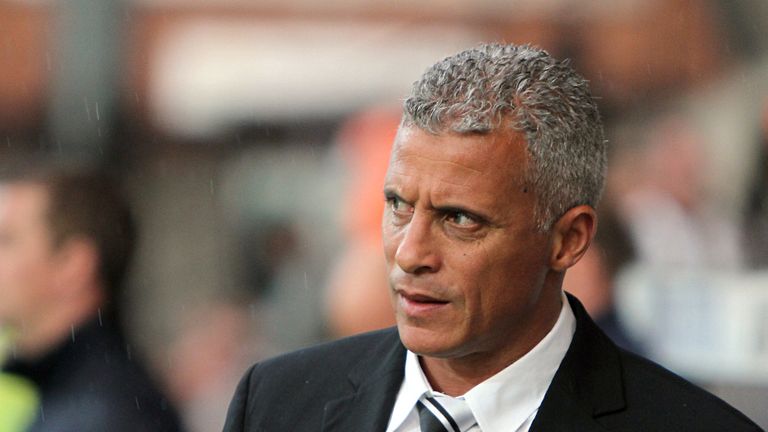 Peter Beagrie is here every week on skysports.com answering YOUR Football League questions.
The former winger, who played over 770 games, representing clubs in all four tiers of the English footballing pyramid, including Manchester City, Everton, Bradford, Sheffield United, Scunthorpe, and Grimsby, forms part of the Sky Sports punditry team for all the big matches in the Championship, League One and League Two.
So if you have a poser for Peter, whether it's about your team, a player, match or incident that has caught your eye, or a wider point on the Football League, make sure you send it in.
Read below for this week's column where Beags gives his take on the managerial sagas in Nottingham, Watford's promotion hopes and whether AFC Wimbledon can maintain their Football League berth...
Send your question to Beags
1. Mail them to skysportsclub@bskyb.com
2. Use the feedback form at the bottom of this page
ALL CHANGE
Hi Peter, Keith Curle was sacked as Notts County manager because the club were not near enough to the play-offs, but what do you think the Magpies should be achieving? Thanks, Ant Langtree (Notts County fan)
BEAGS SAYS: Before I get to your question, Ant, I couldn't help but see the funny side of Hartlepool's win over your boys at the weekend, with Peter Hartley and James Poole netting the North-East side's goals! I know you won't be laughing, Ant, but spare a thought for Hartlepool, as it was only their fourth win of the season. Anyway, if you analyse the nine defeats County have suffered this season four of them have been against MK Dons, Tranmere, Doncaster and Brentford - teams that have dominated the division for much of the season - and, considering the budget Keith was working with and the fact other teams' bigger squads have now gelled, I think 10th in the table is roughly where County should be. The chairman, Ray Trew, (pictured) seems to have got nervous, though, and has axed Curle following three defeats in four games, just after chief-executive Jim Rodwell spoke in an article about the need of managerial stability and the financial ramifications of sacking mangers and their staff! The fact that Notts County are searching for their 13th permanent manager in 10 years and seventh in two and a half, gives you a clue as to why the Magpies are so inconsistent and I feel really sorry for the fans who have seen so many false dawns.
DESPERATE DONS
Hi Peter, AFC Wimbledon are bottom of League Two but have picked up of late. Do they have enough to stay up? Please say yes! Cheers, Patrick Davidson (AFC Wimbledon fan)
BEAGS SAYS: Looking at the squad Neal Ardley (pictured) has at his disposal, Patrick, I definitely think your side have enough to preserve their Football League status. Two heavy defeats at the start of the campaign to Burton and Bradford, in which the Dons conceded a combined 11 goals, was part of a six-game winless run that heralded just one point and I feel the team has shown the scars of that all season, particularly in the last three home games, against Wycombe, Port Vale and Burton, where they have relinquished leads and ended up drawing. A five-game unbeaten run - punctured by Tuesday night's 3-0 defeat to Port Vale - put Wimbledon within striking distance of five other teams, however, and in Gary Alexander, the Londoners have a leader, who will manage the team on the pitch and demand players work hard for each other and not themselves. Four of Wimbledon's six victories have come when keeping cleans sheets and if Neal Ardley's men can garner more shut-outs between now and May I think they will be okay - though the defence will have to dramatically improve for that to happen.
BLUE FOREST
Hi Peter, What do you make of Alex McLeish's brief tenure at Nottingham Forest and is Fawaz Al-Hasawi in danger of turning the club into a laughing stock? Thanks, Stuart Dixon (Nottingham Forest fan)
BEAGS SAYS: It seems foreign owners often care little for the heritage, history and tradition at the clubs they treat like toys and turn their nose up at the fans, and whether the Al Hasawi family are the same or do have the best interests of Forest at heart, they are showing a naivety and lack of knowledge almost, but not quite, on par with that of the Venky's at Blackburn. To sack Sean O'Driscoll with the club one point adrift of the play-offs after a resounding Christmas-time home win over Leeds live on Sky Sports was ludicrous and to axe McLeish after just seven games in charge was just insanity, even though Alex was not a popular choice and the fact that one win from his septet of games did little to convince the Forest faithful he was the right man for the job. McLeish was undermined dramatically during the botched pursuits of Chris Burke - who scored twice against Forest for Birmingham to ensure McLeish's final game in charge ended in defeat - and George Boyd - who, despite displaying great vision and awareness during his time at Peterborough, was not acquired due to a failed eye test at the culmination of a very questionable 12-hour medical. That suggested to me that chairman Fawaz Al Hasawi was already questioning his appointment - and now Alex has made the only decision possible by falling on his sword. The Al Hasawis have now sacked three managers since they took over - a hat-trick not to be proud of - but I don't think anyone who has a passion for football is laughing at your club's present situation, Stuart.
HORNETS' ZEST
Hi Peter, Hi Peter, A few months ago you didn't believe Watford would have enough in them to maintain a place in the play-offs, but now they are sitting comfortably in fourth. Do you reckon they have what it takes to stay in the play-offs, or even make the automatic spots? Thanks, Tom Gee (Watford fan)
BEAGS SAYS: Myself and a few others doubted Watford, Tom, but Gianfranco Zola my favourite footballing foreigner to ever grace British shores, has very quickly produced a team that combines clever movement with an incredible work rate, traits Gianfranco had in abundance during his playing days. With two-thirds of the season gone, as many victories on the road as at home and the likes of Matej Vydra (pictured), Nathaniel Chalobah and Fernando Forrestieri staying at Vicarage Road until at LEAST the end of the campaign, I would now not back against the Hornets seizing a play-off spot, if not better. Czech sensation Vydra, meanwhile, is my player of the season, having shown pace, movement, trickery and terrific finishing ability as well as proving to be a great team man. The on-loan Udinese star is worth his weight in red and gold.
LEFT-HAND THRIVE
Hi Peter, Who do you think is the best left back in League One? Cheers, Dominic Whiting (Blackburn Rovers fan)
BEAGS SAYS:
There are some excellent left-backs in the third tier but three, in particular, have caught my eye.
Jake Bidwell
, on loan at Brentford from Everton, has starred for the Bees this term, acquitting himself well in both League One and against top opposition in the cups. The 19-year-old, who has played 20-odd games in the pressure-cooker environment at the top of the division, is very composed, has a great temperament, has dealt excellently with the physicality of league football and is often the first point of attack for Uwe Rosler's team. In fact, the only problem he has encountered is the Griffin Park pitch! Tranmere's wonderfully named Frenchman,
Zoumana Bakayogo
, has been a model of consistency, too, putting in an abundance of cultured performances. That was not always the case, with the 26-year-old previously following great endeavour with erratic crossing, but he is now a colossus in and around both penalty areas. It would also be remiss of me not to mention MK Dons'
Dean Lewington
(pictured), who has been a fantastic player, captain and servant for his club. Aggressive and vocal, the flame-haired defender also possess wicked delivery in both open play - where he produces more crosses than most wingers - and from dead-ball situations.
STICK WITH YOUTH
Hi Peter, Carlisle have three promising new players breaking into the first team at the moment in Brad Potts, Dave Symington and Mark Beck. Carlisle, like most League One teams, are a bit cash strapped with ever-dwindling attendances, and will admit this season is now most likely as far as play-offs are concerned. Do you think we should cash in if some big teams come along during the summer, or keep hold of these talents and try next season for promotion? Cheers, Stephen Teasdale (Carlisle fan)
BEAGS SAYS: Thanks for your question, Stephen. The only way I advocate lower-league teams selling young players is if they are in a difficult financial state as, quite often, youngsters get lost in the shuffle at big clubs. Defender Potts (18), midfielder Symington (19) and striker Beck (19) have been integrated into the team gradually by manager Greg Abbott (pictured) and, as a result, could make a real difference next year and help push the Cumbrians forward; they each have good footballing attributes as well as an affinity to the area, coming from Hexham, Workington and Sunderland respectively. I wish the boys well for the rest of the season and keep my fingers crossed I see them starring next year, too.