Peter Beagrie
Football League Expert & Columnist
A Firm no
Peter Beagrie blogs on Rangers' chances of playing in England and the toughest opponents he faced.
Last Updated: 27/03/13 2:59pm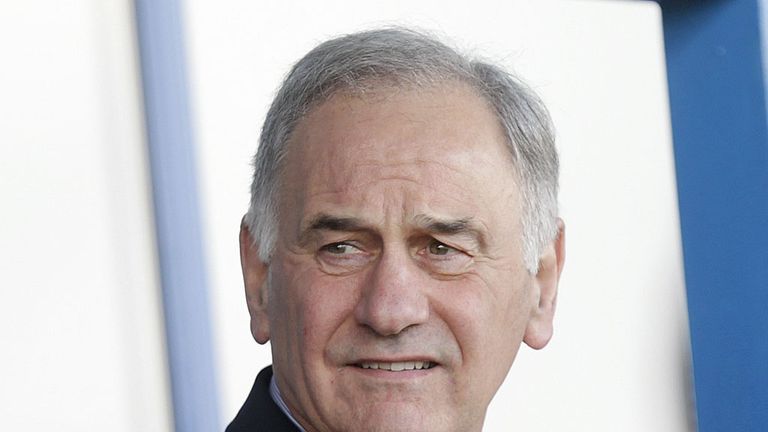 Peter Beagrie is here every week on skysports.com answering YOUR Football League questions.
The former winger, who played over 770 games, representing clubs in all four tiers of the English footballing pyramid, including Manchester City, Everton, Bradford, Sheffield United, Scunthorpe, and Grimsby, forms part of the Sky Sports punditry team for all the big matches in the Championship, League One and League Two.
So if you have a poser for Peter, whether it's about your team, a player, match or incident that has caught your eye, or a wider point on the Football League, make sure you send it in.
Read below for this week's column where Beags gives his take on whether Rangers will enter English football, Nottingham Forest midfielder Henri Lansbury and more...
Send your question to Beags
1. Mail them to skysportsclub@bskyb.com
2. Use the feedback form at the bottom of this page
STAYING NORTH
Hi Peter, What do you make of Rangers potentially moving into the English Football League? Thanks, Alex Forsyth (Dumbarton fan)
BEAGS SAYS: I feel there are far too many obstacles to overcome for Rangers to enter the Football League. It would require long conversations between both the English and Scottish FAs, as well as Uefa and Fifa, and I agree with Football League chairman Greg Clarke that a move south for Rangers would financially undermine the Scottish model that the Gers and Celtic operate within. The threat of Charles Green to withdraw Rangers from Scottish football is understandable as his club was excluded from talks about the reconstruction of the footballing pyramid north of the border. His proposal of a three-division system with 14 teams in each makes total sense and would replace the alternative 12-12-18 structure which would see the Gers remain in the bottom tier next year, despite their imminent title success. I was shocked to hear the Scottish FA say they would not stand in the way of Celtic and Rangers should they manage to find a route into English football, and think they should instead adopt Green's idea and allow Rangers to move into the second tier and continue their journey back into the top flight. English Premier League chief-executive Peter Scudamore has answered the question of Rangers and Celtic joining the top division with a resounding 'no' over the last 14 years and I don't expect that to change.
KING HENRI
Do you think Henri Lansbury is finally showing what a good player is and do you think he stayed at Arsenal a bit too long? Thanks, Pete Dunn (Arsenal fan)
BEAGS SAYS: Thanks for your questions, Pete, and I'll answer the second one first. I don't think Henri stayed at Arsenal too long as he received a fantastic education which allowed him to operate for England at several youth levels, including with the Under-21s. His progress saw him gain Football League experience at various levels and each time he joined a bigger club; spells at Scunthorpe and Watford underlined his athletic and technical ability, versatility and competitive nature, while stints at Norwich and West Ham showed he has the mentality to deal with the pressure of chasing promotion. Lansbury has grown with each club he has played for and not, like a lot of young players, moved on too early for big money and failed to fulfil his potential, and when he gets back to the Premier League he will be a regular starter and not a bit-part player. He is rapidly becoming a major player for Nottingham Forest, whom he joined permanently in the summer, and the £1million fee the Midlanders paid to acquire him is a snip for a young man with such experience and talent.
TIME MANAGEMENT
Hi Peter, What should be the aim of the next Stevenage manager? I would love us to get into the Championship but should we focus on becoming a stable League One club? Would promotion be a step too far? Thanks, Mark Mason (Stevenage fan)
BEAGS SAYS: I think promotion is only a bad thing when unrealistic expectations follow. How many times have we seen managers become victims of their own success and not given the financial resources to compete in a higher division once they have reached it and, eventually, lose their jobs? Every season, is the answer. I think promotion for Stevenage this year would result in relegation next as when money is at a premium you must evolve your squad over a period of time to gain the consistency needed to compete in a superior division. Stevenage have fought too hard to harm that momentum with unrealistic ideas of what denotes progress.
RITCHIE RICH
Hi Peter, Matt Ritchie was recently named as League One Player of the Year. Did he deserve that award and if not, who did? Thanks, Mark Wilson (Notts County fan)
BEAGS SAYS: I think Ritchie was a very good choice, Mark, as his goals and assists for Swindon have come off the back of successful League Two promotion campaign and I was surprised that when he left the Robins in January he went to Bournemouth, however much money they are spending, and not to a Championship club. However, Ritchie is not the only League One player to catch my eye this season as I have also been impressed by goalkeepers George Long (Sheffield United) and Simon Moore (Brentford); defenders Harry Maguire (Sheffield United) and Zoumana Bakayogo (Tranmere); midfielders David Cotterill (Doncaster), Jonathan Douglas (Brentford) and your very own Alan Judge (Notts County); and strikers Clayton Donaldson (Brentford), Will Grigg (Walsall) and Ritchie's closet rival for the award, Yeovil's Paddy Madden, who has scored 21 goals this term, none of them penalties. It has been a stunning season in League One.
MIGHTY MARTIN
Hi Peter, How good a manager is Martin Allen?Thanks, David Wilkins (West Ham fan)
BEAGS SAYS:
Martin is a very good manager and motivator. He has his own style, one which is very unorthodox in some ways but suits people who like to be told things straight. He told Gillingham's players in July that he would take them to the next level and with six games to go the Kent side are eight points clear of second place in League Two and, more importantly, 10 points ahead of fourth-placed Northampton. I feel automatic promotion is a certainty with players of the calibre of Deon Burton and Chris Whelpdale, and Danny Kedwell's goal supply, while the Gills also have shown they have plenty of strength and resolve, as well. Defender Leon Legge will be very important in the run-in, too, as teams get desperate and throw the ball in the box at every opportunity; the giant centre-half has formed a great partnership with Adam Barrett, meaning Allen's men have match-winners in both boxes.
TOUGH AS THEY COME
Hello Peter, Who was the toughest opponent you ever came up against in your playing days? Thanks, Gary Buckle (Everton fan)
BEAGS SAYS: You'll probably have never heard of my toughest opponents, Gary, as both were from early on in my career when the out-and-out defender, which has disappeared somewhat over recent years, was prevalent. One was former Derby right-back Mel Sage, who never dived in and made me make all the decisions, and the other was an old dinosaur who used to play for Portsmouth by the name of Mick Tait; he was as hard as nails, dirty as they came and knew all the black arts. Ahead of a game between Sheffield United and Pompey, Mick had read in the Sheffield Star that I had missed training due to a fracture of the nose I picked up in an England Under-21 game against Cyprus, and the first chance he got in the match he put me on my backside and put his fingers up my nostrils! I took umbrage at him using my head as a bowling ball and took revenge in front of the referee and we were both sent off. Lee Dixon, Paul Parker, Gary Neville and Belgium's Eric Gerets were four of the best full-backs of their generations, but I liked playing against them because they were easy to wind up and get off their usual calm and cultured games.