Football League Expert & Columnist
Owen Coyle is the right man to bring success to Wigan, says Peter Beagrie
Owen Coyle is an ideal successor to Roberto Martinez and can succeed at Wigan, says Peter Beagrie.
Last Updated: 14/06/13 4:25pm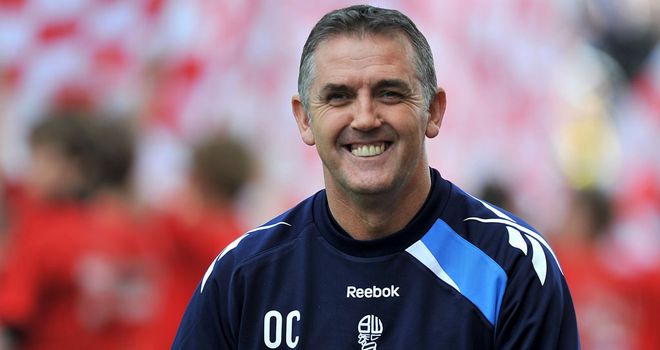 The players that remain will have the philosophy of their old boss Roberto Martinez and Owen shares that and he has that affinity with the players and he will trust them.
The club have had a good run. They were in the fourth tier of English football a few years ago and grown under chairman Dave Whelan and his huge wallet! It's his passion and he's backed all his managers with money. Owen will probably be given a free rein and that's usually Whelan's way. Owen wasn't able to bring success at his last club Bolton and have the Premier League on his CV and it just means he'll be hungrier than ever.
He was down to the last few candidates for the Wolves job and many will be surprised that Kenny Jacket got that job. This has come at the right time for him though. Another few months out of the game and with so many managers applying for a few positions means you are quickly forgotten. It's a fantastic opportunity with a club that is financially sound and should at the very least feature in the play-offs.
Following Martinez
The reality is that Roberto was loved because of the success Wigan had, the manner the team played and the loyalty he showed the club. He turned down advances from bigger clubs with bigger budgets and there were many of them. Roberto referred to Dave as a father figure, while Dave viewed Roberto as a son.
The trust was there with advice and the chit chat all the time and they agreed that they would wait until the right club came along that could bring European football. His exit was handled in the right manner so it will be easier for Owen to go in there with the knowledge that Roberto has been rewarded.
You can only swim against the tide for so long and so it proved with Wigan unable to perform another great escape.
Communication
The big thing about Owen is that he's a tremendous man manager and the players will want to play for him. He plays in a style that players enjoy and he's very good at the one-to-ones and you saw that at Burnley.
Many of their players held him in such high regard. He's honest and open and even if he said something you didn't like he was up front about it. He'd have those face-to-face chats and describe exactly what was required from you and where he saw your future. In this day and age a lot of things are said through third parties so the players will appreciate that knowing exactly where they stand.
The Wigan fans will remember the Burnley side that got out of the Championship playing a wonderful way. He's a well-liked guy in football and I would suggest that if I was him, I'd think this was a fantastic opportunity. You saw the debacle at Blackburn and how they imploded. Wigan are a different beast and Whelan would never allow it to get to that. Owen just has to get the best out of what is already a very, very good squad.
Championship escape
Wigan shouldn't play any differently to the Premier League. Football is a game of opposites, whatever division you're in. You just have to do the basics right, such as possession of the ball, expressing yourself, making the pitch big like Wigan do and going forward with the intensity that the opposition find difficult to deal with.
The teams that struggle are the ones that come down from the top-flight feeling sorry for themselves and don't do the basics properly - they don't work hard enough and don't have a structure. We won't see that at Wigan.
What's massively important for Owen is not having anybody at the club who doesn't want to be there. We've seen that at Blackburn and Bolton. There's a negativity surrounding those players and you need to move them on as quickly as possible.
The Championship is a war of attrition and if you don't have your mind right then physically you'll be tested to the limit. The three teams relegated in 2012 struggled a lot.
Some teams come down and think it will be easy but it's so different from a defensive point of view. In the Premier League teams play in front of you. In the Championship, the ball is pumped in behind you and you can't play it back because you'll be chased down by a 6 foot forward. It's a different test and it will be interesting to see how those relegated teams adapt.
Wembley welcome
It's not a bad way to start your job with the Community Shield against Manchester United. That's testimony to the work of Roberto and how they liked to play football. That was a brilliant performance at Wembley in the FA Cup final to give him this chance.
It's a great curtain raiser and obviously usually set for a team after a good season in the Premier League! It'll be a good barometer for Owen and it will be more about seeing the fitness of his team.
A lot is made of the lack of rest for players. Pre-season is usually around six weeks and it's a slow burner but as long as you're ready with the level of fitness and a good attitude then Wigan should be fine.
Survival odds
Wigan have a very good chance of getting back in the Premier League. This is an incredible opportunity, they have a solid base to operate from and a good level of technical players and a lot of them have the right attitude.
They also should have the finances to wheel and deal in the transfer market so Owen could tear up the blueprint that Roberto has built. I know Whelan wanted a manager who has the same attitude as Roberto in terms of playing football on the ground, pass and move with a nice fluid style.
It would be a waste of time going back from where Roberto has taken them. That's why Owen's been employed. He has every opportunity to take them back up and I know he will be disappointed if he doesn't at least get them into the play-offs. He would describe it as a failure if he doesn't do that at the first attempt.