Peter Beagrie
Football League Expert & Columnist
Sheffield United: Peter Beagrie looks at Nigel Clough's appointment
Nigel Clough is the right man for Sheff Utd, says Beags, and could even secure a play-off spot.
Last Updated: 04/11/13 9:35am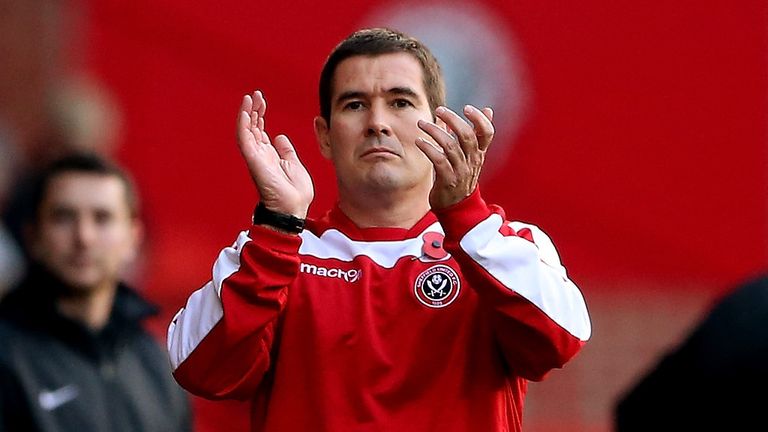 On one hand that brings pressure, but on the other, it brings a tremendous fanbase and what looks like decent resources, so you'd like to think new Blades boss Nigel Clough can breathe life into one of England's sleeping giants.
Clough - who sees this as a brilliant opportunity so soon after leaving Derby - was the first choice on many people's lips and he certainly fits the criteria that the United hierarchy were looking for following his work at Pride Park.
David Weir tried to change the footballing philosophy at Bramall Lane whilst blooding the youngsters and Nigel will do the same, but he also has the added benefit of experience of being in this situation before.
He took over a Derby side crying out for stability and proceeded to give it to them, something that he is proud of and something that the board at County and his replacement at Pride Park, Steve McClaren, acknowledged and applauded.
Gelling
There are already positives for Nigel at his new side.
The additions to the squad have helped; the team is gelling a bit more; and drawing with Crawley after going 1-0 down - when their goal was created by Florent Cuvelier and Febian Brandy and finished by Marlon King - was a big, confidence-boosting result.
A spirited defeat to Coventry, a win over Port Vale, a draw with Peterborough and a victory over Crewe in Clough's first game in charge have followed and United are also doing what they weren't doing at the start of the season - scoring goals.
However, with recent strikes coming from midfielder Michael Doyle and defenders Neill Collins and Harry Maguire, Nigel needs to address his forward line.
He must work out if he can pair King and Lyle Taylor, if he can play Brandy in a wide position and where to fit in Jamie Murphy and Ryan Flynn, but the options in the final third have certainly improved.
Nigel will also encourage all of his players to go out and express themselves but he will be putting extra pressure and responsibility on the older heads, telling them: 'Look, in this group you have a pivotal part to play'.
Willy-nilly
If United finish this season in mid-table or above, everybody will breathe a sigh of relief.
They should do that because they have the financial clout and the ability to boost their squad with new signings if Nigel thinks he needs them, although they won't throw money around willy-nilly.
A play-off place looks unlikely as they have probably given teams like Wolves, Peterborough, Brentford and Preston - who either have a group of players that have played together for a long time or replaced outgoing players with ones of equal quality - too much of a head start.
However, having taken seven points from nine to move within 10 points of the top six, I wouldn't rule out their hopes of making the play-offs, especially if they can take nine or 10 points from their next four games against Shrewsbury, Gillingham, Bristol City and Walsall.
Next season must be the priority, though, and they need to ensure they are fighting for at least a play-off place in 2014/15.
Implemented
I would also like to pay tribute to outgoing manager Weir and the Blades fans.
Everyone was willing Weir to succeed but I think the right decision was made to let him go because how long can you leave it when you are down at the bottom?
United had only won one game under David's tutelage, way back on the opening day of the season, so something had to give.
That said, David implemented a lot of things at United that will bear fruit and he should still carve out a good managerial career in the long term, as let's not forget that this was a man who was in contention for the Everton manager's job over the summer.
As for the United faithful, they are extremely loyal.
They turn up in the their numbers every week and show tremendous passion, whether they are cheering or booing, and after seeing their club be perennial bridesmaids in the play-offs, I hope there is light at the end of the tunnel for them.