Peter Beagrie
Football League Expert & Columnist
Football League: Peter Beagrie looks at a tumultuous time for Leeds
Clowns, egomaniacs and a brilliant boss... Beags assesses a tumultuous time at Elland Road.
Last Updated: 14/02/14 10:17am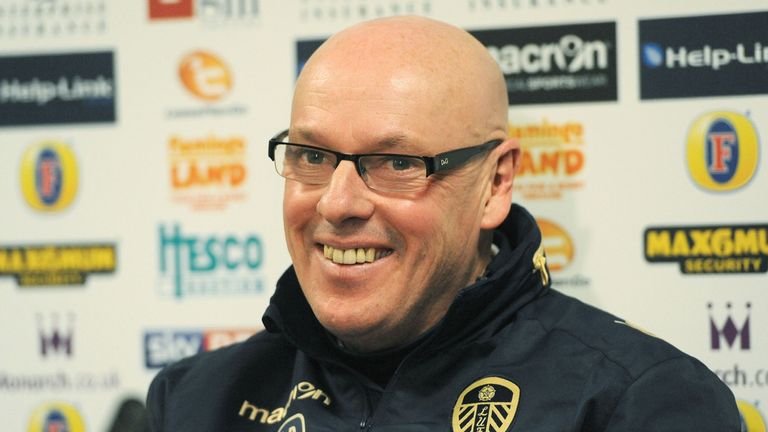 The former winger, who played over 770 games, representing clubs in all four tiers of the English footballing pyramid, including Manchester City, Everton, Bradford, Sheffield United, Scunthorpe, and Grimsby, forms part of the Sky Sports punditry team for all the big matches in the Championship, League One and League Two.
So if you have a poser for Peter, whether it's about your team, a player, match or incident that has caught your eye, or a wider point on the Football League, send it in.
Read below for this week's column where Beags gives his take on headline-making Leeds, Championship table toppers Leicester, League One promotion chasers Wolves and more...
MADNESS AT ELLAND ROAD
Hi Peter, I'm on the big dipper here at Elland Road. One minute we will be marching towards the Premier League, the next minute we are about to financially implode and go into administration. What I would like to ask is whether you think the takeover will send us soaring back up the track or will we nose dive back into oblivion? Also, will Massimo Cellino's continental organisational structure of making the manager the coach work with Brian at the helm? This approach has worked well for the likes of Juventus but to me this is signalling a new future of English football where managers no longer have a say on transfers or team selection. Ben
BEAGS SAYS: The only difference between Leeds United and a circus is that a circus only has one clown! They appointed an excellent manager to take the club forward - a man who understands the importance of youth, and can man manage, coach, spot a player and deal with the media - yet starve him of resources and don't allow him to operate at his best, even before they permit an egomaniac to sack him prior to him taking full control of the club. I have witnessed at close hand the mismanagement at Leeds and feel sadness and disbelief that the club's strength - their army of fans - is also their weakness. Everybody will always see them as an opportunity to make money due to the size of their following and unfortunately instead of taking a long-term approach they take short cuts and hope to make a fast buck.
Normality and stability are not words usually associated with Leeds United but just when you think common sense is prevailing the happenings of Freaky Friday thrust your club in the headlines for all the wrong reasons. GFH are haemorrhaging money and never had enough to sustain the running of your football club, Ben; people with real money don't cry out for others to purchase 10-15 per cent of their investment. The fact Cellino was allowed to run roughshod over people stank of desperation form the club's owners and poured scorn on the statements made in the infancy of their reign about transparency, honesty and keeping the fans informed.
Call me old-fashioned but the manager is the only one who should decide which players are signed at a football club as his reputation is on the line. Yes, have people scouting and putting forward names of players who may have the attributes to fit into your style of play, but I have spoken to many managers who are frustrated at, having identified a player, not entering the negotiations and see the deal fall through. All managers like to look a player in the eye and sell the club to them to make them feel wanted. In my experience, that is always the best method, especially with British players.
PERFECT FIT
Peter, What are your views on Nahki Wells choosing to move to Huddersfield over some of the other bigger Championship teams that were after him? A lot of neutral fans questioned his ambition but I think he can develop his career at Huddersfield without any real pressure as he is still young and then maybe move to the Premier League. What do you think? Ashley
BEAGS SAYS: I think there were many reasons Nahki and Bradford decided his next destination would be Huddersfield. There were a lot of interested suitors - many of whom had players Bradford might have liked in part-exchange - but my sources on the footballing grapevine suggest that the fee, the wages and the chance of Nahki playing week in, week out in the Championship alongside James Vaughan meant all parties were happy to push the deal through. A move to the Premier League never materialised which pleased me because Wells needs a stepping stone to further his footballing education which will give him a better chance of sustaining a top-level career.
PROMOTION SEWN UP?
Hello Peter, Do you think Leicester will be caught at the top of the Championship? Thanks, Cathal
BEAGS SAYS: This is the Championship so anything is possible but my professional opinion is that an 11-point gap to third-placed QPR and a haul of 28 points from the last 30 available makes them nailed-on for promotion. The way the team/squad is performing they look well-equipped to deal with any pressure and their experience, togetherness and belief is there for all to see. This 11-game unbeaten run was off the back of consecutive away defeats to Sheffield Wednesday and Brighton and with daunting games against fellow promotion contenders Burnley, QPR and Reading to come, but seven points from nine against the Clarets, the Hoops and the Royals proved to me Leicester have the mentality to go one better this year. Excellent partnerships all over the pitch, consistent level of performance, a stable team selection and a calmer and more relaxed manager have helped the Foxes find a recipe for success, both at the King Power and on their travels. City have goal threats all over the park, including eight different scorers in their last eight games, and they have even ended the Sky Sports hoodoo which blighted last year's final third of the season. The Foxes, formerly of Filbert Street, are flying and at the moment have a full tank.
WOLVES HAVE WIZARDRY
Hi Peter, I am a Wolves fan. Even though we are right in amongst it for the automatic promotion places at the moment, we have at least eight games to play in March, and two of our last three away games have been abandoned due to waterlogged pitches which could make April just as busy. Can you see this being a big factor, even though we have a good squad at this level, especially considering we only currently have three strikers after loaning Kevin Doyle to QPR, Bjorn Sigurdarson to Molde and selling Leigh Griffiths to Celtic? Thanks, Sean
BEAGS SAYS: I don't think a fixture pile-up will affect Wolves at all, Sean. I also don't feel away games are a concern as at this point as later on in the season home teams will take more risks to try and improve their league positions and this could play into Wolves' hands, particularly with the pace of Bakary Sako and Nouha Dicko and the wing wizardy of either Michael Jacobs or James Henry. My belief is that Dicko will prove to be a tremendous success at Molineux, with his pace, trickery and work-rate, while the capture of League One's second-top scorer, Leon Clarke, could be a great foil for the much-loaned former Wigan man. Only two away defeats this season and defensively sound, Wolves are definitely the bookies' favourites to secure an automatic promotion place.
PLAY-OFF PUSH
Do you think Swindon will make the League One play-offs? Thanks, Alex
BEAGS SAYS: Swindon and Walsall were two of the outsiders I picked at the start of the season to push other, more-fancied teams all the way - and I have seeing nothing since to suggest otherwise. Swindon have a maverick style at times, which may be because of the number of loan signings Mark Cooper has brought to the club, and my main worry for the Robins is their away form, but they only have Leyton Orient and Coventry out of the top 10 to play away from home in the run-in. To be only four points away from the final play-off place is where I would expect them to end the season but if they tighten up defensively and cure their away-day blues against the division's strugglers they have a realistic chance of putting the frighteners on Peterborough should they falter. In fact, it could have been roles reversed if they hadn't allowed Posh to earn six points from their two meetings this season.
STAG PARTY
How impressed have you been with Mansfield this season? Rex
BEAGS SAYS: I was incredibly impressed, Rex, by Mansfield's start and how they acclimatised to league football again with one loss in their first nine games and five clean sheets, too. That was followed by a 4-1 home defeat by Hartlepool and a bit of self-doubt appeared as the Stags went on a 13-match winless streak. I was surprised at their demise having seen a couple of their 3-0 home wins at the start of the season but thankfully the belief has returned and the catalyst was a 2-1 away win at Cheltenham. The only blot on their copybook since was a loss to high-flying Scunthorpe and for a team fresh out of the Skrill Premier to recover from the loss of star striker Matt Green to Birmingham speaks volumes. They can be proud of that but cannot afford to rest on their laurels with only six pints separating them from the relegation zone and clashes with three of the top 10 - Oxford, Fleetwood and Dagenham - up soon. Attitude, application and the goals of Sam Clucas will need to be abundant to keep Stags fans happy and their fingernails intact.
Send your question to Beags using the feedback form at the bottom of this page or at the base of any of Peter's articles...