Peter Beagrie
Football League Expert & Columnist
Football League: Darren Ferguson's Peterborough will secure spot in League One play-offs
But rampant Rotherham will be team to avoid in end-of-season showdown
Last Updated: 04/04/14 12:55pm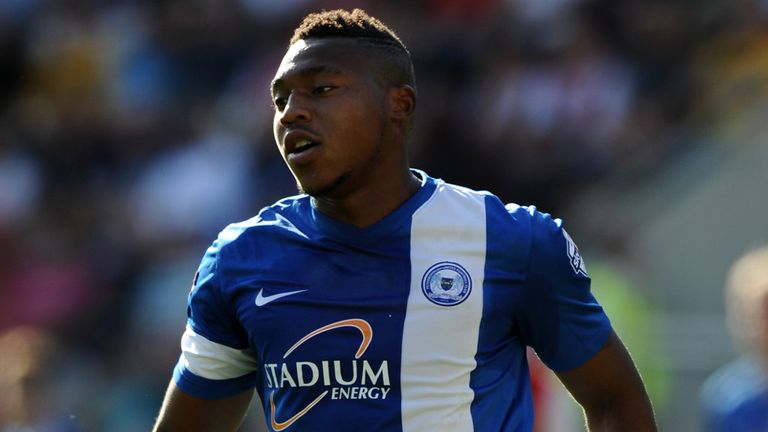 The former winger, who played over 770 games, representing clubs in all four tiers of the English footballing pyramid, including Manchester City, Everton, Bradford, Sheffield United, Scunthorpe, and Grimsby, forms part of the Sky Sports punditry team for all the big matches in the Championship, League One and League Two.
So if you have a poser for Peter, whether it's about your team, a player, match or incident that has caught your eye, or a wider point on the Football League, send it in.
Read below for this week's column where Beags gives his take on Peterborough and Ipswich's play-off chances, former Portsmouth boss Richie Barker, and whether Northampton can preserve their Football League status...
PROMOTION FOR POSH?
Can Peterborough follow up their JPT win with promotion via the play-offs? Chris Helix
BEAGS SAYS: Hi Chris. I think the obvious answer is 'yes, they can'. There is an argument that if Posh reach the play-off final they will be favourites, such is their familiarity with the national stadium. Bradford benefited from their Wembley experience against Swansea last term, even though it provided a negative result, and returned to the famous ground to win promotion from League Two, but there are question marks as to whether Peterborough can do the same as qualification into the top six is far from guaranteed. Ultimately, though, I feel a one-point advantage and games in hand over the five realistic challengers - Swindon, Walsall, MK Dons, Port Vale and Sheffield United - means Posh will claim that vital last play-off spot, even though recent losses to rampant Rotherham and Preston make it five defeats in seven with some dangerous opponents still to play in the run-in. If automatic-promotion certainties, Wolves and Brentford, maintain their form, it would leave Leyton Orient, Rotherham, Preston and, hopefully for your sake, Chris, Peterborough in the play-offs. That would mean no easy semi-finals but the team I would most like to avoid is free-scoring Rotherham, despite the fact I picked Preston and Peterborough, along with Brentford, to get promoted in my pre-season predictions. Lee Tomlin has been a big loss to Posh but hopes lie squarely on the broad shoulders of 'Great' Britt Assombalonga, so good luck for the rest of the season, Chris.
WILL BILLY BE BACK?
Do you think Billy Davies will return to football management quickly? Guy Wilson
BEAGS SAYS: That, Guy, very much depends on how quickly it takes Billy, with the help of the League Managers Association, to agree a financial package with Nottingham Forest, but after that I'm sure he will take stock. Billy will, no doubt, have offers both north and south of the border but what is imperative is that he chooses his next club - and, more importantly, chairman - carefully. The relationship with his players is not Billy's problem, and the struggle only comes when he has to deal with the non-footballing suits that run the club he has been employed by. Something or someone has got to change for Billy to enjoy his job again and be successful.
SCUNNY STRONG ENOUGH?
If Scunthorpe get promoted, are they well-equipped to stay in League One? Joe Ford
BEAGS SAYS: I've gone on record, Joe, in saying that Scunthorpe have one of the best three squads in League Two, with Chesterfield and Fleetwood being the others. However, I also said, whilst doing the live Scunthorpe-Fleetwood game at Glanford Park, that the best footballing team are Rochdale by a country mile and I still stand by that. Scunny's squad at the start of the season was strong and depth and quality have been added throughout the campaign, giving new manager Russ Wilcox plenty of options. League One has really impressed me, though, with its quality and competitive nature so Scunny would have to add to the group, which, with several people out of contract, is easier to do these days. With a 24-game unbeaten run and seven-point advantage over fourth-placed Fleetwood, automatic promotion looks nailed-on for my old club and I suggest the manager now needs to get to work earmarking prospective new players for League One to ensure the Iron consolidate and do not become a yo-yo club. Congratulations on the season so far, Joe, and good luck in the race for the title.
TOWN IN THE MIX
What do Ipswich need to do to clinch a play-off place? Simon Deans
BEAGS SAYS: One thing is for sure, Sam, and that is Ipswich must continue to improve their away record whilst maintaining their good home form, which is currently the sixth best in the division. The Tractor Boys have, on paper, one of the easiest run-ins but need to increase their goal output and help out Daryl Murphy in the absence of top scorer David McGoldrick. Still, taking into account McGoldrick's injury lay-off and the fact Ipswich were 17th at this stage last year, Mick McCarthy can be proud of the job he has done at Portman Road - even though knowing Mick he will not be satisfied. He has instilled greater resilience into the team with the number of points gained from losing positions (18) confirming that and if they keep that resolve they may have an outside chance. Reading have Leicester and Wigan to play, as well as Burnley on the last day, while Nottingham Forest play Brighton in the final round of fixtures and that result could be pivotal in the play-off race, too. It looks like the fight for a top-six spot is going to go right to the final hurdle yet again.
RIGHT MOVE FOR RICHIE
What do you make of Richie Barker's exit from Pompey - and arrival at MK Dons? Jack Mills
BEAGS SAYS:I think it's a case of Richie making the best of a bad situation and going back to the job he does best. Barker underestimated the seismic task at Portsmouth and the pressures that came with it, initially feeling honoured to be given the opportunity to manage at a great club with incredible support after losing his job at Crawley. Timing is everything in football and once his 20-game tenure at Fratton Park didn't look like producing a significant change in results or performances and he was relieved of his duties, the relief was tangible. Seeing Barker take up Karl Robinson's offer of a place on the MK Dons coaching staff, he seemed happy and his youthful self for the first time in months. Sometimes it helps to take a step back before going forward again and this move gives Richie the chance to work through his frustrations and channel his energies into helping Karl replace Gary Waddock, who left to take over at Oxford in March.
COBBLERS CLINGING ON
Is a great escape for Northampton very much on? Nick Sellars
BEAGS SAYS: Nick, my friend, the great escape is definitely on, although the 3-0 home defeat to Bury will test the belief of the Cobblers faithful. A tale of chances missed and poor goals conceded will have infuriated Chris Wilder, while I'm sure he would have loved to have brought in new Bury recruits and scorers, Hallam Hope and Danny Rose, himself. Now for the positives: only three and five points behind Wycombe and Portsmouth respectively and those two sides having just one win in 13 games between them. Northampton's run-in is not great but Town play both Pompey and Wycombe - two matches that will dictate their future in the division. Chris is an excellent manager and you can point to seven or eight matches since he took over where the Cobblers have earned results but not improved their league position due to teams above them winning or drawing. Keep the faith, Nick, as I feel you need nine points from 18 to stay up, including three-point hauls in the matches against Wycombe and Pompey. I would contact every Northampton fan you know and make sure they keep the four days of destiny - April 18-21 - clear.
Send your question to Beags using the feedback form at the bottom of this page or at the base of any of Peter's articles...