Peter Beagrie
Football League Expert & Columnist
Peter Beagrie Q&A: Brentford, Blackpool and Burton as well as best players in each division this season
Football League guru also answers your questions on managerial changes and Bristol City
Last Updated: 01/12/14 11:01am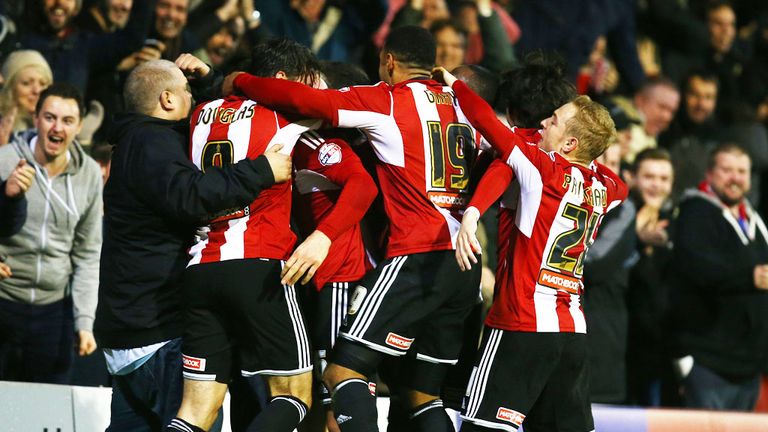 Peter Beagrie is here to answer YOUR Football League questions.
The former winger, who played over 770 games, representing clubs in all four tiers of the English footballing pyramid, including Manchester City, Everton, Bradford, Sheffield United, Scunthorpe and Grimsby, forms part of the Sky Sports punditry team for all the big matches in the Championship, League One and League Two.
So if you have a poser for Peter, whether it's about a team, player, match or incident that has caught your eye, a wider point on the Football League or something a little left field, then send it in via the feedback form at the bottom of the article (skysports.com only).
Read on for this week's column where Beags has his say on the situation at Wigan, the success of Brentford and the best players in each division so far this season...
Hi Peter. My club Wigan don't seem to have been out of the headlines in the past week and for all the wrong reasons! What do you think will be the outcome of all the controversy and will it hinder the club's play-off chances (if they still have any!)? Mike Jones, Wigan
BEAGS SAYS: In Vincent Tan's case Mike, it's very straightforward, and I quote: "This is a racist chairman hiring a racist manager." Obviously Mr Tan's comments are personal and not without prejudice due to the well-publicised and acrimonious sacking of Malky Mackay after the text-gate scandal. I don't feel comfortable even discussing this and would have thought it wise to wait for any FA inquiry and any subsequent ruling to be passed before approaching Malky to take over the vacant hotseat at Wigan.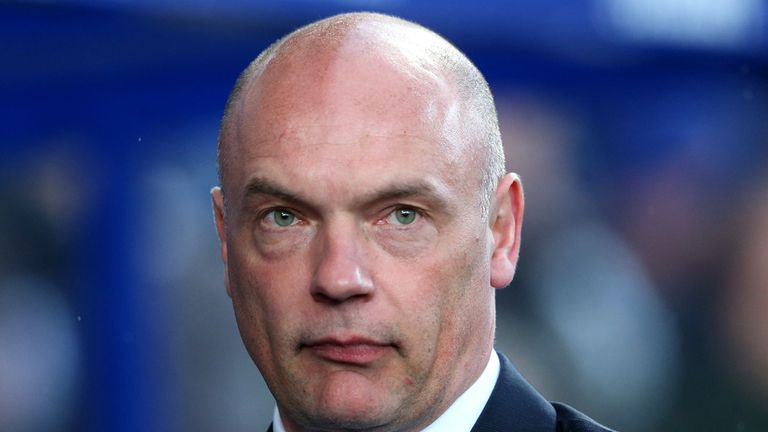 Most people who deal with or have dealt with Dave Whelan regarding football or business would describe him as an honest, hard-working, forthright and opinionated individual. If I was to play devil's advocate, I would say his comments are typical of the ignorance to modern-day political correctness indicative of his generation, purely naïve and in no way meant to be vindictive or racist. The very fact he has mentioned the club have included a clause in Mackay's contract means there was no confirmation from the FA that the outcome was a foregone conclusion one way or the other.
The whole managerial situation has been a huge public relations faux pas for your club, which is normally associated with stability and positivity. Now the turmoil off the pitch reflects the position in the league the Latics find themselves in. Uwe Rosler's departure was sad and the problems still remain, they have good individuals but no goal poacher to finish off chances.
Rosler was priced out of the market for Leonardo Ulloa and Troy Deeney and also Callum Wilson, leaving the foreign imports Riera Magem and Andy Delort to replace the 21-goal void left by Nick Powell's return to Manchester United and Jordi Gomez's departure to Sunderland.
More worrying for me was the return of a couple of senior pros to the starting line-up from injury the very next game after Rosler's departure. Players have to be honest to themselves and their employers, not to managers, and have a duty to turn out when fit.
I believed right up to the Bolton game that Wigan, one of my top three favourites, would start to climb the table, but the lack of fighting spirit in that second half didn't sit well with me at all. There are still 28 games left, so 84 points to play for, but I think it would be a minor miracle if they recover and readdress the alarming slide towards the bottom of the Sky Bet Championship bearing in mind the form of the current top six and the excellent squads of Watford, Forest, Norwich, Wolves and Cardiff, who are all loitering in the top half.
I thought it was great to see Jimmy Flloyd Hasselbaink starting his managerial career at League Two Burton. Do you think more managers, especially former players, should start lower down the ladder and work their way up, rather than getting jobs at top clubs based on their name? Johnny Roberts
BEAGS SAYS: In an ideal world, it would be the perfect apprenticeship, but then again your first job is often the most important and only success guarantees another if you do start at the bottom. The Burton Albion job is very different to others in League Two, they are a financially solvent club, making close to six-figure profits in the last two seasons, which have included consecutive but ultimately unsuccessful play-off appearances.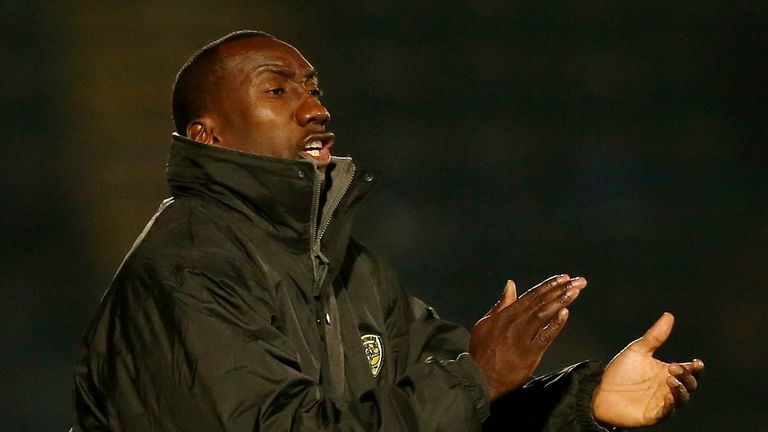 If you add into that a good squad already in the top six when Gary Rowett left for pastures new, then the attraction for Jimmy Floyd was obvious. The icing on the cake for a head coach and tracksuit manager is the training facilities at St Georges's Park.
The whole package/project Jimmy decided was a marvellous opportunity and I have to agree with him. I know he was in for bigger clubs in higher divisions with more volatile owners and definitely more pressure, so less chance of longevity.
He could not have asked for a tougher with his first three fixtures against the top three in the division. But he has started with a terrific 3-1 win at Wycombe then a solid 1-0 home victory against Luton that ended their 11-match unbeaten run, setting Hasselbaink up for what would be his greatest hat-trick should he defeat high-flying Shrewsbury at the new Gay Meadow on Saturday.
Pause for thought, though, for the difference of failing at Premier League level where there is always the Championship, League One or League Two to drop into whereas failure in League Two often means a non-league stint if you are lucky enough to secure another managerial post.
Blackpool have still only won one game this season in the Championship, can you see them turning it around or do you think they are doomed already? Tom Saunders (worried Blackpool fan)
BEAGS SAYS: Unfortunately Tom, I have already aired my disappointment about the goings on at Bloomfield Road and stated the chaos and apathy in the build-up to this season from the hierarchy at the club is directly to blame for the current situation which I think even at this early stage is too far gone to reverse.
Also the miserly approach from a club still receiving parachute payments having recently been in the Premier League means Lee Clark will not be able to buy the quality of players to get them out of the current predicament like some of the other teams scrapping down at the bottom with them.
Bolton, Wigan and Brighton will certainly bring in new blood to aid their cause, in fact, Brighton's acquisition of Villa's former England hitman Darren Bent represent my point in fact, with Sami Hyypia hoping Bent can bring goals to their enterprising play before his loan ends on December 29.
Will Tom Kennedy and Nyron Nosworthy make a difference to a defence that has conceded 30 goals and will Chris Eagles have the creativity and scoring power to bolster an attack that has scored a league low of 12? Answers on a seaside postcard, but my view is it's improbable, if not impossible.
Brentford have enjoyed an amazing start to the season after winning promotion last year from League One. What do you think has been the secret to their success and how far can they go? Ryan Peters
BEAGS SAYS: The secret of their success is continuity Ryan. It's a squad that has grown together over the last few years with a few quality additions showing the same desire and work ethic and creating the consistency required to do well in any division.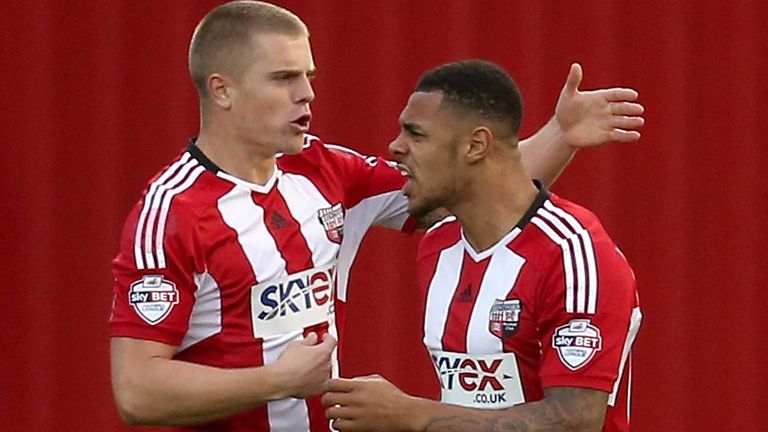 Mark Warburton has carried on the great work and structure Uwe Rosler put in place, maintaining the principles and professionalism the German demanded. He was a brilliant choice and it was not a gamble to put the former stockmarket man in charge having worked closely on the recruitment side studying players' character as well as their ability to maintain unity and harmony in the dressing room.
Plenty of pace and energy and a mix of young and hungry players, with a couple of experienced heads, make Brentford a tough opponent for anybody, especially now mentally they all feel they belong among some of the more illustrious company in the Championship.
Bournemouth are their direct comparison in size and stature and showing what you can achieve when you build a team over a few seasons. I fancied Brentford to do well and not only survive but possibly get a top-10 finish, and at the moment they are well ahead of schedule. It's refreshing to see a club and staff embrace the division above, playing without fear and being allowed by their manager to express themselves, long may it continue.
League One leaders Bristol City have had their first wobble lately after losing two games in a row. Do you think they will last the distance or what do they need to do to make sure they don't slip down the table? William Brown
BEAGS SAYS: After back-to-back defeats, it would be easy to say City have lost their mojo but it's no disgrace to lose narrowly to powerful Preston and 1-0 at superb Swindon after going down to 10 men after just two minutes. To go 16 games unbeaten is immense and I suggest the belief will return for players and fans alike if they win the latest in a titanic trio of fixtures at Peterborough tonight (my birthday by the way!).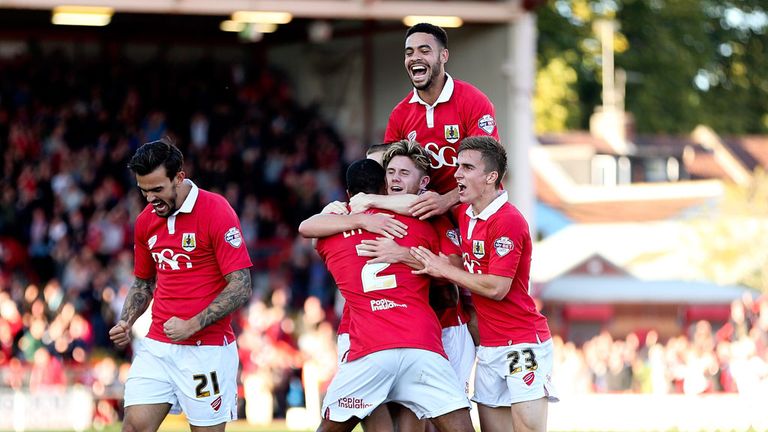 But goals change games and unless early chances are converted you give your opponents a chance to steal points as in the Preston fixture when Bristol had 67% possession and 17 shots to Preston's four, which should have translated into a victory and a good response to the previous loss at Swindon. Aaron Wilbraham left his scoring boots at home early on to settle the nerves and that proved very costly.
There is not a lot wrong, just that ruthless streak to finish chances that were being taken at the beginning of the season so keep the faith sir. Maybe it is time to introduce Jay Emmanuel Thomas within the same successful shape and formation for a string of games to bring that individuality, power, pace and trickery in that free role behind Kieran Agard and Wilbraham. Then your front three would have pace, physical presence and skill. A recipe to unhinge opposition defences and scare managers when the team sheet goes in.
Now that we are around a third of the way through the season, who do you think has been the standout player from each division? Lewis Dance
BEAGS SAYS: That's a great question and difficult to answer as great individual performances are not always reflected in the team's position in the league, but I will give you a few candidates.
In League Two, I have gone for Luton Town's Mark Cullen. Mark has featured in every game this season, 17 starts and one as a sub. He has already matched last season's Conference tally with eight goals and is a massive part of Luton's excellent reintroduction into the Football League.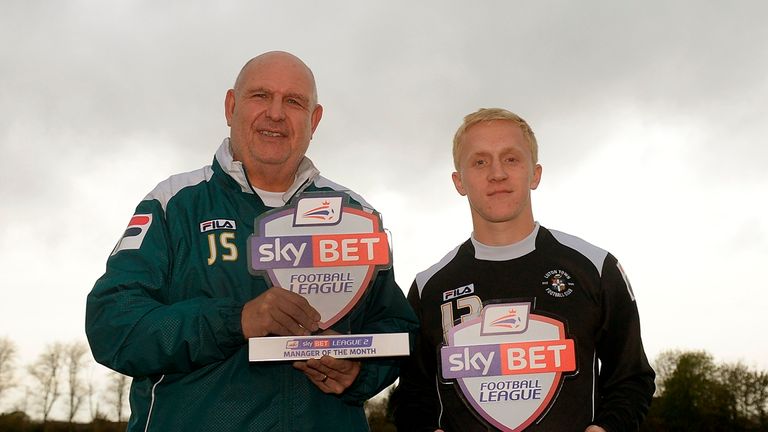 A good finisher, tireless worker, Town haven't lost this season when he scored. His goal on the opening day of the season gave Luton a great start and single goal victories courteously of Cullen's strikes have followed against Cheltenham and Cambridge. He also netted in three consecutive wins in October, starting with a goal against Southend at home and a clever nutmeg on the keeper in the 2-1 win at struggling Hartlepool before the coup de grace, a hat-trick against his manager's boyhood team Dagenham and Redbridge, which was his fifth in three and coincided with Luton's sixth consecutive league victory.
Running a close second is Wycombe's midfield goal machine Peter Murphy. He is a great signing for Gareth Ainsworth, arriving late into the box, Murphy has already registered seven goals for his side and has been the driving force behind Wanderers' brilliant start after last year's near disaster.
In League One, Roy Carroll's form at Notts County deserves a special mention. Clean sheets and brilliant saves aplenty for the 37 years young Irishman, whose reflexes don't seem to be slowing and whose vocal organisation is valuable to his defence.
Matty Done at Rochdale with nine goals and five assists is also having a blinding start to the season, appearing in an unfamiliar central role instead of out wide, with his trickery and intelligence bearing fruit for Keith Hill's side.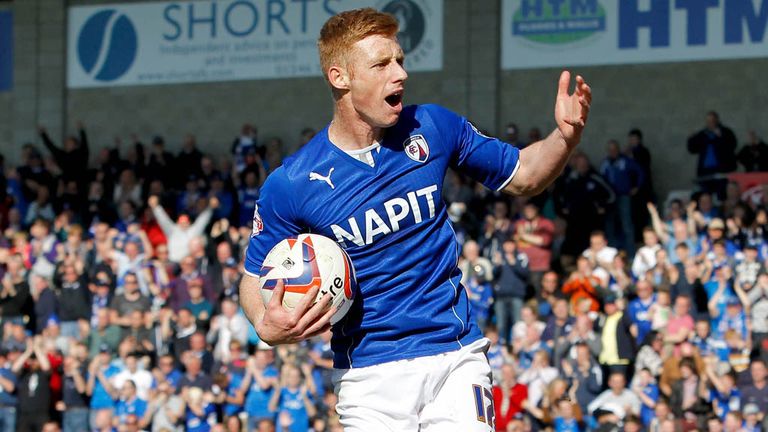 It's the goalscoring exploits of newly-promoted Chesterfield striker Eoin Doyle that have been the most impressive feature of League One up to now. He has 16 league goals, including hat-tricks against Scunthorpe and Preston in back-to-back games, which took his tally for that period to seven goals in three games and seven points out of a possible nine for his team. This guy has ice running through his veins, gets all kinds of goals and has made the step up a division without breaking sweat, well done that man.
In the SkyBet Championship, Bournemouth's Callum Wilson has proved a bargain £3million pound buy, replacing last season's top scorer Lewis Grabban. He is young, hungry and extremely talented, and his power and work ethic have worried the life out of the second tier's defences, sometimes occupying two centre-halves on his own.
I could mention several more Cherries players but will pick out full-back Simon Francis for special praise. He is defensively sound and a constant threat going forward, overlapping the equally productive Matt Ritchie who drifts inside, feeding Francis to deliver the quality of crosses a former right winger should deliver. Ritchie has eight assists and full-back Francis has six for Eddie Howe's brilliant Bournemouth side.
The form of Ipswich Town's Daryl Murphy and Blackburn's Rudy Gestede is that good it has put their more revered team-mates David McGoldrick and Jordan Rhodes in the shade, no mean feat in itself. They are both brilliant in the air, Murphy has an outstanding work-rate and Gestede is showing growing maturity.
Charlton defensive duo Tal Ben Haim and Andre Bikey have been the bedrock that the Addicks' positive start has been built on. Experience and organisation aplenty from this defensive duty going unheralded by many but appreciated by those who understand the game.
Chris Martin, last season's 20-goal plus man for Derby, is once again proving his worth as a pivotal part of the club looking to go one better than their play-off final defeat last year. Jordan Ibe, the Liverpool loanee, continues to impress, with the tricky winger also showing an eye for goal, which leads me on to my choice of the Championship player of the season so far.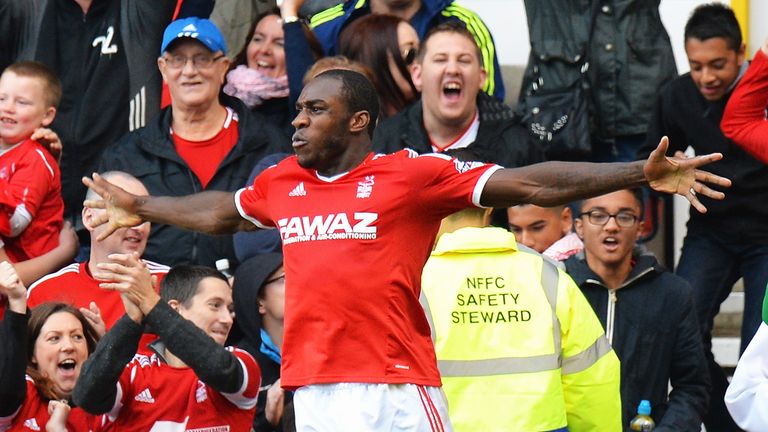 Stand up and take a bow Michail Antonio. The Forest flyer, recruited for a paltry £1.5m, is torturing defences up and down the country with his lightning pace, power and directness embarrassing his opponents. Sometimes central, sometimes out wide, equally effective in both positions, he has provided seven assists, including three for Britt Assombalonga, who is the only Forest player to better Antonio's nine goals for the club.
Of his nine goals, six have come in the second half which is testimony to his strength and stamina. Michail has been the standout performer in the Championship so far this season.