Eight Fifa names in frame
No fewer than eight of Fifa's 24 executive committee members have been accused of acting improperly.
Last Updated: 10/05/11 3:46pm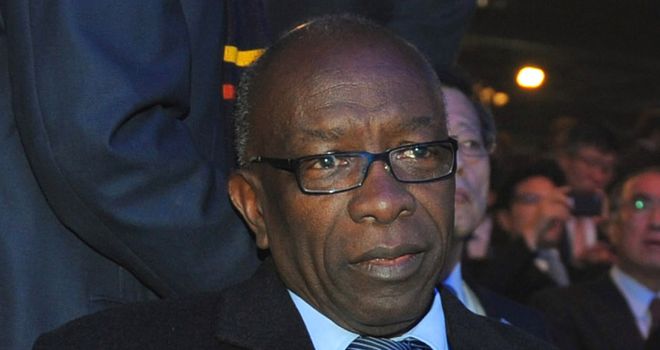 No fewer than eight of Fifa's 24 executive committee members have been accused of acting improperly in relation to the 2018 and 2022 World Cup bids.
Lord Triesman made the latest claims before the culture, media and sport committee in the House of Commons on Tuesday.
Here is a list of all the allegations:
Issa Hayatou:
From Cameroon, he is head of the African football confederation, CAF. Allegations published by the culture, media and sport committee name him as having received US$1.5million to vote for Qatar's 2022 World Cup bid. Also named by BBC Panorama as having received 100,000 French francs from marketing company ISL - he claims the money was for CAF anniversary celebrations.
Jacques Anouma:
From the Ivory Coast, named as financial advisor and close advisor to the West African country's deposed dictator Laurent Gbagbo. He is also alleged to have received US$1.5m to vote for Qatar.
Jack Warner:
Fifa vice-president and head of Caribbean football. Alleged to have asked Lord Triesman and Sir Dave Richards for cash to build an education centre with the money to be channelled through him to ensure it was "appropriately spent". Also alleged to have asked for £500,000 to buy World Cup TV rights for the earthquake-hit nation Haiti, also to go through him. It was also suggested he owned those TV rights.
Nicolas Leoz:
Head of South American football from Paraguay, who asked Triesman for a knighthood to go along with his Legion D'Honneur and various other awards and honours. Triesman claimed: "I said it was completely impossible and we do not operate like that and he just shrugged and walked away".
Worawi Makudi:
The Fifa member from Thailand wanted to be given the TV rights to a friendly between England and the Thai national team. "I said TV rights should go to the federation of the country staging the game; that was what he believed was the critical thing to making the arrangement a success," said Triesman. The FA have since cancelled the friendly, which had been planned for June.
Ricardo Terra Teixeira:
Brazil's football chief and head of the 2014 World Cup organising committee. In a conversation about Brazil's president Lula, Teixeira told Triesman: "Lula is nothing - you come and tell me what you have for me." Triesman told MPs he accepted the statement was ambiguous. Married to former Fifa president Joao Havelange's daughter, he was also named by BBC's Panorama as having received payments from collapsed TV rights marketing company ISL.
Amos Adamu:
Nigerian Fifa member who was banned for three years by Fifa's executive committee for soliciting World Cup bribes as part of the Sunday Times undercover investigation. Is challenging the ban with the Court of Arbitration for Sport.
Reynald Temarii:
From Tahiti, the then head of the Oceania confederation was banned for one year for breaching Fifa rules following the Sunday Times investigation.
However, Lord Triesman also named several Fifa members as being "completely incorruptible", namely Japan's Junji Ogura, Korea's Chung Mong-Joon, Uefa president Michel Platini and Turkey's Senes Erzik. Triesman also described the behaviour of English Fifa vice-president Geoff Thompson as "always pristine"..