Ray Wilkins says England did well to draw their World Cup qualifier against Poland
Ray Wilkins told Sky Sports News that England did well to draw their World Cup qualifier against Poland.
Last Updated: 17/10/12 6:34pm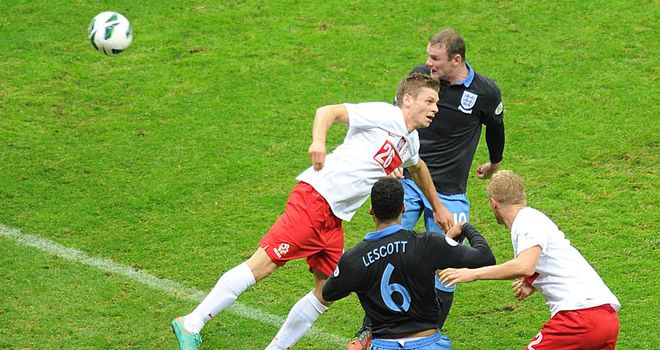 Striker Wayne Rooney headed England into a first-half lead only for Kamil Glik to head the hosts level after the break in the Group H match, which finished 1-1.
Even though Roy Hodgson's side failed to hold onto the lead, Wilkins told Sky Sports News that overall England performed satisfactorily.
"It was a tough old game for us but it was always going to be difficult, so our lads on the whole have done well to come away with a draw," said the former England midfielder.
"It was pretty evident that when Poland scored the relief in scoring meant they just went and sat back and made it a little bit easier for England in that they allowed us possession in our own half; it was almost as if they would settle for that point.
"One of the plus points for me was Glen Johnson at right fullback - I thought he played very well. He covered very well and tried to get forward and may well have had a penalty in the first half. Tom Cleverly played very well today too. We've come away with a point and I think that has to be a plus point."
Sloppy
Wilkins felt England started the delayed match - which had to be postponed on Tuesday due to a waterlogged pitch - as the stronger of the two sides but paid the price for failing to score a decisive second goal.
"We started very well," he reflected. "We got hold of the ball and took the sting out of the game - the crowd went silent, which was important because at the start of the game the crowd was really up for it.
"And then all of a sudden we stopped passing the ball well; we started giving it away, we looked a little bit sloppy but got the goal - the all-important goal.
"We should have gone 2-0 up on two occasions: there was a great ball in from Steven Gerrard from the right-hand side from which Jermain Defoe, at this level, has to score. But he didn't - he missed it.
"Then we had another chance when James Milner played a nice pass through to Danny Welbeck - he laid it off for Wayne Rooney, who hit it over the crossbar.
"Obraniak then played in a corner and the big centre-half Glik got in front of Joe Hart. I think Joe Hart made a poor decision from a goalkeeping perspective - he's come for something that he's got no chance of getting and Glik just got his head there and it's one apiece.
"The goal had been coming unfortunately - we failed to retain possession of the ball. I think Poland deserved their equaliser."
Progression
That, in Wilkins' view, was just one occasion when England gave the ball away far too easily and he believes that the players must improve that area of their game to progress as a team.
"It's about the players having the confidence to use each other with the ball and having the confidence in the person that you're giving the ball to, to retain it.
"We have to work a lot harder at it - there's no two ways about it, because we got to a period in the second half where we were just happy to boot it away and not try to make passes and get ourselves up the field with the ball.
"So that's got to stop. We've got to have confidence in ourselves that we are good players who can go and play. That can only be a progression - I think Roy Hodgson's doing a good job."