Reason to celebrate?
Peter Fraser asks whether Steven Gerrard's 100th cap would be a marker of success or a reminder of England's international underachievement?
By Peter Fraser - Follow on Twitter @SkySportsPeteF
Last Updated: 14/11/12 11:10am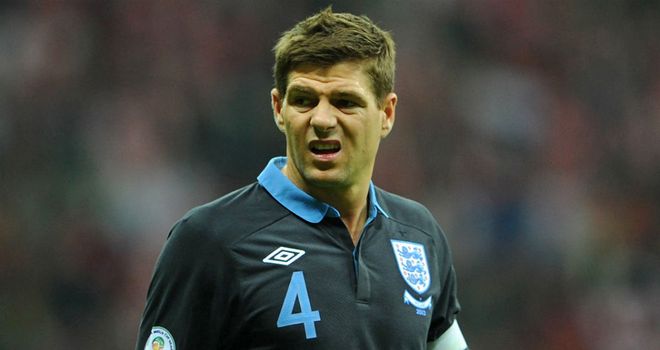 On 31st May 2000, Steven Gerrard played in England's 2-0 victory over Ukraine at the age of 20 years and one day. As he ran out at Wembley, anticipation was for a bright international future for both player and country - the Golden Generation.
On Wednesday, perhaps fittingly, against England's familiar foes, Sweden, who were the opposition when Gerrard first captained his country in 2004, he is expected to skipper his nation to his 100th cap. It will be a moment for personal celebration and widespread acclaim, and joining the elite group is a symbol of the quality of any player.
But should Gerrard's century of appearances actually be seen as a success or rather a marker of underachievement from an international era and player of which so much was expected? In Gerrard's more than 12 years with the England senior team, their greatest achievements are reaching the quarter-finals of Euro 2004 and the 2006 World Cup.
Upon making 100 appearances for his country, and when he finally decides to retire his international boots, which is expected when England's 2014 World Cup campaign comes to an end, Gerrard will surely have regrets. Unless something remarkable happens if and when the national team reach Brazil in one-and-a-half years, there will be a sense of what might have been.
Gerrard has so far played 7,599 minutes for England. He has won more than half the games he has played. He has scored 19 goals. He has played in three European Championships and two World Cups, having had to miss 2002 due to injury. He has been his country's captain at two of those finals in 2010 and 2012.
Player
Steven Gerrard for England
Appearances
99
Goals
19
Goal Assists
19
Pass Completion %
79%
Tackles Won %
74%
Blocks
40
Fouls
79
Offside
11
Yellow Cards
10
Red Cards
1
Win Record
 
Games Won
64
Games Drawn
23
Games Lost
12
Win %
64.6%
There are highs which stick in the mind regarding the 32-year-old's England career. A 21-game run before he suffered his first defeat, which ironically came in that first match as captain against Sweden. That goal in the 5-1 demolition of Germany in Munich in 2001. His two headers in the 5-1 thrashing of Croatia in 2009. But where are the overall, trademark, swashbuckling performances which have dragged England to victory almost singlehandedly? Those are the displays which would see him go down as an international great to match his club reputation. Where are the medals?
For Liverpool, Gerrard is a force of nature who has earned every piece of praise possible. In 600 appearances, he has won the UEFA Champions League, two FA Cups, the UEFA Cup, three League Cups, two Community Shields and two European Super Cups. It is only the Premier League which has infamously and painfully eluded him. He is a player who has thrived with the unimaginable pressure of captaining his boyhood club from the age of just 23. He represents the ethos of Liverpool. He makes fans believe anything is possible.
But, with England, there has been no replication. The sort of awe-inspiring displays which wrestled Liverpool back from three goals down against AC Milan to win the 2005 Champions League on penalties, or rescuing his club in the 2006 FA Cup 'Gerrard final', have failed to materialise.
The unanswerable question is why? Is it the manner in which Gerrard has been regularly played out of position by a range of England bosses, who have used him in wide midfield, defensive midfield and, at times, even at full-back? Is it the age-old argument he cannot play in tandem with Frank Lampard? Is it the way in which he has so shabbily been captain, demoted and reinstated on several occasions by different managers? We will never really know.
Ahead of winning his 99th cap against Poland in Warsaw in October, Gerrard said: "I'm loving it as much as if it was my first cap. I've been around the set-up an awful long time. But I don't feel old. I'm not getting bored with it. I still feel fresh, looking forward to the next game as much as my debut. Every time you put the England shirt on, it is a proud moment."
There is no lack of commitment but, whatever the case, when Gerrard joins Peter Shilton (125), David Beckham (115), Bobby Moore (108), Sir Bobby Charlton (106) and Billy Wright (105) as the sixth player in England's 100-plus club, he could be forgiven for feeling a little embarrassed in the company of two World Cup winners.
A look at Gerrard's former Liverpool colleagues, Xabi Alonso and Fernando Torres, who have won both one World Cup and two European Championships in 106 and 101 caps, respectively, is a stark contrast. It could be argued Alonso and, particularly, Torres have been helped by playing in sides with more skill. But, considering the hype which surrounded the start of the Golden Generation, it could be seen more as a reflection of what is possible when the talent of a group of players is fulfilled.
Alonso himself said upon Gerrard reaching his 600th appearance for Liverpool last weekend: "For me, he is already one of the greats. His name and Liverpool's name will always be linked and he is a great representative of the club and the city."
This could not be said of Gerrard with England. This is not an accusation of a lack of skill, desire or ambition. It is another indictment of the management of England's international set-up over the past decade and more. The potential of that Golden Generation, of which Beckham was also a member, was never realised and Gerrard is one of the few remaining pieces of player evidence. It is an exact reason why the Football Association has opened a £100million-plus national centre at St George's Park. The hope is the development will stop the waste of ability and make for improvements.
Unfortunately for Gerrard, his greatest achievement for England may be that he will be held up in the future as an example of the past's mistakes at international level.