Double act
It is an old debate we have all heard many times before but, on Friday night in the World Cup qualifier against Moldova, Steven Gerrard and Frank Lampard nailed the myth they cannot play together
Last Updated: 06/09/13 11:19pm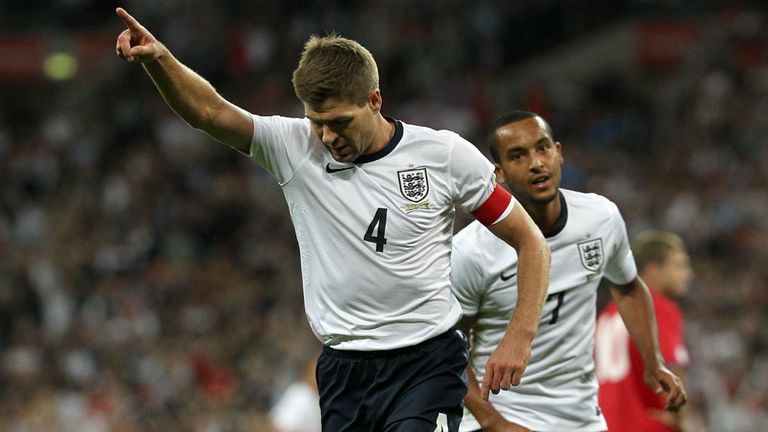 Frank Lampard rolled the ball sideways to Steven Gerrard on the edge of the penalty area and the England captain duly clipped the ball past Moldovan goalkeeper Stanislav Namasco.
It was Gerrard's 20th goal for his country and 15 of them have come in the 57 matches he has started alongside Lampard.
Apologies for the dry statistics on a night when England defeated Moldova 4-0 at Wembley but it is important to nail the myth that Gerrard and Lampard cannot play together.
As an English double act, Gerrard and Lampard might not be viewed as affectionately as Morecambe and Wise but when it comes to longevity in football terms there is not much to beat them.
In a week when new Football Association chairman Greg Dyke underlined the dearth of English talent, the sight of the Liverpool and Chelsea stars was good news and bad news.
Bad in that England are desperate for a new hub of creative midfield talent to replace men with so many miles on the clock.
Good in that England's remaining matches in World Cup qualifying Group H will require composure and experience if they are to be negotiated successfully.
In short, the road to Brazil appears to rest on the success of Gerrard and Lampard, a soap opera which has been going for more than a decade.
Gerrard is 33 years old with 105 caps and 20 goals to his name. Lampard is 35 with 99 caps and 29 goals. The debate during that time has been endless. They can play together. They cannot play together. One can hold when the other attacks. Neither has the instinct to defend, leaving the team vulnerable against the top sides, or so the critics argue.
We really have heard it all, dissected every nuance of two of the finest midfield players to grace the English game in the Premier League era.
Yet the most pertinent fact of all is that they are still here, running the show at Wembley after all these years, even if it was against a Moldovan side lacking any ambition.
Shedding buckets of sweat and leading by industrious example in the case of Gerrard. Probing, linking, gliding to the aid of the strikers in the case of Lampard.
They give England solidity, no question about that. Yet the suspicion is that England will need more if they are to negotiate the very clear danger of Ukraine on Tuesday and Montenegro and Poland at Wembley in October.
That is where Jack Wilshere comes in. Let us be honest, the 21-year-old Arsenal man's ninth cap for his country was not his best. He was subdued and failed to make any real impact apart from in the 24th minute when, with one twinkle-toed run, he showed a glimpse of England's future.
Forget the goals from Gerrard and Ricky Lambert and the two from Danny Welbeck, whose second booking means he misses the game in Kiev, that cameo when Wilshere surged past defenders into the Moldovan penalty area to bring a fine save from Namasco was reminiscent of Paul Gascoigne.
That is the quality England will need before, during and after Brazil, if they qualify. No doubt that was why England manager Roy Hodgson substituted Wilshere after 59 minutes with the game won and thoughts turning to tougher challenges.
The stark truth, however, is that while England got the job done at Wembley they were far from convincing. It promises to be a tense and nervy night in Kiev. Another night of destiny for England old and new.