Fomenko's revival
Ukraine's hopes of qualifying for the World Cup in Brazil next summer looked minimal before Mykhaylo Fomenko took over in December. Now they can go top of Group H with a win over England on Tuesday evening. Adam Bate examines a turnaround in fortunes that owes much to their new coach
Last Updated: 10/09/13 3:37pm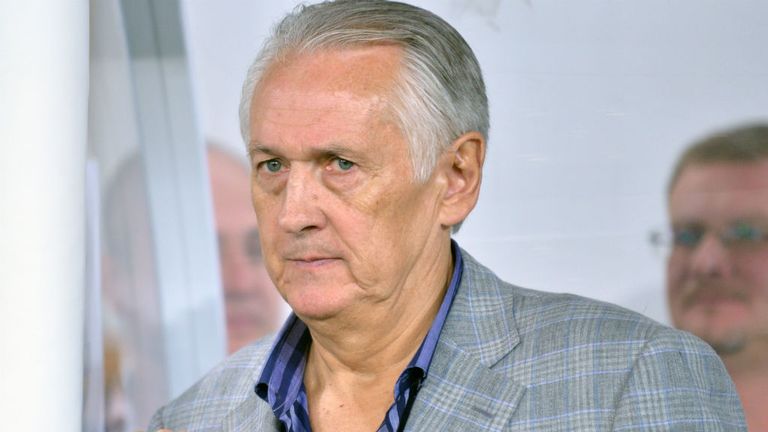 "I know Ukraine had a bad start but they are a good team," said Roy Hodgson earlier this year. "I would certainly put them up there as one of the serious rivals, especially on the basis of what we saw in the Euros and what they did when they came to Wembley. I always thought it was going to be a bit of a dog fight between some of these teams."
On Tuesday evening in Kiev, the battle to become top dog in Group H continues. And while there is no reason to doubt the sincerity of Hodgson's words of six months earlier, one suspects even he did not imagine finding his team at the mercy of Ukraine should the home team claim the three points. It has been a remarkable turnaround under Mykhaylo Fomenko.
Ukraine had indeed started the campaign well at Wembley last year, only denied victory by a late Frank Lampard penalty. But with Oleg Blokhin having departed to take the Dynamo Kiev job in September, rudderless efforts the following month - a draw in Moldova and a home defeat to Montenegro - appeared to have scuppered any hopes of reaching the World Cup finals for the second time in the country's history.
Determination
Sven-Goran Eriksson and Harry Redknapp were considered as Blokhin's replacement before settling on Fomenko. Right from the outset, the 64-year-old Dynamo Kiev coach expressed a determination to chase World Cup qualification rather than talk vaguely of building for the future as might have been justifiable given the recent retirement of the legendary Andriy Shevchenko.
"We still have the task to qualify for Brazil," he said. "Yes, it is very difficult to turn the qualifying situation around, but we have a saying that there is still hope even when it seems that there is none. I am happy that our players have not admitted defeat in the qualifying group and that everything depends on us."
That belief has been rewarded and the decision to appoint Fomenko emphatically justified. Four wins out of four have followed, including impressive victories in Poland and Montenegro - neither of which England were able to beat away from home. The mood has changed and the momentum is with them.
Although the experienced Serhiy Nazarenko has been discarded, a cause for consternation given the player's relatively impressive performances at Euro 2012, revolution has not been the Fomenko remit. He has gone about repairing the damage methodically. "Many expect us to play adventurously, believing we have nothing to lose, but we won't," he said prior to the 3-1 win in Poland. "We will play the style of football that we can master by the time we play that game."
Pressing
That style is the sort of pressing game that reflects Fomenko's history as a pupil of Valeriy Lobanovskyi, the acclaimed and highly influential coach who led Dynamo Kiev to 13 league titles and three European honours. Fomenko was a defender in Lobanovskyi's 1975 UEFA Super Cup winning team, succeeding in shutting out Gerd Muller in Munich, and was indoctrinated by his long-time coach in the importance of the system and the collective over the individual.
An astonishing 12 different goalscorers in just four competitive games in charge hints at the sort of ideals that Lobanovskyi preached. But there are signs of pragmatism too. "You rarely see rigid tactical models in football anymore," said Fomenko. "We have to change formations many times in a game and anyone who doesn't puts himself at an obvious disadvantage."
Tactical flexibility, renewed focus, a confident team and almost 70,000 fans packed into the Olympic Stadium in Kiev could make for a devastating combination. Hodgson identified them as "serious rivals" early in the qualification process. As England prepare for this crunch clash, he will be aware that there has seldom been a more dangerous time to face Ukraine.