Forty years on
As England prepare to take on Poland in a crucial World Cup qualifier at Wembley, we look back to an encounter that took place 40 years ago this week. One that ended with England failing to qualify for the 1974 World Cup...
By Daniel Storey and Jon Holmes
Last Updated: 15/10/13 10:30am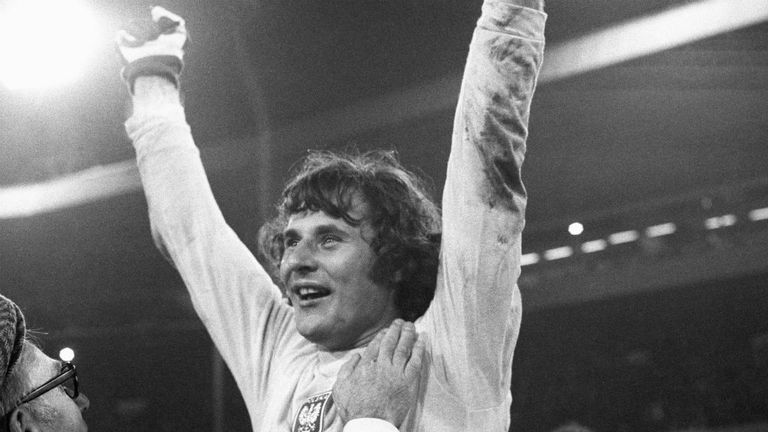 England will take to the field in their final Group H qualifier on Tuesday knowing that a win is needed to ensure qualification for next summer's World Cup. Poland are the team that stand in their way; a home win will be expected.
But England have been here before. Forty years ago this week, England were aiming to reach the World Cup . As now, they faced Poland. As now, it was an October evening. As now, it was at Wembley. And as now, they were chasing a victory. What followed has become the stuff of Polish footballing legend.
England still a power...
Despite the current funk endured by the England national team, in the early Seventies we were still justified in labelling the Three Lions as one of the world's greatest sides. The World Cup had been won just seven years earlier, supplemented by a quarter-final appearance in 1970. Despite failing to qualify for the four-team European Championship finals of 1972 (such a tournament did not hold the kudos of its recent editions), there was still a good deal of optimism about the country's chances on the biggest stage in West Germany the following year.
A must-win match...
On paper, Group 5 of World Cup qualifying should have been comfortable for England. It contained only three teams, and an opening victory over Wales in Cardiff seemed to set the tone. However, a 1-1 draw with Wales at Wembley and a shambolic 2-0 defeat in Chorzow meant that England needed victory when they met the Poles again in the final game. The media seemed to see it as a foregone conclusion, but having scored just twice in their previous three qualifiers, this was anything but.
The Polish 'clown'...
It would be fair to say that then out-of-work manager Brian Clough was not a man to mince his words, and he was highly critical of Poland goalkeeper Jan Tomaszewski in the television studio before the game, labelling the 25-year-old "a circus clown in gloves" before predicting a 2-0 England win. Such a prediction could not have been more wrong, although Clough refused to concede as much after the game. He continued to call Tomaszewski a 'clown' - "would you want him in your team?" - before Derek Dougan vehemently reproached him in one of the most memorable pundit exchanges in TV history.
A limp exit...
Alf Ramsey picked Martin Peters as the only member of the side that had started the World Cup final seven years earlier. England started brightly, dominating the ball and forcing numerous chances. Allan Clarke, Martin Chivers and Mick Channon all went close, as the Polish goalkeeper - despite sustaining an early hand injury - made a string of wonderful saves. Tomaszewski's best was a diving stop to his right to keep out a Colin Bell shot from the edge of the box. England went into the break level, leaving behind a nervous and tense Wembley crowd.
Early in the second half, Tony Currie tested Tomaszewski too - but then the unthinkable happened. Having won a 50-50 with Norman Hunter, Grzegorz Lato broke down the left wing, ran infield and played an excellent pass to the fast-arriving Jan Domarski, who struck a firm low shot at Peter Shilton as Emlyn Hughes made a desperate late tackle. Shilton, who had recently replaced the legendary Gordon Banks for his country, got his hands down towards the ball but couldn't prevent it from going in. The goalkeeper should undoubtedly have done better.
England actually responded well. Channon had a goal disallowed by Belgian referee Vital Loreux but after Peters had been fouled by Stan Musial, Clarke settled the nerves from the penalty spot - surely England would now go on to win?
But the longer the game continued, the more desperate things got, chances created but were either wastefully spurned or thwarted by man-of-the-match Tomaszewski. Sir Alf Ramsey didn't make a change until the 85th minute - substitutes were still a relatively new innovation, and afterwards the England boss even claimed his watch had stopped and he didn't know how long was left. When Kevin Hector was introduced, for his debut, he almost produced a late headed winner from a corner, but saw his effort cleared off the goalline and Channon then stuck the loose ball wide. There was still time for one final push - Currie swinging in a deep cross from the left, Tomaszewski rising above Peters to punch the ball out - but only as far as Bell, who got a shot away. The poor pitch took the pace off it, though, allowing Miroslaw Bulzacki to hack it clear. Soon after, Loraux blew his whistle, and England limped out, failing to qualify for the World Cup for the first time since entering the tournament post-war.
What followed...
A few months after the defeat, Ramsey was sacked by the Football Association, many of whose officials had reportedly held a grudge against the manager. Joe Mercer was his caretaker replacement, eventually replaced by Don Revie. England failed to qualify for either the European Championship of 1976 or the World Cup in 1978.
Poland made the most of their qualification by taking West Germany by storm. They won every one of their games in a group containing Argentina and Italy (Fabio Capello scoring against them in the final match), notching seven against whipping boys Haiti. In the second group stage, two victories were followed by a tight defeat to the hosts, a late Gerd Muller goal halting their ambition to reach the final. In the third/fourth place playoff, Lato gave the Poles a memorable 1-0 victory over Brazil. Lato won the golden boot, whilst Kazimierz Deyna was named as the third best player of the tournament.
Tomaszewski, who had repelled England so admirably at Wembley, continued his good form into the tournament, becoming the first-ever goalkeeper to save penalties in different matches of a World Cup. Now 65, he continues to work in the media (like Clough, he has a reputation for being outspoken) and was even elected to the Polish parliament in 2011.
With Artur Boruc in outstanding form for Southampton in the Premier League this season, the fear for England is that they may again be thwarted at Wembley by an inspirational Poland goalkeeper. One's thing for sure - no one would dare call the Saints shot-stopper a clown, if only to avoid tempting fate once more.