Orla Chennaoui: Brazil looks for answers following latest tragedy
Sky Sports News' Orla Chennaoui reports on the latest tragedy to hit Brazil's World Cup preparations.
Last Updated: 28/11/13 3:33pm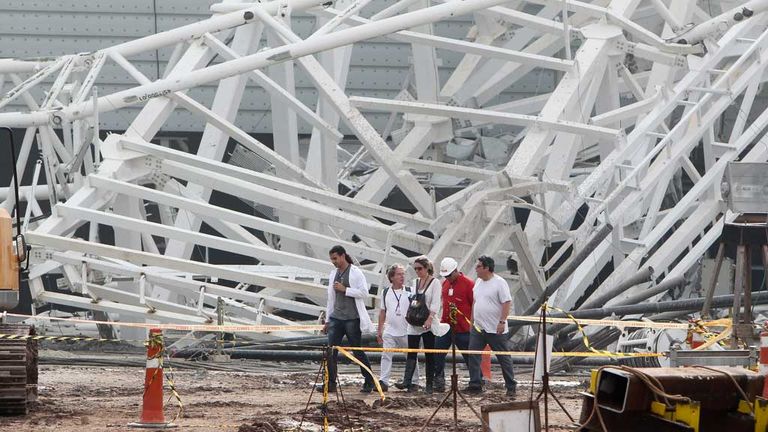 In Brazil they say there are two things that matter, God and football.
As prayers are offered for the two men who lost their lives at the Sao Paolo stadium, the questions begin as to why the Brazil World Cup preparations has claimed more casualties.
The suggestion is that ground beneath the crane, damaged by heavy rain, gave way causing it to topple.
But in a country well used to heavy rain, why were suitable precautions not taken to stabilise the ground?
Whether the fact that this is also a country well used to tardy construction schedules has anything to do with it, remains to be seen.
With just 34 days until the stadium was due to be handed over to FIFA, the deadline was looming.
It was claimed that the venue was over 90% complete, and certainly if the last piece of roofing was being put in place, that would ring true.
However, I remember being in Rio de Janeiro this time last year to survey venue preparedness and the rate of construction I saw at the iconic Maracana stadium was far from the official version.
The other thing I remember most from last November's visit was the seemingly constant torrential rain.
If rain did indeed impact the safety of the Sao Paulo building site, there's sure to be plenty more to come.
Safety issues aside, there are reports that the wet weather has seriously hampered progress at a number of the other stadia.
It's little wonder then that there's talk of an 'intervention and acceleration' plan - or Plan B to you and I.
The Brazilian organisers need to get a move on to reassure the international community that their venues will be ready on time and will be safe for both workers and World Cup fans.
It seems like it will take something close to a miracle for some of the stadia to be ready to welcome the world in six months' time.
Once again in Brazil, it's all about God and football.