People power
If Confederations Cup final is anything to go by, football-mad Brazil is far from losing its love for the beautiful game but will the threat of protests impact on next summer's World Cup?
Last Updated: 10/01/14 12:01pm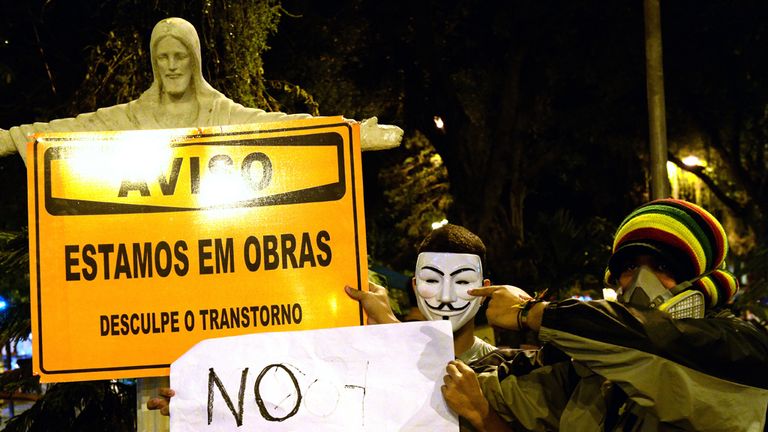 FIFA president Sepp Blatter this week expressed his concern about the possibility of a repeat of the mass public protests that marred last summer's Confederations Cup in Brazil. This time, rather than causing controversy, Blatter is well within his rights to reveal such apprehension, with football's pinnacle in danger of major disruption.
The FIFA president's comments come as the construction of new stadia has missed yet another deadline, adding to his ever-decreasing confidence in this summer's showpiece going to plan.
"I am an optimist not a pessimist. So I am not worried. But we do know there will again be manifestations, protests. Those during the Confederations Cup - in this same country - were generated out of the social networks," Blatter said in a Swiss newspaper, struggling to hide his anxiety.
Millions of people nationwide took to the streets as Brazil welcomed FIFA's confederations champions, all with the intention of expressing their discontent over public spending, and a lack of governmental focus on the needs of its people.
"Here in Brazil we took too long to wake up to discover they spent billions on stadiums, but they say there's no money for hospitals, no supplies for doctors," exclaimed one protestor prior to the Confederations Cup final between eventual winners Brazil and Spain.
Five thousand turned to the streets surrounding the Maracana on the night of the final, leading to many high-profile government officials, and even Brazilian legend Pele, missing the event, which was a source of much embarrassment for the country's footballing authorities.
One man was killed as more than 50,000 people marched on the stadium in Belo Horizonte before Brazil beat Uruguay to reach the tournament final - another indication of the extent of the ill-feeling.
Such an outlook is difficult for authorities to quash, especially with the upcoming World Cup offering the disgruntled population a tantalising opportunity to further reinforce their anger.
Further scenes of demonstration were seen on the western city of Cuiaba in October as 50 protestors stormed the Arena Pantanal as the secretary general of FIFA, Jerome Valcke, inspected the part-built stadium.
One banner proclaimed, "A World Cup for whom" as many in the Mato Grosso state have questioned the decision to build a new 40,000-seater stadium, costing a reported £140million, in Cuiaba, considering the region is without a single club in Campeonato Brasileiro Serie A, the country's top division.
Football supporters fleeing rubber bullets, roads into stadia blocked by angry crowds, mobs throwing stones at FIFA offices and promotional posters and placards being ripped down and burned hardly encourages fans to make the journey to the other side of the planet.
However, have we not had such fears surrounding the ability of certain nations to host major international tournaments before?
We had those who thought South Africa was unsafe to visit in 2010, a trip to Poland and Ukraine for Euro 2012 would result in you being mugged, and neo-Nazi groups would cause carnage in Germany in 2006 - none of which actually took place on any mass scale.
Turkey hosted the Under 20 World Cup back in July amidst mass anti-government protests across the country, and, albeit with a fraction of the visitors who will travel to the World Cup, football fans were not the target.
The volume of protests are on a much grander scale in Brazil, as the numbers of participants in last summer's demonstrations show but it would be churlish to ignore the fact Brazil is the fifth largest country in the world in terms of land mass, and therefore demonstrations will be more spread out.
The panacea for all such worry will be an exciting summer tournament, after a by all means substandard World Cup last time out in South Africa.
With numerous countries in with a chance of success in June, coupled with the host nation being favourites to secure their sixth World Cup crown, anticipation of excitement on the pitch will still attract huge crowds.
Despite club attendances in Brazil being relatively low, mainly due to cost of tickets and fear of violence, 889,305 tickets were allocated to people from 188 countries during the random selection draw for the first phase of ticket sales, 71.5 per cent of which were to Brazilian residents. More remarkably, 6,164,682 requests for tickets were handled by FIFA - hardly an indication of a world that is in fear of protests affecting their decisions to attend.
The experience of the South American nation is one reason for such supporter interest, whether it is an Amazonian adventure or whistling the hours away on Copacabana beach, tourists can escape any danger from protests.
"There was no specific goal, but during the World Cup, the protests will perhaps be more concrete, more organised. But I also believe the football will be safe, I do not believe that Brazilians will attack the football directly. For them, it is a religion," Blatter added, in an attempt to reassure any potential visitors.
The FIFA president is right to raise concern, and is equally correct in stating that protests will almost certainly take place, which is well within the rights of the people in a democratic state.
However, purely in the interests of fan safety, the authorities will be under scrutiny the world over, and will be planning to police such events, with the Confederations Cup a pre-requisite of what to expect.
If the atmosphere at the Confederations Cup final is anything to go by, we can see that a football-mad country is far from losing its love for the beautiful game, and if the authorities have learned the lessons of last summer, the World Cup can remain the spectacle it is promising to be, even if the general public are not all onside.