Brits abroad - Gary White
Gary White swapped non-league football in Bognor Regis for a chance to play in Australia. Plenty of hard work later and the Englishman has been national team coach of the British Virgin Islands, Bahamas and now Guam. Here is his story...
By Adam Bate
Last Updated: 28/01/14 4:11pm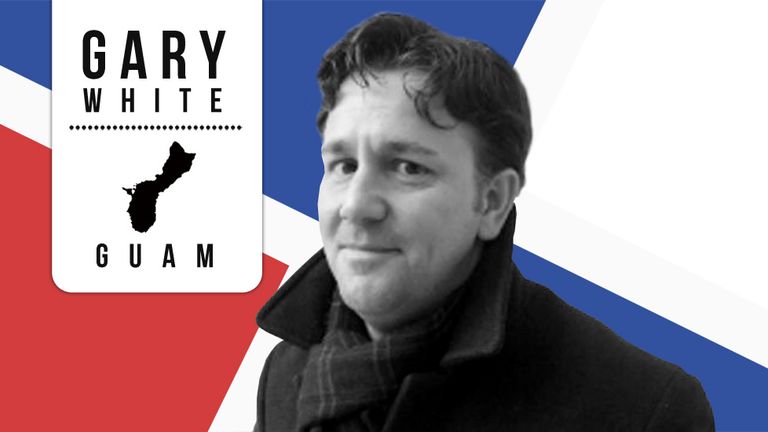 Gary White was just 20 years old when he left non-league football with Bognor Regis Town in England behind him to pursue an opportunity to play for Fremantle City in the Western Australia State League. A combination of forward thinking, ambition and talent has led to a coaching career that has taken White to head coach and technical director roles with national teams such as the British Virgin Islands and Bahamas as well as working with Seattle Sounders in Major League Soccer.
Currently working as head coach and technical director for the Guam national football team, White's adventure continues. Adam Bate caught up with the intrepid Englishman, now 39, to find out more about his extraordinary journey...
How did the move to Australia come about?
There was a chap at Bognor Regis who'd come over from Australia. He asked me if I wanted to go back with him so that's how it came about. I left Bognor for Fremantle, which is a suburb of Perth. I was there for two years playing for Fremantle City. That was before there was a team from Western Australia in the national league - it's Perth Glory now. So we played in the Western Australian league.
Was it a big decision?
I fancied it because I'd always wanted to travel. The opportunities in England were pretty bleak. Playing non-league football was the shining light that I had at that point. The opportunity to go and play in Australia in a professional league was exciting.
Do you need to be a certain type of person?
You've got to be open minded and you've got to leave all your received opinions about other places at home because a lot of English people complain that it's not England. Well, it's not England so you've got to be positive. You've got to be a character that's welcoming and a personality where you can survive on your own away from your family.
Did you enjoy it in Australia?
I loved it. They were really good people. It's really where I started to do a lot on the coaching side. I started my own football academy at a local community centre. That's when I really started to get into it so it was a good opportunity for me to decide what I wanted to do. I knew that I could still be running around the non-leagues or leagues like the one in Australia trying to find that big contract. But it wasn't going to happen so I decided to go into coaching at that point.
I could have been doing what a lot of my friends were doing. But you look at it and wonder if in 10 to 12 years you're still going to be doing this - looking for contracts anywhere they'll give you one. I wasn't going to make the big money or the big impact as a player. So I decided at 21 that this was an opportunity to get ahead of all of those ex-pros who'd be finishing in their mid-30s and get 10 years or so of experience under my belt to put myself in good stead against these types of players. Hopefully then people would be able to focus a bit less on my playing experience and a bit more on my coaching experience.
It was great because you get to see different methodologies, different opinions. You have to think outside the box and see different cultures. That helps you deal with problems a lot better I think.
How did you become coach of the British Virgin Islands?
I left Australia and spent some time in the United States working in the soccer camps that a lot of students do in the summer. From there, myself and a guy called Charlie Cook decided after coming back home that we didn't want to be in England at that point because the opportunities were very slim and the opportunities abroad were vast.
Basically, I sent a fax to every federation in FIFA. It was good timing because FIFA had just issued the Financial Assistance Programme whereby they gave national federations money to help develop the game. So there were some good opportunities for coaches at that point because federations had money to bring in people. The Virgin Islands offered me a job there and I went over. It was just a real desire to do something different. I didn't want to settle to be ordinary so I decided that if they don't know you then you have to get to know them.
And you had success there...
It went really well. In the first year, we took them more than 20 places up the world rankings and did some good development work as well. It was an opportunity to really find your feet as a coach. At that point I was only a UEFA B coach so it was a case of making mistakes and fixing them. You get the opportunity to do that there because nobody else is really looking at it. It's on the job training that you'd never get at a club because they'd want results immediately. It gave me the chance to really blossom as a coach by finding out what works and what doesn't work.
What did you learn from that experience?
With those smaller countries, you go in as a national coach and focus on the senior team but you're also responsible for developing the game. So what we would do is go around the schools and create educational programmes. You're really the main guy for anything technical. It's a good thing because you can make decisions but it's a bad thing because you've got nobody to knock ideas off.
One thing I learned was the administration side of things - putting presentations together with PowerPoint that I now use on a regular basis. A lot of football people aren't very good at those type of skills but it allowed me to be able to present my ideas in a visual way whereby people were interested in watching them. It was a fantastic grounding.
And a good life off the field?
The British Virgin Islands have some of the best beaches in the world and it was a Caribbean climate. It was a very laidback community and the perfect setting to grow.
You then moved to the Bahamas. Why?
After a year in the British Virgin Islands there was a lot of exposure regarding what we were doing as the team were winning games that they'd never won before. So some of the bigger countries came knocking. The Bahamas was a more sports oriented country, mostly for athletics where they had some of the fastest people in the world at 100 metres and 200 metres. As a sports country, they wanted to develop their football side.
It was a huge success too...
It was a very fruitful relationship between me and the federation. I was there for eight years and it was an opportunity to work with better players at a bigger association with more pressure. It was another place where I had to learn to survive as a foreigner. But it was also somewhere I was still able to make my own decisions.
It was a very proud moment when we went 55 places up the world rankings. We were FIFA's biggest mover in 2006 and that was down to all the groundwork that we did prior to that time. But it was also good to see a bunch of players go off with professional contracts and loads of kids getting scholarships to play football in America. From all the facets as a head coach and technical director, it was good to see that hard work pay off.
Was it difficult though?
You're there on your own. Not only do you have to survive but you have to face that adversity and grow. You are given time though so there's the chance to put your plans into action. You learn skills that really help you in the coaching arena. The ability to sell yourself is key because to be a good coach you have to be able to sell your ideas to your players and sell your vision to everyone around you. Every day you are dealing with different investors, sponsors and executive committees. That really helped with my ability to manage players.
Why did you leave the Bahamas?
There was a huge upturn there. The last competition we went to was the Caribbean Cup and it was the first time we had qualified for the semi-finals so I left the programme on a really high note. Eventually it can all become a bit stale and I don't like to get too comfortable in one place because I think when you get comfortable you can get lazy. So I needed a new challenge.
There was an opportunity to go to the United States and I went to Seattle. That's a real hot bed for football in the US. It's unbelievable. You've got Seattle Sounders, Portland Timbers and Vancouver Whitecaps all within 300 miles and there's a culture there that's not anywhere else in the country. Away fans travel so there's a real European feel to it. There were more than 60,000 at Kasey Keller's last game so it's a huge football community.
What did you learn from working in the United States?
The biggest thing that I took on was that we were very close with the Seattle Seahawks who were the NFL team. We were given time with their coaches and got to see their operation. What really stood out for me was the position-specific training and the position-specific coaches. There were defensive coaches, attacking coaches and special play coaches. I really think that's the way football is going to go and you're starting to see that now at some of the big clubs. I have implemented that in my structure in Guam.
Why did you go to Guam?
I was working for US soccer and I was in line for some good jobs in the US national programme but I didn't get them. I'd met a guy called Richard Lai who is the president of the Guam Football Federation. It was a chance meeting as he was in Seattle. I sat down with him and he told me he was looking for an international coach. They usually had Japanese coaches because the JFA will send their staff to work in those countries as part of their development. Instead they wanted an English-speaking coach.
His vision and his enthusiasm was really inspirational. He brought me over for a week to run some clinics and do some workshops with staff. After seeing the training facilities - it's a $5million training centre that they've got - I could see what he was trying to do. He just needed somebody to push it. A lot of people were a bit surprised because probably the next job for me was to be a coach in the MLS. But I was so impressed with this guy that I took the leap and it's been a really good move for me.
They've put together a fantastic youth programme so there's a good club structure. It's the most popular sport in Guam. The training centre is as good as anywhere. They just needed someone to have an elite development programme and focus on the national teams.
It's going well too...
We are up into the 160s now, which is the highest ranking that we've had and we're three games unbeaten in international football. That's not easy because in our confederation we are in East Asia and have to face teams like Japan, South Korea and Australia. Teams that get to World Cups.
So how have you done it?
What the national teams were trying to do was just get through games by keeping them as close as possible rather than trying to win. The Chamorro culture, which is the indigenous culture of Guam, is all about being warriors. You can't tell a warrior not to fight because it's in their blood. What I wanted to do was get the most out of that culture so we changed the mind-set to one that said that if we were going to go down then we'd go down fighting.
It really made a big difference in terms of how players approached the game. It gave them a self-belief that they'd never had. We really integrated the community and the culture into the national side and for the past two years we've had real success as they've really bought into it.
For example, we've included things like the 'Inifresi' which is a chant in Chamorro similar to the Haka. They do that before every game and we've installed that in every programme through to the senior side. So there's now a culture and a brand running through the teams which they never had. That's helped push it forward.
Embracing the existing culture is imperative. Especially when you've got some English guy coming in saying: 'We're going to change things.' The best way to do that is to do things that they know. When you've got something at your fingertips which is culturally connected to sport and the warrior mentality then why wouldn't you use it?
We've now got a nickname that we use called the Matao. Back in the Chamorro society hundreds of years ago, there were different clans. To be in the head clan, which was the Matao, was the highest level in terms of strength and honesty and what you needed to be in to be a chief of the village. That really went off well!
So what's next for you?
I am very happy in Guam and the close relationship I have with my president Mr Lai, who is one of the most forward thinking FA presidents in world football, has been fantastic. But my agent has had contact from clubs from Japan, South Korea and China so I think my next move will be to a major club or national team in Asia.
I don't think the language barrier is an issue. They've had foreign coaches before and I'm currently learning Japanese on a regular basis in Guam. They give you translators who can deal with all that and they've had success there with foreign coaches before so I don't think it's a huge barrier. In the end, you can find the right words and players will feed off your enthusiasm.
I think in the long term my ambition is to be the England coach. If you look at Roy Hodgson, who has gone down similar routes internationally, he has managed to get himself into that position. That's a huge motivator for younger coaches like me making their way in the game. I'm English to the core and I don't think there can be a better job than leading your country into a FIFA international game.
So you'd recommend British coaches go abroad?
I think it could be imperative in the future. You might have to do it. The general level of the English person's knowledge of football is as high as anywhere in the world. But if you only see a certain way of doing this, and you want to coach players from all over the world, then if you haven't experienced different cultures it might be a bit of a struggle. So I think by working in different countries it puts you a step up in terms of how you communicate with people.