Cheaper alternative
With more than 600,000 fans expected to make the trip to Brazil this summer, hotels are struggling to cope. Pete Hall talks to the men behind World Cup Camping Rio - a cheaper alternative for the more adventurous
Last Updated: 13/02/14 3:32pm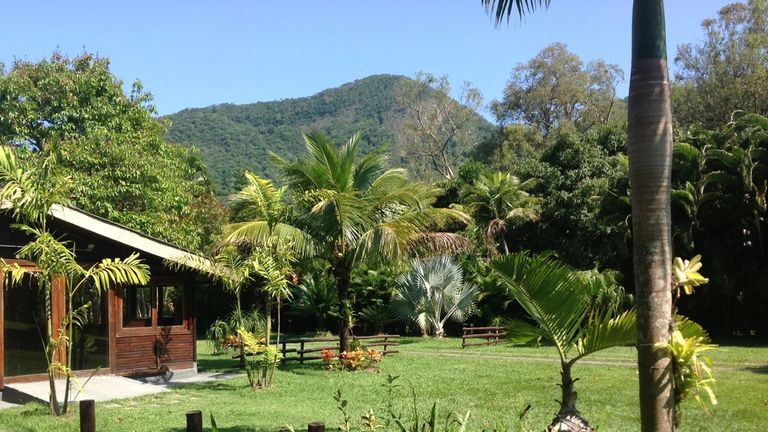 Demand often exceeds supply and, in Brazil's party capital, amidst one of the biggest sporting events on the planet that is a major problem.
Hotels in Rio de Janeiro are almost at capacity and, as a result, available rooms are going at extortionate rates that are simply unaffordable to the ordinary supporter for the World Cup.
The alternatives are there but they do not come without their drawbacks.
Hotels have popped up in the Favelas as locals attempt to cash in, without ripping off fans, but fears of inflated crime levels and personal safety concerns are deterring even the most ardent supporter.
Desperation has peaked at the move to open up Brazil's 'Love Hotels' to guests. Rooms are charged by the hour (usually a minimum of four to six), but with demand for accommodation during the World Cup at record levels, some motels are changing their booking policy, making it possible to book in advance, or to book for a night, rather than just a few hours.
Campsites have cropped up around 'Cidade Maravilhosa' (the local nickname for Rio), but the city is still struggling to house many of the projected 600,000 visitors expected for this summers' showpiece.
However, help is at hand in the shape of the British-led project based on the outskirts of the city.
World Cup Camping Rio is an affordable alternative for fans who are willing to travel out to the suburbs, and at £35 per night including tent hire the myriad of over-inflated hotel prices can be avoided.
We caught up with founders Steve Pike and Andy Allan to explain what is on offer for fans, and how they plan to organise on such a scale.
World Cup Camping in Rio is all about offering travelling fans a cheaper alternative. What do fans get for their £35?
SP: "We want to offer supporters the opportunity to experience the World Cup in Brazil without having to spend a fortune. We are football fans ourselves so we know how expensive it is to follow a team at the best of times, and even more so at the World Cup because the cost of everything seems to go through the roof. We knew that if we could bring a sense of reality back to pricing for accommodation, match day travel and food and drink then we would have a very compelling option that will save supporters a lot of money. We are committed to ensuring that our pricing policy is fair and affordable across the board, so the cost of beer will be less than £2.50 and there will be a wide selection of European and Brazilian food to choose from and most meals will cost less than £5. We have a site bar with big screens to watch the football so all in all we feel we are the best value option anywhere in the city and supporters will love the location and will feel safe and happy here. We are also the Rio HQ to the England supporters band and have a few surprises in the pipeline and we will be adding new events as we go along."
What have you done to allay security fears for travelling fans?
SP: "The site is situated in a quiet district, considered one of the safest in the city site by the locals and is secure with fencing and 24 hour professional security. We are being advised by the Home Office Football Unit to ensure a safe environment for guests while on site. We have also partnered with the Foreign and Commonwealth Office (FCO) on their 'Be On the Ball' campaign. The campaign urges travelling fans to plan thoroughly to ensure a safe and successful trip to Brazil and also to monitor the local news and FCO travel advice while there. For more information on staying safe and avoiding preventable problems, anyone travelling to Brazil this summer should visit www.gov.uk/worldcup2014."
Why choose the district of Recreio, in the Western Zone of the city, as the site? How accessible is it to fans getting to and from the city and stadia, especially with Rio's traffic problems?
AA: "One of the key considerations when selecting the campsite was easy access to the public transport system. We knew we had to make it as convenient as possible to get to and from the airport, the Maracana Stadium and the other key tourist sites that supporters will want to visit, such as Copacabana and Ipanema beaches. Anybody who has ever visited Rio before will be aware that traffic in the city is often gridlocked with long journey times. However, when Brazil was awarded the World Cup and Rio the 2016 Olympic Games the city transport authorities invested a lot of money into a new BRT (Bus Rapid Transport) highway, which has been designed to speed up journey times significantly. The site is in close proximity to this new BRT link (around an eight minute walk from site and a shuttle bus to the beach and to the BRT station is provided), which offers an express route with dedicated bus lanes and will help supporters get across the city in the quickest time possible. The cost for a ticket is excellent value as well and should only cost around £1.80 per journey.
What has interest from fans been like? A majority from England, Europe or a mixture from around the world?
SP: "The interest has been phenomenal. The campsite is open to the global community of football supporters and we have fans from all over the world staying with us. Because of the draw for the group phase, we are booking a lot of England fans who are planning to follow the team to Sao Paulo and Belo Horizonte. The England team are based a couple of miles down the road in Barra da Tijuca and with a reasonable chance of playing in Rio in the second round if we finish runners up in the group, it means Rio is probably the best city for England fans to base themselves for the first half of the tournament. We also have many European and South American fans and we are getting a fair number of neutral supporters as well from countries like New Zealand, Ireland and Canada who just want to experience the World Cup in Brazil. We expect the demographics of our guests to shift as the tournament takes shape in the knockout stages as new teams and supporters visit the city.
Have you followed any models of fan sites from previous tournaments?
AA: "Camping at the World Cup is not a new idea and has been very successful in previous tournaments, such as Germany and South Africa, so we were always confident that supporters would be open to the idea. From a logistical point of view, Brazil offers different challenges so we are fortunate enough to be well placed to be able to react to the opportunity. We have seen what previous campsites sites have done well and what they have not and we have learned from that."
How accommodating have the local authorities been to a British-led project offering cheap accommodation for fans?
AA: "They have been very supportive. I married a local girl and have been working as a property developer in Rio for a number of years now so I hold full residency and trade with a Brazilian registered company so the fact I am British does not really come into it. I speak fluent Portuguese so I have a good understanding of the legal requirements but it is also very important to understand the local business customs, traditions and pitfalls, which is absolutely vital when working here and we felt this gave us a huge advantage."
You are also offering trips to Belo Horizonte and Sao Paulo? Is that daily or just for bigger matches?
AA: "We are providing budget coach travel services for selected fixtures to meet demand so it is not a daily service. England supporters will be interested to know that we are providing match day coach services for England group games versus. Uruguay in Sao Paulo on 19th June for only £89 return and versus Costa Rica on 24th June in Belo Horizonte for only £102 return. Ideally most supporters would probably want to fly because it is a long journey, but it will save a lot of money and it is a great way to see the country at the same time."
Are you concerned that other cheap accommodation, such as that available in Favelas closer to the city, will be more appealing?
SP:"The Favela option is a good one but it does not really concern us because it is a completely different holiday experience that will appeal to some people and will not to others. I have spent 18 months living in one of the biggest Favelas in the city called Rio das Pedras and had a truly fantastic time. The local people were warm and friendly and always wanted to make friends and talk about football. But it is impossible to deny that the levels of poverty will take some getting used to so it will not be for everybody. Also very few people can speak English in the Favelas, which can be a problem if visitors cannot speak Portuguese."
Finally, as a fan, what does your head and your heart say about England's chances in Brazil?
SP: "My heart is saying that England will beat Argentina 5-0 in the final, but unfortunately my head is more realistic. We have a tough draw but if we can get out of the group phase then I am expecting us to meet Brazil in the quarter-finals and go down gloriously. But like everybody else my fingers are crossed and if we get a bit of luck then you never know."
For more information visit the website: www.worldcupcampingrio.com