Uruguay 1 Costa Rica 3: Major issues in the absence of Luis Suarez as Oscar Tabarez's team implode in Fortaleza
Uruguay looked to be edging their way to three points against Costa Rica in the Group D opener in Fortaleza but three second-half goals turned the game on its head and saw the Copa America champions lose 3-1 instead. Adam Bate wades through the weaknesses that will encourage England...
Last Updated: 14/06/14 10:35pm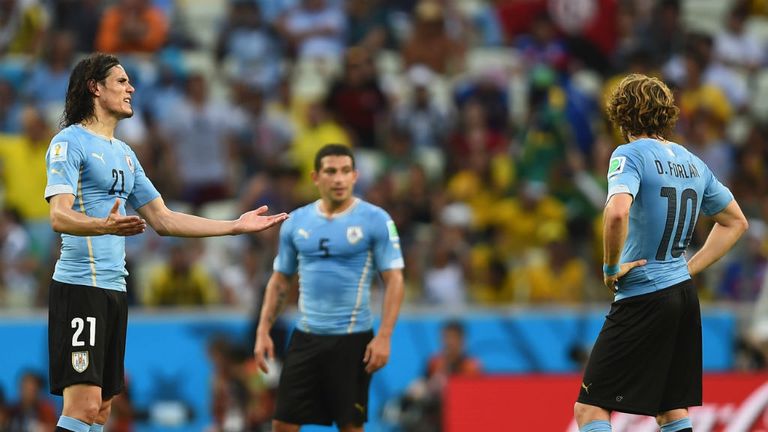 A World Cup group with three former winners always looked tasty but Costa Rica's 3-1 win over two-time champions and 2010 semi-finalists Uruguay has complicated matters further.
Much like Spain the previous evening, all looked well when Uruguay opened the scoring from the penalty spot but that merely masked the issues that soon became clear...
No Suarez
There seems little point speculating on his fitness and wondering why he was warming up but not coming on when there's one thing everyone can be certain of – if Luis Suarez was in any shape to take part Oscar Tabarez would have turned to his star player. In his absence, Uruguay faltered.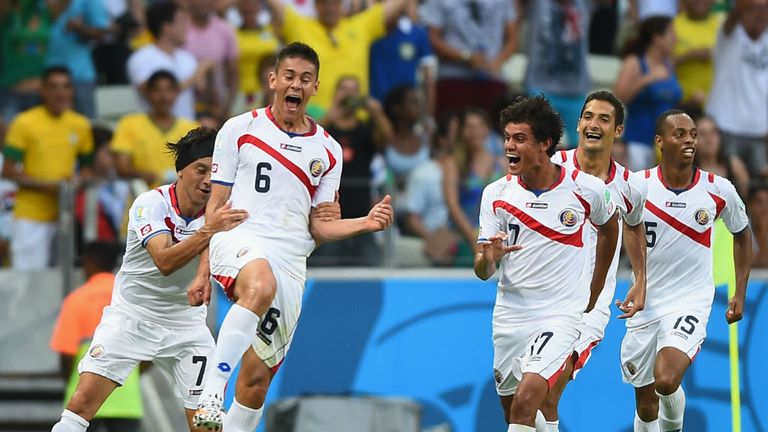 At the age of 35 and having seen his most recent club action in Japan with Cerezo Osaka, Diego Forlan is evidently not the force he was and this proved particularly problematic as the 2010 Golden Ball winner failed to take up those interesting deeper positions he could find in his pomp.
Both Forlan and Edinson Cavani were reduced to chasing hopeful long balls, with Uruguay showing nothing between the lines in an alarmingly rigid 4-4-2 formation. Of course, it is Suarez who can make sense of this system with his channel runs and the ability to turn and run at defenders. He may well feature against England on Thursday but will he be back to his best?
No imagination in midfield
Even at their most successful, Uruguay always appeared something of a split team with the defensive players doing their job diligently and the star forwards expected to hurt teams on the counter attack.  The familiar faces remain in midfield and continue to offer little in the way of imagination.
Egidio Arevalo Rios kept things tidy enough, boasting a pass completion rate in excess of 90 per cent but Walter Gargano struggled. At least the 29-year-old attempted to be a bit more ambitious with his delivery but a pass completion rate of 76 per cent without finding a through-ball or creating a single chance was an issue. Uruguay were unable to pick out forward passes.
Lugano liability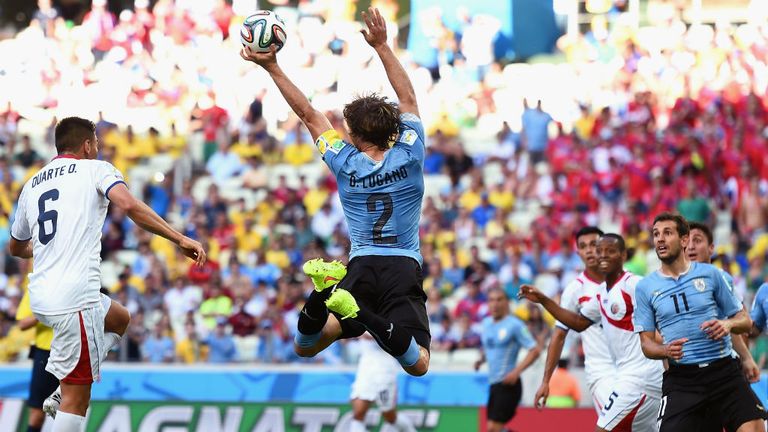 Gary Cahill and Phil Jagielka might not be the most accomplished defensive duo England have been able to boast in recent time but Premier League fans – or indeed followers of Ligue 1 who endured his stay at Paris St Germain – might well be baffled by the continued presence of Diego Lugano as Uruguay's centre-back and captain.
The 33-year-old, fresh from his underwhelming spell at West Bromwich Albion, did win Uruguay's penalty after being man-handled by his marker but he was also booked for a poor challenge and failed to win his header at the near post for the game-changing equaliser. At least he didn't lose control like Maxi Pereira whose hack on Joel Campbell sees him suspended for the England clash.
Free-kick failings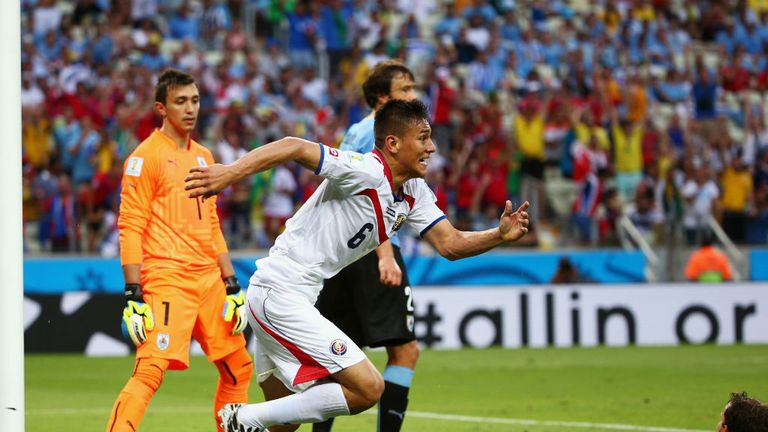 It wasn't just Lugano failing to win his headers. Despite the presence of the accomplished Diego Godin, an inability to deal with crosses proved a persistent problem. Cristian Stuani was beaten by Oscar Duarte at the back post for the second goal, scoring from a similar situation to the one where Lugano had lost his man earlier.
Indeed, Uruguay barely won a ball that went into their box all afternoon and it was difficult to escape the conclusion that if Bryan Ruiz is winning headers from free-kicks tossed into your penalty area then this is a team with a major weakness.
Conclusions
Disorganised at the back, unimaginative in midfield and predictable in attack… In fact, goalkeeper Fernando Muslera is far from convincing too. Uruguay have performed beyond their means in recent years but this was a performance that exposed their weakness at the worst possible moment.
With England and Italy to come that's a lot of problems to correct in a short space of time. Uruguay may well be Copa America champions and ranked No.7 in the world but on this evidence their World Cup hopes appear as gloomy as the look on Suarez's face as he sat helpless on the bench.