England 1 Italy 2: There were plenty of positives for Roy Hodgson's team but defeat in their World Cup opener in Manaus also highlighted areas for improvement
By Peter Fraser - Follow me on Twitter @PeteFraser_
Last Updated: 16/06/14 9:51am
LEFT-HAND SIDE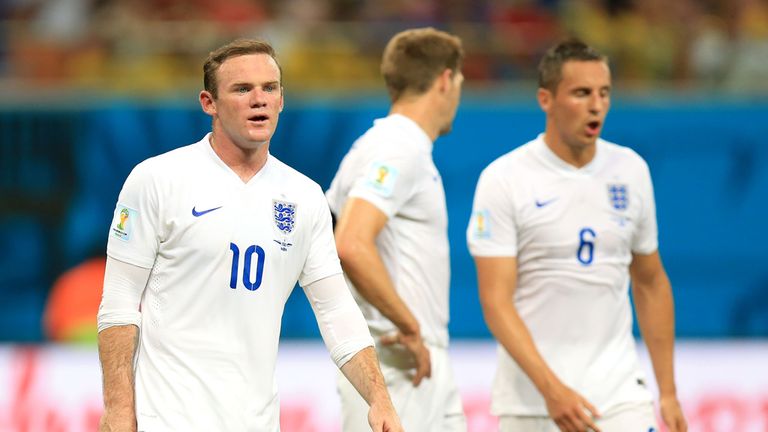 This was far from a disastrous performance by England but there is no question Roy Hodgson's team have problems on their left flank.
Wayne Rooney was asked to again operate on that side of the attacking three in the 4-2-3-1 formation, despite having looked uncomfortable in the warm-up friendlies.
The Manchester United man had played just six passes in the opening 20 minutes against Italy before he was given the chance to swap with Raheem Sterling for a brief period in the middle of the pitch.
That phase seemed to bring Rooney to life and meant, when later returning to the left, he appeared to have more confidence. It was then his superb, passed cross which led to Daniel Sturridge's equaliser.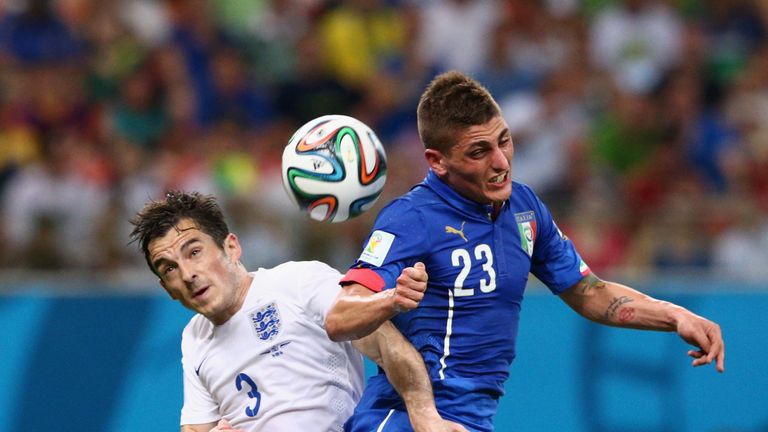 But that was as good as it got in another World Cup performance to forget for Rooney.
His defensive shortcomings had an impact in that left role as it meant full-back Leighton Baines was permanently isolated. Indeed, it would be understandable if Baines spends the rest of his summer suffering from a recurring nightmare of the advancing Matteo Darmian and Antonio Candreva. 
Rooney was moving centrally and that meant Baines was being dragged out of position. At half-time, England tried to address the situation by swapping Danny Welbeck and Rooney from right to left but it made little difference. 
It was therefore no surprise that Mario Balotelli's winning goal came from a cross down the England left. Against the cunning of Uruguay or the speed of Costa Rica, England certainly need to address the situation.
PACE OR PURPOSE?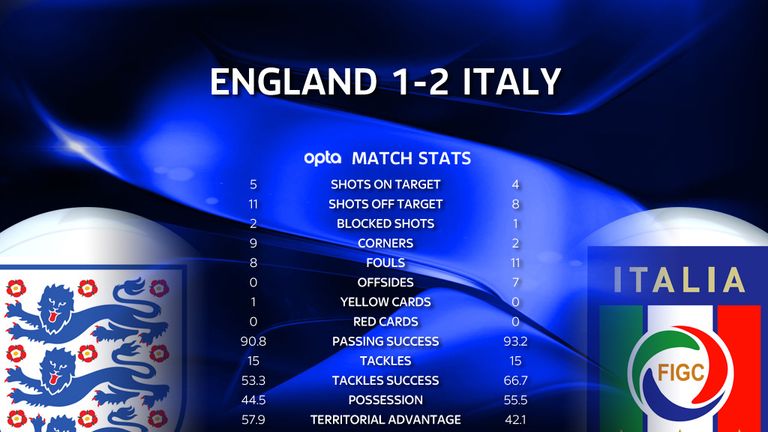 This England team, of which there were just five remaining members of the first XI from the Euro 2012 defeat by Italy, certainly caused their opponents more problems than they did in Kiev two years ago. 
At Euro 2012, England managed just one shot on target from only six efforts overall in 120 minutes. On Saturday, boosted by the exciting youth and pace of the likes of Sterling and Sturridge, they produced 18 shots – although only five of those were on target - in 90 minutes plus injury time.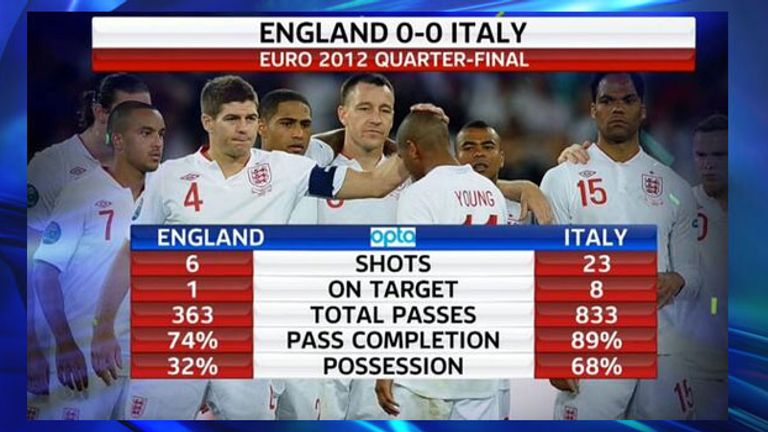 But while this pace undoubtedly makes England more of a potent attacking prospect, they are still in desperate need of keeping the ball at important times regardless of whether they are outnumbered in midfield. 
This England team was not designed to out-pass Italy, and few would in a line-up containing Andrea Pirlo and Daniele De Rossi, but the difference in experience was clear when contrasting the manner in which the two teams controlled the ball.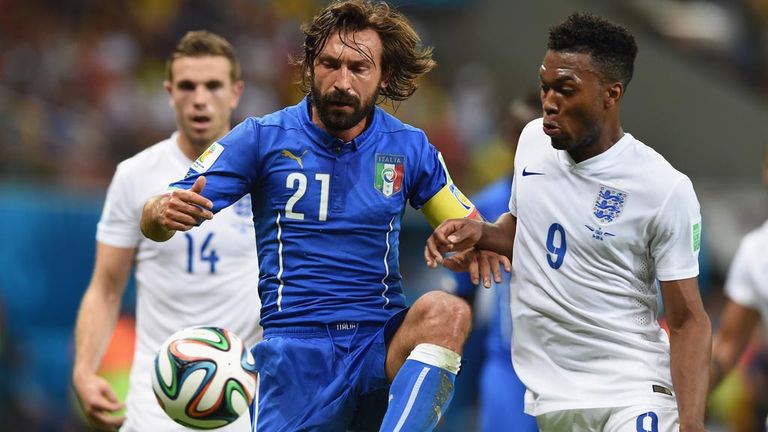 In the first half on Saturday, England played just 177 passes as a team, which was only 37 more than Pirlo and De Rossi as a pair. At the final whistle, Italy only had a 56 per cent dominance of possession, owing to Cesare Prandelli's side easing off after going 2-1 in front, but they still played 602 passes to England's 468. On top of that, Italy's passing accuracy of 93.2% was the highest recorded in a World Cup game since 1966.
Hodgson said before kick-off: "Pace is a very great weapon; there is no doubt about that. But it has got to be allied to skill and good team work." 
The England boss knows his side must use phases of matches to make the ball do the work, tiring their opponents, without going for the jugular, particularly in the hot and humid conditions which left many of his players suffering from cramp.
SET-PIECE SYSTEM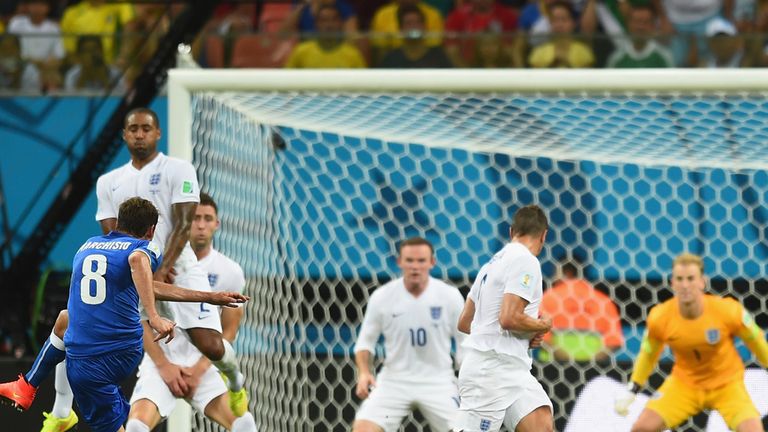 England had nine corners to Italy's two but they were sadly lacking in imagination or creativity and almost always wasted.
Italy's opening goal from Claudio Marchisio was a demonstration of what can be achieved from a well-worked set-piece routine but England, in contrast, seemed one dimensional. 
England's only tactic at corners appeared to be deliveries to the back post for Rooney. When that did not work, Hodgson's side were out of ideas.  
Against a Uruguayan side who have looked susceptible at set-pieces, England must show a bit more ingenuity.