World Cup: After his blunders against the Netherlands could time soon be up for Spain skipper Iker Casillas?
After a miserable start to their World Cup defence, Spain will be looking to bounce back against Chile on Wednesday. Captain Iker Casillas has found himself the focus of attention and Adam Bate feels it is a huge asks for the goalkeeper to rediscover confidence and form so quickly...
Last Updated: 18/06/14 11:01am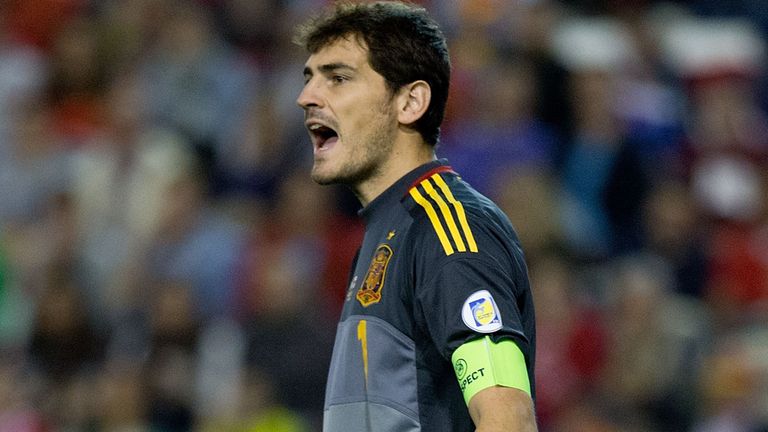 It was a pitiful sight to witness Iker Casillas so dejected. A great player with three Champions League wins, two European Championships and a World Cup to his name, humbled. A career characterised by success reaching its lowest ebb on the biggest stage.
Spain's 5-1 thrashing at the hands of the Netherlands was a momentous occasion. And yet, examine the evidence and when it comes to this Spain side the post-mortem looks premature. There are lots of reasons to conclude they are far from finished. David Silva is just 28 and six of the starting line-up in Salvador were younger than the Manchester City man.
But Casillas is different. He's 33-years-old. Not ancient for a goalkeeper, but as Indiana Jones once said, "It ain't the years, honey, it's the mileage", and for a player who first broke onto the world stage as a teenager the signs of decline have been evident for some time.
Of course, he's been questioned before and Casillas is entitled to take comfort in the memory of four years ago. In South Africa, the presence of his now wife Sara Carbonero was blamed for his error in the opening game against Switzerland. He recovered to lift the trophy.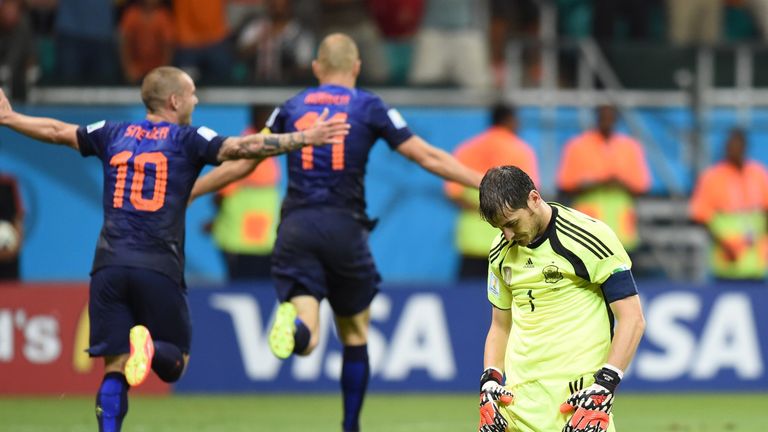 But since further glory at Euro 2012, the problems have mounted. Much of it can be traced back to Jose Mourinho's surprise decision to axe Casillas in favour of Antonio Adan in December 2012 - a switch the confrontational coach described as "purely technical".
When the Spain skipper suffered a hand injury soon afterwards, Mourinho acquired Diego Lopez from Sevilla with the new man justifiably keeping his place as Real Madrid No.1 upon Casillas' return. Mourinho was later typically bullish about the move.
"Would I do anything differently if I had the chance to do the past three years over again? I should have brought in Diego Lopez after my first year. We didn't do enough to sign him. It's a real shame."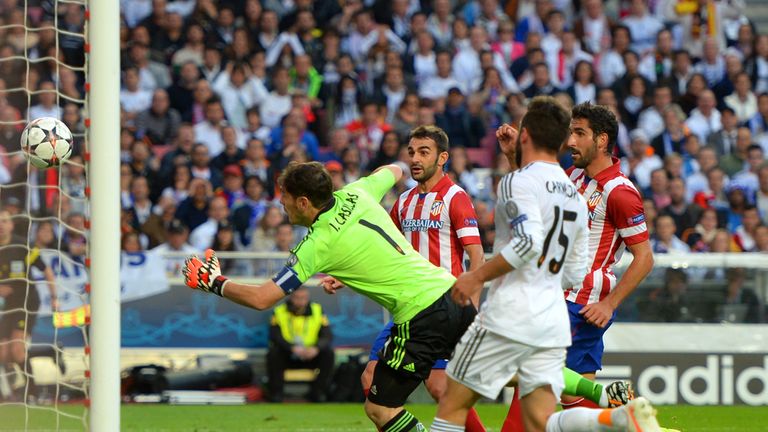 However, the real shame is that Casillas does not appear to have responded to the challenge. That is surely what the great players do. Instead Carlo Ancelotti persisted with Lopez as his first-choice keeper in La Liga and the rivalry does not appear to have brought the best out of Casillas.
Mistake
The iconic goalkeeper got away with his mistake in the Champions League final that allowed Diego Godin to nod the ball into the vacated net. Indeed, Casillas' most memorable contribution that evening was the force of his celebration with Sergio Ramos following the defender's equaliser - one inspired by understandable relief.
In his very next competitive match, there would be no redemption and this time Ramos was an accomplice to the crimes rather than his saviour. Bullied by Robin van Persie for Stefan de Vrij's goal, Casillas soon had the demeanour of a broken man after miscontroling a backpass and allowing Van Persie to rob him and add a fourth.
"Tonight shows that Mourinho was right," Diego Maradona told Telesur after the game, although it seems the truth is that Casillas' problems have come as a result of Mourinho's verdict rather than the other way around. His struggles have become a self-fulfilling prophecy.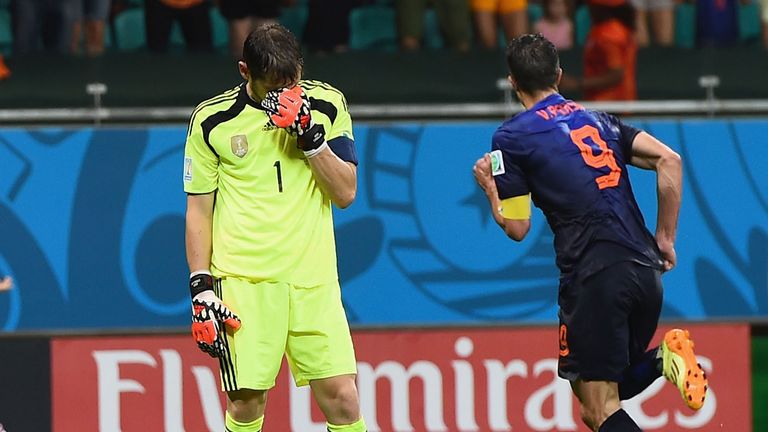 It is certainly difficult to avoid the conclusion that these recent errors are a result of rustiness and confidence levels that have reached rock bottom. Casillas remains a natural athlete, as shown by his saves from George Wijnaldum and Arjen Robben in the second half against the Dutch.
His difficulties have been ones of decision-making and touch. Just as against Atletico Madrid in Lisbon, he was unconvincing in his positioning and response to a cross - the sort of mistake than confidence and regular football eliminates. The poor touch to let in Van Persie only hammered home the point.
Pressure
It's not as if Spain are short of goalkeepers, although the injury to Victor Valdes means the immediate pressure on his place in the side is not huge. Crucially, Casillas has a coach who trusts him implicitly in Vicente Del Bosque, the man who picked him for a Champions League final just four days after his 19th birthday.
Del Bosque was quick to defend his captain on Friday evening. "If a team loses it's not down to the performance of a single player," he told reporters. "Defeats happen as a result of weaknesses in the entire squad, but least of all because of the performance of Iker Casillas."
But that talk will not placate everyone and questions are being asked. A strong response is required from Casillas against Chile in the Maracana. Anything but a win would leave qualification for the knockout stages out of Spain's hands.
There is plenty of time left in his career for Casillas to bounce back from this latest disappointment. The worrying thing is that it's a slump in confidence he has shown little sign of shrugging off. And when it comes to the 2014 World Cup, the clock is ticking. The real Iker Casillas needs to step up now.