World Cup: Germany struggling with the expectations
Germany have now gone 18 years without a tournament win, their joint longest since 1954. Daniel Storey thinks they look sluggish under the weight of expectation to finally deliver the big one...
Last Updated: 27/06/14 10:12am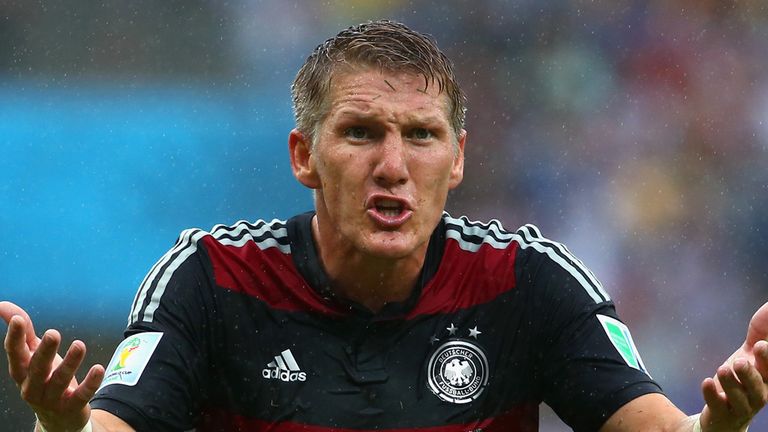 Perhaps the most obvious sign Joachim Low was not enamoured by his Germany side's sluggish performance against the United States was when the coach braved the Recife rainstorm during the second-half without the raincoat he had used a protection from the soggiest of Brazilian evenings.
Despite Die Mannschaft coasting into the last-16 as group winners with a 1-0 lead over an American side led by his predecessor Jurgen Klinsmann, Low was extraordinarily animated, chastising his players in a deeply-frustrated manner. Such are the demands of a job in which coming second is simply seen as gaining the tag of first loser.
To those who have just watched their national team limp out of the group stage with a single point against Costa Rica, Low's reaction initially seemed curious. Given the pedestal on which German football is currently placed in the eyes of the English football sufferer, it is difficult to envisage that things could be anything but rosy. Following the development of the country's fortunes post Euro 2000, the model instigated by the German Football Federation (DFB) is seen as the yellow brick road down that our Football Association must itself walk, kicking and screaming or otherwise.
Oasis in the desert
Forced academy creation, majority supporter ownership, low ticket prices and high attendances make the Bundesliga an almost mystical oasis in our own footballing desert, and the ability of the German national team to consistently reach the latter stages of major tournaments is enough to turn the average English football supporter a dull tan colour, the chromatic result of being both red with anger and green with envy.
However, whilst those of us used to underachievement and dismay may scoff at such perceived greed, there is an overwhelming pressure upon this German squad to deliver. Third place at World Cup 2006 on home soil, a runners-up place in 2008 and semi-final appearances in both 2010 and 2012 may be enough promise to make an Englishman blush, but in Germany such returns are instead viewed with regret. Nearly but not quite, with the focus on the latter.
Such amplified estimations of success are understandable. Since their first World Cup win in 1954, Germany has never waited longer than 18 years between major trophies, and next Monday will mark exactly 18 years since Oliver Bierhoff's golden goal at Wembley to win Euro 96.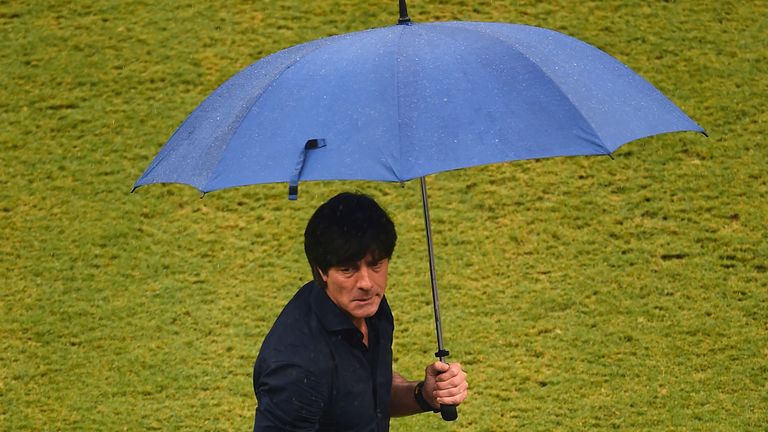 A World Cup in Brazil was never likely to be ideal, given that all six of Germany's tournament victories have come in Europe, but the first week of the tournament went better than even Joachim Low and his team could have envisaged. Pepe's act of idiocy simplified the German's task in their opening group game against Portugal, but Die Mannschaft were already 2-0 up and cruising at the time of his headbutt. Add to that Spain's considerable fall from considerable grace, Germany's conquerors in 2008 and 2010, and a country entered a mood of cautious optimism.
Since then, however, sluggishness has set in, threatening to significantly dampen the mood. Against Ghana, a worrying inability to stamp authority on the match was coupled with a lack of concentration in defence, and Low was only rescued by Miroslav Klose's record-equalling goal late on.
It was a display perhaps understandable if Germany had been coasting in second gear, but the coach admitted after the match that his team were fatigued. "They are incredibly exhausted," Low admitted after the game. "In the second half, it was an open exchange of blows at a crazy pace and the players gave every last ounce of energy that they had." That's not ideal in your second match.
If Low was seeking a change against the US, he was left sadly disappointed. There was certainly an increased resolution in defence (the Americans failed to have a single shot on target), but in attack the inclusion of Lukas Podolski provided no discernible improvement in cohesion, whilst Bastian Schweinsteiger became rattled by Jermaine Jones and Kyle Beckerman.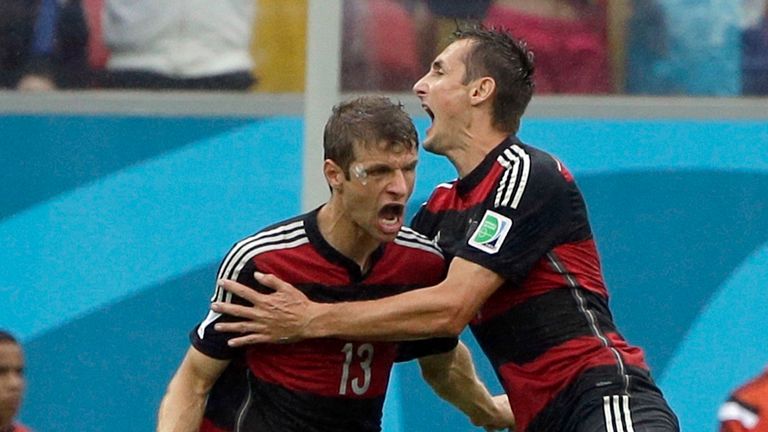 The half-time introduction of Klose for Podolski enhanced German fortunes, but once again they were forced to rely on the excellence of Thomas Muller, who scored his ninth goal in as many World Cup games - at the age of just 24, only 12 players have scored more.
There is nothing wrong with relying on one player for success (see Argentina and Brazil for details), but that was never the plan for Low and Germany. Gone is the counter-attacking fluidity of World Cup 2010, gone too are the driving late runs from midfield to provide that vital overlap. Instead, the last two matches have seemed more like football by numbers, too rarely surprising the opposition with the unexpected or inventive. The loss of Marco Reus appears to be hitting hard.
Favourable draw
This is not yet a time for panic. The last-16 provides a favourable draw against Algeria, with France a likely quarter-final opponent. Didier Deschamps side have impressed thus far, but a potential run to the semi-finals without facing South American opposition or a side that qualified for the quarter-finals in 2010 should be gratefully received.
Nevertheless, there is a definite concern that Germany will once again be left as the bridesmaids of the major tournament, and a squad with the perfect blend of experience and youth will fall short of impeccable standards and public demand. German fans may enjoy sarcastic renditions of 'Football's Coming Home', but nobody wants to resort to songs regaling 'zwanzig Jahre des Schmerzes'.
Whilst England typically worries about getting out of the group, Germany is left perturbed at the thought that it may be semi-final heartbreak once again - it's sometimes difficult to summon up huge sympathy.