Bryan Swanson
Chief News Reporter - Sky Sports News
World Cup: Incredible news conference on FIFA's key day
Sky Sports News' Bryan Swanson blogs after attending FIFA's news conference on Luis Suarez at the 2014 World Cup.
Last Updated: 27/06/14 11:45am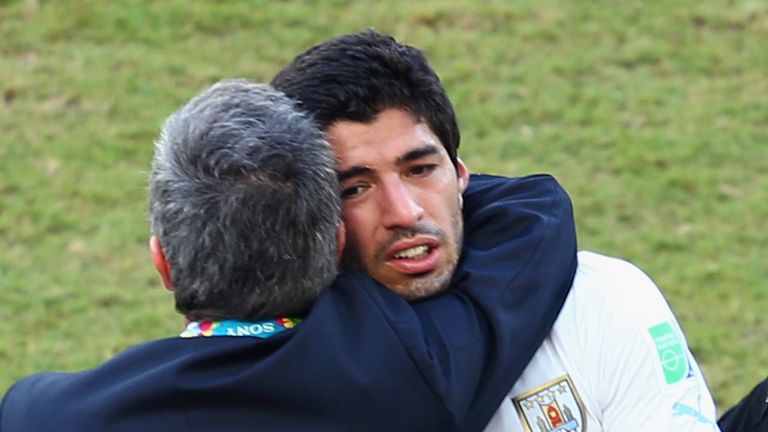 "His World Cup accreditation will be cancelled."
With ruthless FIFA efficiency Luis Suarez's humiliation was complete.
Banned from all football activity for four months and now no longer a member of the 'FIFA Family' in Brazil.
Suarez would not be allowed to share the same FIFA-designated hotel with his Uruguayan teammates throughout the rest of the tournament.
An extraordinary day began inside the Maracana stadium with FIFA's daily media briefing.
The theme was the World Cup Fan Fest, the hugely popular but entirely irrelevant topic of the day.
The briefing was already, unusually, 15 minutes late as rumours circulated that an announcement on Suarez was imminent.
"Wait and see" said one FIFA official.
In other words, there would be an announcement.
"Looking forward to hearing about the Fan Fest?" smiled Saint-Clair Milesi, the cool charismatic communications director of the Brazil 2014 organising committee, as he sat down at the top table.
Instead all eyes were on Delia Fischer, FIFA's attentive and precise spokesperson.
"Today's special topic is the FIFA Fan Fest." began Fischer. "I will also give you an update on Suarez. We will take three questions on that before we go onto the special topic."
There were barely concealed groans from members of the media.
WORLD CUP WITH SKY
The World Cup is here and Sky Sports News will keep you bang up to date with all the stories and colour from Brazil. You can also follow all the action on skysports.com, our mobile and iPad apps as well as Sky Sports News Radio and our Twitter feeds. Click HERE to find out more.
"OK? Good." smiled Fischer, herself a former journalist.
"Just three questions? Not a chance." whispered one veteran reporter.
Fischer powered on with a slideshow presentation explaining ticket sales (more than 3.1m) and expected attendances for the next four games (214,218).
Barely two minutes into the briefing came Fischer's big moment.
Clearing her throat she read out a statement on behalf of Claudio Sulser, chairman of FIFA's disciplinary committee.
"Luis Suarez is suspended for nine matches and banned for four months from any football related activity."
There were audible gasps from the media as Fischer read out the remainder of the statement.
One of the hardest jobs for any seasoned FIFA reporter is simplifying the legal jargon in statements and delivering them in plain English for viewers (and journalists) to understand.
There was a reference to 'Article 48, paragraph 1, and Article 57 of the FIFA disciplinary code.'
Reporters started furiously flicking through their code booklet, helpfully handed out by Fischer the previous day.
FIFA's spokesperson was bombarded with questions.
"What nine matches?"
"Where is he banned for four months?"
"What exactly is any football related activity?"
"Does this ban affect Liverpool?"
"Can Suarez still play if he appeals this ban?"
It was at this point Fischer quoted Article 124 of the disciplinary code.
"The appeal does not have a suspensive effect except with regard to orders to pay a sum of money." said Fischer.
There were blank faces staring back.
What did that actually mean?
"As it says, it does not have a suspensive effect." repeated Fischer.
More blank faces.
"The sanctions are there!" said Fischer with a seemingly growing sense of disbelief at the same questions.
"OK, so he can't play even during an appeal." reasoned one reporter after much thought.
One question was whether the ban on 'football related activity' included a ban on any proposed summer transfer from Liverpool.
"That I don't exactly know." said Fischer. "That is a contractual relationship between two entities."
More blank faces from the media.
Twenty minutes later Fischer clarified: "A transfer is not affected. It is still possible."
After fourteen questions on Suarez, FIFA moved onto its topic of the day.
One of the most bizarre sights on the top table was Ronaldo, Brazil's two-time World Cup winner, all but ignored for the first half of the briefing.
Ronaldo was there to talk about the Fan Fest but joked in Portuguese: "Why do you want my opinion on Suarez? I've never bitten anyone!"
By the end of the briefing there had been an angry response from the president of the Uruguayan FA, who spoke to journalists outside FIFA's luxury hotel overlooking Copacabana beach.
Wilmar Valdez said Suarez was "very upset" and confirmed the association would lodge an appeal.
Many Liverpool supporters have asked why their club has been punished for an offence during an international competition.
A worldwide ban has always been an, albeit unusual, option for FIFA's disciplinary committee.
World football's governing body typically only bans players from international matches but, in certain circumstances, it can impose bans at any level of the game.
As Luis Suarez has found out to his cost.