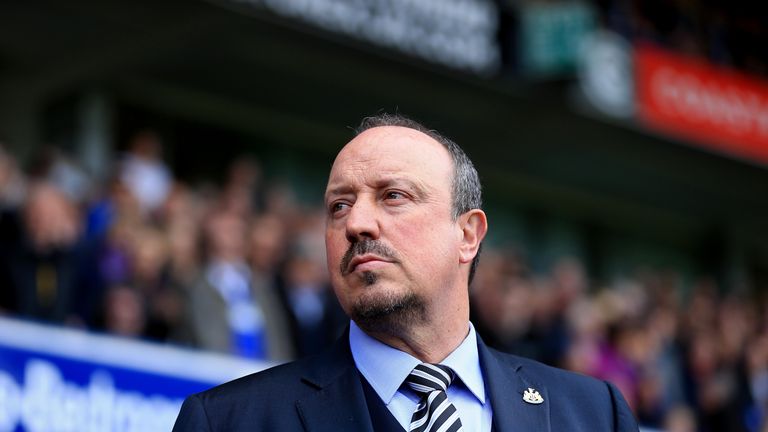 Rafael Benitez will not walk away from Newcastle despite owner Mike Ashley admitting he cannot compete with the Premier League's big spenders in the transfer market.
The Spanish manager has cut an increasingly frustrated figure this summer as players he targeted in May have evaded him, with fees and wages rocketing.
However, asked to sum up his mood in one word on Friday as he prepared for Sunday's opening fixture at home to Tottenham, Benitez said: "Commitment.
"I say that my commitment is there. If we do what we have to do and do it in a professional way, thinking about football as a priority, we can improve.
"We have a massive club and a city behind the team, so we can improve. But we have to do things thinking about football, that is the key. If you are successful on the pitch, everything else will come.
"I'm here. My commitment is 100 per cent. I will try to do my best. If you have two or three new players, or five or six or eight, it doesn't matter. What we have to be sure is that the 25 players that we will have will give everything."
Benitez's comments came as Ashley admitted to the limitations of his chequebook in a rare and exclusive interview that will be broadcast on Sky Sports on Sunday.
Asked how much he would be able to give his manager, the sportswear magnate said: "Not enough.
"It's very simple - it's not enough, and Rafa knows that. It's not enough. It's not a secret. Every penny the club generates, he can have, but it won't generate enough.
"It's Newcastle United, it doesn't have a £40million-a-year stadium naming rights deal, it doesn't, so I don't want the fans to watch this interview and think, 'That's great, Rafa is getting £150million in the morning' - he's not.
"I have to make it clear, I am nowhere near wealthy enough in football now to compete with the likes of Man City etc - not just Man City, where basically it is a wealthy individual taking on what is the equivalent of countries. I cannot and I will not."
Five new faces have arrived on Tyneside so far, but Benitez is hoping for further signings, although not expensive ones.
He said: "Hopefully we can do it, we have some weeks to do it. But I am not expecting any miracles now. What I am expecting is to improve the squad."
Watch Newcastle take on Tottenham on Super Sunday and then watch Mike Ashley: Speaks Direct at 7pm on Sunday on the Sky Sports Premier League channel.
Kick-off the Premier League and only pay for the games that matter to you with a NOW TV Sky Sports Day Pass. One off payment, just £6.99.