Lost in translation
The shadowy world of the football agent is one that is cloaked in secrecy amid accusations of greed. Thankfully, we've got one of the good guys on board to lift the lid on what life really is like at the sharp end of a notoriously cut throat business.
By The Secret Agent - @SSSecretAgent
Last Updated: 28/02/12 12:02pm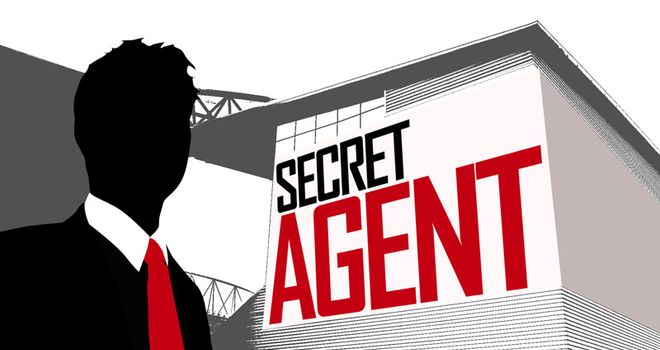 Although the transfer window does not officially open until the beginning of next month there has still been plenty of movement already at the top and tail of English football, from the Premier League all the way down to League Two.
Agents, players and clubs are preening and pimping themselves in the media with comments solely aimed at getting a move, pay rise or new player. Make no mistake, quotes 'taken out of context' are often engineered between player, agent and, on occasion, journalists. Of course, there are cases when 'lost in translation' isn't just a Bill Murray mediation on loneliness, or the loveliness of Scarlett Johansson's derriere, but not often.
Let's run through a couple of examples...
Quote: "I'm flattered about the speculation linking me with Real Madrid but I'm a Manchester United player and I want to focus on winning trophies here."
Translation: "My agent has spoken with Real Madrid, but I can't be seen wanting a move away from my current club or I won't receive loyalty and other bonuses due to me in a year's time!"
Quote: "The player is on too much money for us to consider taking him."
Translation: "Hint to current club, pay the player off so he's not out of pocket when we sign him, you get him off your treatment table and we get a good player on the cheap. Everyone's a winner!"
Quote: "I'm happy to stay but you can never say never in football."
Translation: "I'm sat in my front room with a red florescent light-bulb above my head wearing a thong, wonderbra and footy boots draped suggestively around my neck. (But I really am happy where I am boss)"
From my experience, managers don't bother reading the comments on gossip pages. Normally, a 'Media Liaison Officer' (or numerous variations on that title) will scour the back pages and major sports websites to update the chairman/manager if something worrying appears.
So where do these stories originate from? In many cases it's a case of good old fashioned journalism, where a hack sniffs out a story before ensuring it's watertight through a network of sources. This isn't always the case though as often agents will communicate to the media titbits of transfer speculation, unfounded or otherwise, to try to promote or start a move for one of their clients. But to be honest, the media speculation is a mere side-show for the main event.
We've all heard of, or can easily find out, which are the agencies and agents who are looking after the big names in football - both from a player and managerial perspective. However, what is worth greater scrutiny is the number of these agencies and agents who command almost full exclusivity to conduct player movements at certain clubs, including in the Premier League. This is not healthy for neither the game nor its supporters.
Have you ever wondered why your club has paid handsomely for an average player or a striker that nobody has heard of with a less than remarkable goal record? Obviously, I can't name names but I'm sure many of you will know one or two who fit the description and no, it's not Ade Akinbiyi! If a transfer leaves you scratching your head, it's normally for a good reason. It's fair to say transfers are often less than transparent.
In many multi-million pound transfers to bring a player from the continent to England there is often a side deal involving another player to ensure the smooth acquisition of the main target is completed. He may come off the subs' bench in a handful of games when the match has already been won just so it seems he is a part of the squad.
Two clubs in the Premier League who decided to offer almost full exclusivity to a couple of agents had very poor seasons last term. I even heard one club was so heavily influenced by an agent that they signed his son. How's that good for a club, or even the player come to think of it? If you thought Nigel Clough got rough treatment as the son of Brian, can you imagine the changing room slating agent junior receives?
Apart from it being a risky strategy, surely it's some sort of a restriction on trade for a club to be in cahoots with only the top agents. As an agent I don't like it obviously, but when football is trying to clean its image this sort of thing is not going to help.
A number of people in the business comment that two 'Super Agents' run football's big transfer deals. They're right. No matter what clubs, gossip columns and forums might say about who's going where and for how much, it's these agents who ultimately decide. It's big business and serious money at the top end but the worry is that it's turning into a cartel.
Another less than secretive practice that goes on in football is when the same player(s) follows a manager around whenever he moves jobs. It could be that the manager just likes the player; he knows what he can do and what he brings to the mix, so it's a low risk deal. That's fine.
However, if you do a little digging, it won't take long for the link to become clearer as often all parties use the same agent (player and manager). In short, a nice regular little earner for all parties concerned.
Much like with footballers, where top flight players earn vast amounts of money compared to their counterparts in the lower reaches, agents also have a vastly fluctuating range of income, from the multi-millionaire, fat cigar smoking 'Super Agents', to the ones struggling to even cover their costs.
However, there is a gradual change in that demographic as players start to realise they get a more personal service from smaller agents or one-man bands.
Jerry Maguire's mantra of less clients equals a better service seems to be being noticed by more and more players. Some of the old-school agencies used to trawl the Premier League Academies and Football League youth teams to scoop up as many promising youngsters, with the promise of new boots, tickets to games and concerts, as possible. They are your best buddies until the day you are released and suddenly your phone calls are ignored and the visits to your house stop.
Don't get me wrong some of the big agencies are fantastic with great resources to cover the whole range of services and also help kids that are released, but some still seem to think it's just a matter of them of picking the phone up or making a fleeting visit to a parent's home and saying 'I looked after X in the Premier League so I'm your man'.
Look out though boys! Some of us small time agents are now picking up the players you didn't look after properly and that number is growing.
I'll be blogging throughout the summer for skysports.com so if you've any questions or feedback fill in the feedback form or catch me at @SSSecretAgent and I'll look to address them in my next column.