Homesick for Milan/Rio/Barcelona
The shadowy world of the football agent is one that is cloaked in secrecy amid accusations of greed. Thankfully, we've got one of the good guys on board to lift the lid on what life really is like at the sharp end of a notoriously cut throat business.
By The Secret Agent - @SSSecretAgent.
Last Updated: 28/02/12 12:00pm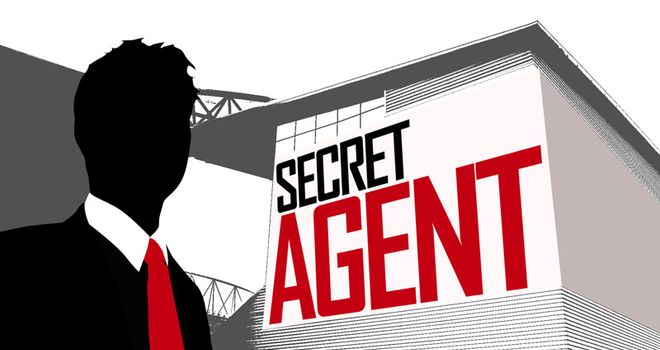 So Tevez has done it again and cited homesickness (see my first blog) as a way to force a move from Manchester to, erm... London, Madrid, Milan or Argentina.
That he has declared a desire to quit Manchester is as inevitable as Ryan Giggs making the Daily Star front page but who is to blame for a saga rivaled only by Cesc Fabregas' flirtations with Barcelona in terms of inducing nausea?
Is it the player for not thinking beforehand that he might miss the missus, the kids, and the comforts of home? Or is it the agent who should take responsibility for pushing through a £250,000-a-week deal without due thought for his client's personal needs? Maybe even City need to look at themselves for a making a signing of intent that was always likely to bite them on the arse in the long run?
Or, and this is my theory, maybe it's all just a smokescreen to engineer a move from a perma-grey Manchester, where whippets roam the streets with knives and Lowry characters come to life in the drizzle.
Let's get real here. Tevez's agent - sorry, 'super-agent' - Kia Joorabchian won't be worried if his client is missing the kids. He would have been working on his next move long before the little Argentine was half-heartedly parading the FA Cup trophy at Eastland with all the gusto a new father usually reserves for showing off his offspring's first nappy-fill. The football industry is all about smoke and mirrors and while 'his people' will insist he wants a move overseas, I wouldn't discount either Chelsea or Arsenal from entering the bidding.
Scour the archives and declarations of homesickness are not a new thing for our Carlos. By all accounts Tevez hasn't helped himself. He's not the most amiable of people from what I've heard from the guys I deal with in Manchester. In the five years he's been living in Blighty he's never tried to learn the lingo. He's word perfect on the phrase 'Is that gross or net?' but struggles with other basics.
I have had a similar predicament with a player of mine moving countries. He missed his family before he'd even sampled the local cuisine and was on his way home before lights out. The country was only a three-hour drive over the hostile border to Scotland and his weekly salary was 250 times less than that of our Argentine friend, but surely he could deal with it for the sake of his career. Obviously not.
Seeing Gary Flitcroft on Sky Sports News yesterday saying he didn't move to Arsenal in his playing days because he would have been homesick was just typical of so many British players, past and present. As an agent I try and drum into my players that taking up a Little Islander mentality is not the way to go, but it's not always easy.
When a grown man is unwilling to try a move of only 200 miles, terrified to leave the bosom of their mother because the accent, not language, of a new location intimidates them, I can't get the image of Little Britain's Harvey out of my head.
I look after a young lad from Europe. He's been in the north of England since he was 16 on his own. No family. No friends. He gets on with it, has learnt the language and integrates with the buck-tooth locals. It's all about ambition and sacrificing a few home comforts to get the highly lucrative rewards life as a professional footballer brings. Had Flicker grown a pair of his own he might have had an even better career. He could always have got his old dear to send him Holland's pies in the post.
You might tell from my ramblings this week that I'm a little wound up. It's the busiest and messiest time of the year for me and other agents. One of the biggest things that has had me fuming is managers who don't return calls.
You're probably thinking, don't these guys get about 200 calls a day? Maybe they do but I've seen a pattern emerge recently and it's pretty illuminating. Clubs and managers (or their staff) who are successful on the pitch will always get in touch eventually. Fact. Man Utd will get hammered with calls from agents daily but someone will always make the effort to get in touch, even to say thanks but no thanks. It's called courtesy. It's called class.
Down in the Football League and non-leagues, successful and well thought of managers and coaches will always return my calls. They appreciate that agents, love or loath them, are a necessary part of running a football club. The ones who pass your calls off with disdain or just ignore you altogether don't seem to have much success on the pitch. Before you know it they are out of work, and suddenly you're their best mate when they ask: "If you hear of any jobs going ..." I normally sign off with 'swings and roundabouts' and bid them farewell.
It's not just managers who've driven me mad this week - the bloody players are at it too.
I'm trying to find a club for a player once highly regarded as a youngster at a Premier League outfit. The key word in the previous sentence is 'once'. I managed to wangle him a trial at a decent League One club but he thought it was beneath him. "They sign me or they can do one," was his measured response.
"You're right," I replied. "Let's hold out for Barcelona."
At the end of the season he was released by a League Two club after struggling for playing time.
Another of my boys has a £500,000 move to a Championship side on his CV but now finds himself desperate to get a club. When I told him of interest from an SPL team his immediate response was: "Yeah, that's great but how much of a signing on bonus will they give me?"
Think of a number between none and zero and times it by as many tens of thousands as you like. He's probably still working it out. Or bought himself a Merc.
Call me a dreamer, but shouldn't his attitude be 'great, let's get up there - impress and earn a deal'. At times the industry never fails to disappoint you.
The game is what it is though and I went into it with my eyes open - or at least they were opened when I got stung a couple of times in the early days.
It's not all doom and gloom. I do get a sizeable slice of comfort when I see players down on their luck, working hard during the summer to keep fit in the hope that they get a chance, any chance, and then secure a deal through dedication, desire and a hunger to get back into the game.
Players like that are worth ten of Carlos Tevez, not financially obviously, but it gives me a glow inside to know that there are players with the right attitude and mentality to bounce back and succeed in the game we all love so much.
It's good to remind yourself of that from time to time.
I'll be blogging throughout the summer for skysports.com so if you've any questions or feedback fill in the feedback form or catch me at @SSSecretAgent and I'll look to address them in my next column.