Man-up managers!
The shadowy world of the football agent is one that is cloaked in secrecy amid accusations of greed. Thankfully, we've got one of the good guys on board to lift the lid on what life really is like at the sharp end of a notoriously cut throat business.
By The Secret Agent - @SSSecretAgent
Last Updated: 28/02/12 11:57am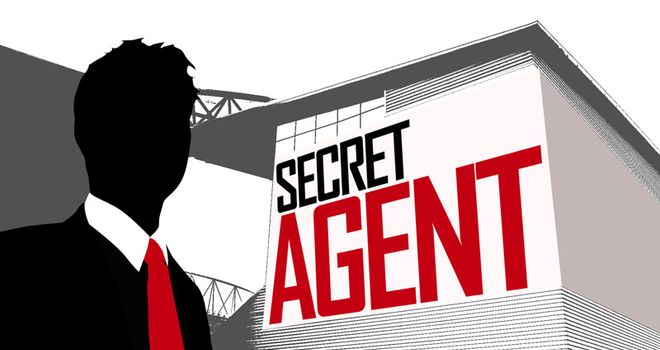 The Tevez saga is a fascinating story to watch unfold and for an agent it provides a tantalizing glimpse into the complexities of dealing with a global superstar. The daily changes to who has the upper hand is like watching a poker game but I'm not sure any of the parties involved have revealed their full hand as yet.
Some are saying the little Argentine is the joker, but as I tap away on the keyboard it seems the boys in light blue might just be giving each other a small pat on their fat overpaid backs.
There have been conflicting reports about why the deal fell through. Corinthians have been accused of not being able to complete because of a lack of money (£40million approximately) but the primary reason that the deal broke down was the clause that Man City insisted on inserting that prohibited the Brazilians from selling the player to a European club within the next two years.
If you look at the fee for Tevez of around £40m that's actually quite low, at least in comparison to say Cristiano Ronaldo to Real Madrid from Manchester United. City want rid and were happy to do it for £40m because Roberto Mancini - not a man to be messed with - is fed up with having to babysit a striker with more baggage than a Samsonite warehouse.
To move Tevez from Corinthians to a club in Europe would cost at least £50-£60million and maybe only two or three clubs could pay anything like that kind of cash. City are thinking, in two years' time, will he still be worth that amount? Answer, probably not.
Don't forget that Tevez's finances are heavily intertwined with those of his 'advisor' Kia Joorabchian, so a big percentage of a transfer fee goes into the hands of the most 'super' of agents. Can't think why Carlos jumps so often!
So the ball is in your court Kia. You missed out on your pay day for his move to Brazil and also the subsequent quick follow up move back to Europe within six months or a year. The choice is this, he stays in Manchester sat on his own with its 'two restaurants', or he goes to Europe for £50-60m. City then buy Sergio Aguero, who is a far more pleasant person with an agent who respects the clubs he deals with. I told you those boys in blue were singing.
For Carlos, and his line of needing to be near his family, well I think we can say that isn't going to happen now. Not that it was the central issue anyway, in my opinion. What Kia says goes and, as in the film Jerry Maguire, you can almost hear Carlos say: "You're my agent. You tell me to eat lima beans, I'll eat lima beans."
OK back to my world, the real world, and who's bugging me this week.
It's the managers and how they are treating players who are frantically looking for a contract. We are talking League One and Two here, so remember we aren't talking wages a la Tevez. We're looking at much more modest pay-packets.
I've talked about the number of players looking for clubs in my previous blogs, and how it's a buyers' market in terms of a surplus of players in each position. This means the clubs can wait to pick and choose the players they want at an affordable price.
Managers are playing players off against each other to lower their wages and while it's good business practice perhaps, it's not fair on the lads who are getting more anxious as the season edges closer. There are stills scores of players waiting on answers; in the process losing out on potential deals elsewhere as other suitors lose patience with a potential signing they feel hasn't bought into their vision for the club.
Three weeks of pre-season has already passed and with two or three friendlies played, the new campaign is just two weeks away. Managers have to be fair to these lads, they used to be players themselves, and so they should know or imagine what it's like to be in their shoes.
They should have seen enough by now to know if a player is good enough. Be fair, give them an answer early on so they have other options and chances elsewhere. And don't bottle it by saying 'we like you, but we don't have the budget!' - that's called being a coward.
I always try to finish off with a story that illuminates that despite all the devious, backstabbing, deceitfulness and greed in the game, there are some people in the world that make you think it's all worth it. Call it my Trevor McDonald moment, as he eases the misery of war, famine and deadly droughts by concluding the News at Ten with a tale of how a blind monkey is being taught how to use a walking stick by a kindly Labrador.
A good agent friend of mine recently told me a great story involving a young kid down on his luck that approached a manager for a chance, but not just any manager.
The 18-year-old apprentice had been surprisingly released by a League Two club this summer. I say surprisingly with genuine reason as a number of coaches who I'd previously spoken to had thought he would do well in the game. To be fair to the club, they helped him get together some footage of his games on to a DVD to send to clubs.
Armed with a CV and the aforementioned DVD this young lad used his initiative and found out where Sir Alex Ferguson lived. Instead of just buying a stamp and posting the package, he had the nerve to knock on the Cheshire mansion of the United gaffer and ask for a trial.
After a quick talk with the lad, Fergie promised that someone at the club would have a look at the DVD and be in touch. The lad probably thought 'I bet he and the club gets thousands of CVs and DVDs so he'll bin it with the rest'.
Well not at all.
United's reserve manager did watch the DVD and saw something in the lad, did a bit of research and invited him down to Carrington to train for a week. That week turned into a second week and on Tuesday night the kid had a run out with the reserves, coming off the bench.
Now I'm not saying he'll get a contract, it's quite possible that he won't be anywhere near good enough for Man United but I'm sure the League Two side who released him might just be regretting their decision.
Nonetheless, it's these kind of stories you hear about players and clubs that make you remember why you love the game and stops me from falling headfirst into depression!
Next week I will be talking about the Channel Four program How to Buy a Football Club and my experiences of being involved in similar deals. Don't worry it's nothing too dodgy!
I'll be blogging throughout the summer for skysports.com so if you've any questions or feedback fill in the feedback form or catch me at @SSSecretAgent and I'll look to address them in my next column.