Road to Wembley
Our Road to Wembley feature looks back at Blyth's FA Cup first round clash with Gateshead.
Last Updated: 14/11/11 1:30pm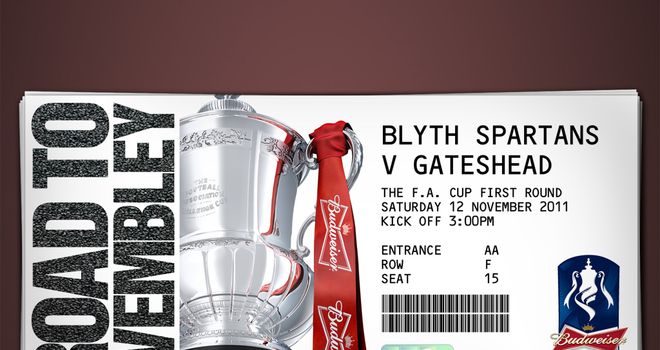 Our Road to Wembley feature looks back at Blyth's FA Cup first round clash with Gateshead.
We spoke with Blyth chairman Tony Platten last week after the Spartans were picked for our opening journey of this year's tournament.
But our time with Blyth was short-lived as they were defeated 2-0 by local rivals Gateshead at Croft Park.
A goal in each half from Jon Shaw and Micky Cummins meant 'The Heed' booked their place in the second round, much to the delight of their boss Iain Bogie.
Gateshead will now face Hinckley or Tamworth in the second round, which means Our Road to Wembley will be with a non-league club in the third round!
Bogie, though, already knows what him and the club's fans want - a draw against Newcastle United.
"Newcastle would be a dream come true, not just for me but a lot of the players and supporters," he said.
"The dream for non-league clubs like us to progress, get into that third round and pull-out a Chelsea, a Manchester United or a Newcastle United.
"It would be a massive income stream for the club if we can get that far."
Bogie also praised the efforts of the Spartans, adding: "Blyth gave it a go at the beginning of the second half, but we dealt with the pressure and they tired towards the end and it was a comfortable win.
"We had plenty of chances and looked the stronger team. If you look at the stats we dominated the whole game.
"If you look at the number of shots on and off target and crosses, it was a deserved win."
Disappointment
Blyth ace Graeme Armstrong admits that they were sad to go out.
"We're obviously very disappointed," he said.
"It's one of those things, you've given everything but it isn't quite good enough. Gateshead deserved to win and I wish them luck in the next round. We conceded a bad goal first of all.
"We didn't get enough of the ball in the first half. In the second half we came back into the game and were better, but unfortunately conceded a goal when we were actually on top.
"So that's the disappointing thing for us, and it's difficult to take because it's such a big occasion and you want to do so well.
"We know how good Gateshead are, and even though there's a lot of rivalry there, you've got to hold your hands up and say that they're a quality side.
"They kept the ball really well and after 14 minutes it's hard when you give a goal away like we did, through a mistake. You just can't afford to do that at this level.
"That's why they're playing at the level they are, and we're where we are. When you make mistakes against a team like them, you get punished.
"Now we just have to put this behind us, forget about it and move on. We've got a really big week in the league and we need to start picking up points and lifting ourselves off the bottom of the table."