Sky Sports Scout - Milan Badelj
Sky Sports Scout is where we scour the globe looking for the best talent, next up is Milan Badelj.
By Sky Sports Scout - Tweet me: @skysportscout
Last Updated: 21/05/14 11:20am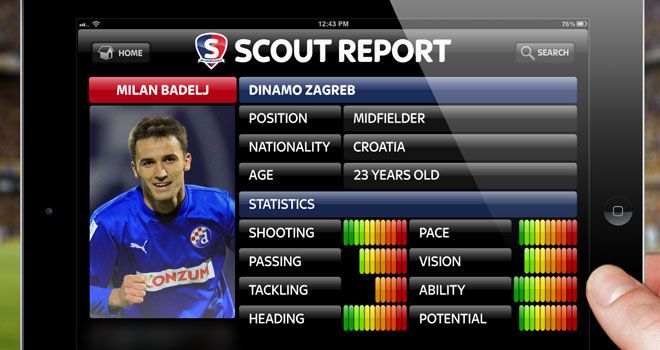 Sky Sports Scout is our exciting feature where we scour the globe looking out for the best talent and bring you a report on what we find.
Our Scout will report back and you can comment on what you think of our appraisal.
Also, in association with Football Manager, we give all readers the chance to win a copy of the latest game by nominating a player.
You can only nominate a player by emailing here, including the word 'Scout' in your subject line and please check to make sure we have not already covered the player.
Should your player get reviewed by our scout, and you were first to send in his name, then you will win a copy of Football Manager 2012.
You can also now interact with the scout via his all new Twitter feed! You can get in touch with him and interact here or just search for @skysportsscout!
Latest under our scout's gaze is Dinamo Zagreb ace Milan Badelj - recommended by Sky Sports reader Graeme Rodgers.
The scout reports...
One of the new stars of Croatian football, we check on midfield ace Milan Badelj.
Badelj has been included in Croatia's squad for Euro 2012, and he is already being labelled the next Luka Modric.
Whilst Badelj plays in a similar manner, he stands at over 6ft and a more fitting likeness would be with Croat great Zvonimir Boban.
Badelj is currently still playing in his homeland for Dinamo Zagreb - who he joined when he was 17.
He began his career with youth side NK Ponikve aged just six before moving on to NK Zagreb and it was from there that Dinamo signed him.
After joining Dinamo, Badelj was immediately sent on a season-long loan to their satellite side, Lokomotiva, and he made a big impression with seven goals in 28 games.
Upon his return to Dinamo he battled his way into the first team and was soon regarded as a regular. Over the past season has captained the side.
In 2011, Dinamo fought hard to keep him in Zagreb, with a host of clubs looking to sign him, and they succeeded but it now looks as if he could be on his way this summer.
The scout says...
A real class act and it is little wonder he has a plethora of clubs chasing him and it looks a near certainty he could be on his way this year.
Badelj has been on the fringes of Slaven Bilic's selection and it remains to be seen whether he will start any games in Poland and Ukraine.
The Scout rating...
Shooting: 7 out of 10
Passing: 8 out of 10
Tackling: 7 out of 10
Heading: 7 out of 10
Pace: 7 out of 10
Vision: 9 out of 10
Current ability: 7 out of 10
Potential ability: 10 out of 10
OVERALL SCOUT RATING:62/80
Current value: £7million
Potential value: £40million
Your opinion...
You have read our opinion of Milan Badelj - now we want your views. Have you seen Badelj in action? Do you agree with our assessment? Do you think he will make it?
Get in touch, either using the form below, email or the scout's Twitter feed - @skysportsscout
And if you have spotted anyone you think we should feature then please get in touch using the same form. We will look to send out the Scout to follow up your leads.