Poland 1-1 England: Five questions answered
In response to England's largely uninspired 1-1 draw with Poland in Warsaw, Daniel Storey answers five pertinent questions. It's not all doom and gloom though as our man finds some reasons to be cheerful...
By Daniel Storey - Follow me on Twitter @danielstorey85.
Last Updated: 18/10/12 4:02pm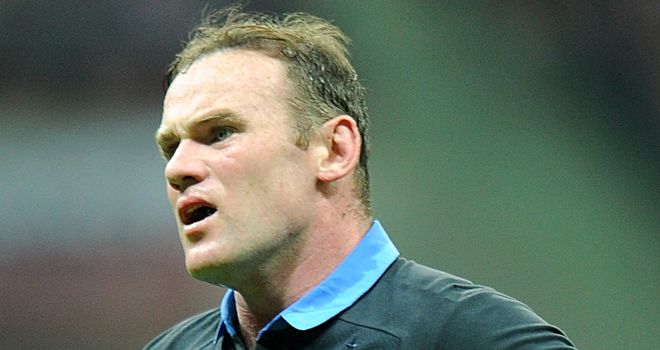 Are England now in trouble in Group H?
Firstly, the result is not a disaster by any means. Poland have lost just one of their last 12 home games (against Czech Republic in Euro 2012), and are a far better team that their world ranking of 54 suggests. England qualified for Euro 2000 and Euro 92 after draws away at the same opponent, and we still sit unbeaten at the top of our qualifying group with eight points from four games.
However, both Montenegro and Poland have a game in hand, and Poland are still to face San Marino twice. With Montenegro facing San Marino and Moldova in their next two games, England will presumably travel to Podgorica in March in second place. With the failure to beat Montenegro in either of the qualifying games for Euro 2012, automatic qualification is not assured.
Perhaps the most depressing thing is that, realistically, England are now just a little bit better than Poland. And if you play away at a team you are just a little bit better than, it is difficult to be upset with a draw.
Secondly, with Wayne Rooney dropping deep Jermain Defoe was effectively asked to operate as a lone striker. With the number of long balls played up from defence, this basically became a target man role, evidently not Defoe's forte. If this was the deliberate tactic, why did Hodgson not choose to use Andy Carroll, so effective at times during the Euros? Carroll was left as an unused substitute.
Where did it go wrong?
England's passing was verging on inept at times, with both Michael Carrick and Tom Cleverley in particular guilty of inaccurately placing even simple passes in midfield, but it was the tempo and style with which England laboured in Warsaw that was perhaps most worrying. Joe Hart looked long when the ball was oft-returned to him (40% of his attempted passes were long balls), but with Jermain Defoe essentially playing as a lone front man, this was always likely to be unrewarding.
Eng v Pol
Assists
Total Chances Created
Total Passes
Passing Accuracy
Long Passes Attempted
% Passes Long
Long Balls
Hart
0
0
20
65.0%
8
40.0%
6
Cole
0
1
36
88.9%
1
2.8%
1
Jagielka
0
0
69
91.3%
6
8.7%
2
Johnson
0
0
61
90.2%
7
11.5%
0
Lescott
0
0
78
87.2%
4
5.1%
3
Carrick
0
1
52
84.6%
6
11.5%
0
Cleverley
0
0
57
78.9%
5
8.8%
3
Gerrard
1
3
74
91.9%
6
8.1%
0
Milner
0
2
41
80.5%
3
7.3%
2
Oxlade-Chamberlain
0
0
15
80.0%
1
6.7%
0
Defoe
0
0
8
100.0%
0
0.0%
0
Rooney
0
0
32
68.8%
2
6.2%
0
Welbeck
0
1
5
100.0%
0
0.0%
0
Michael Carrick is a committed footballer, and has received deserved plaudits at club level for acting as the lynchpin of the Man United midfield, but against Poland he looked lethargic, largely choosing to slow down the tempo of a move by returning the ball to his defenders. Perhaps his team mates were not showing for the ball sufficiently, but a slow tempo in midfield often leads to a side playing with a stagnant cadence, and creativity was at a premium.
Finally, we must mention Joe Hart's mistake. Joleon Lescott should have done more to protect him from Kamil Glik's presence, but Hart came for a ball that he had little opportunity to claim. His status as potentially the greatest shot-stopper in world football cannot be allowed to cover any other cracks in his ability, however minute.
Did Roy Hodgson get his tactics right?
Hodgson has received much undue criticism during his short tenure as England manager, but I think he got his tactics wrong against Poland, and this in particular falls into two areas of his team selection.
England chronically lacked pace and width. The selection of both Cleverley and James Milner alongside Carrick and Steven Gerrard left England with four central midfielders, and all too often Cleverley drifted infield to collect the ball. Not only does this crowd the central area, but it also allowed the dangerous Lukasz Piszczek to maraud unattended down England's left flank.
Theo Walcott would presumably have started the game but for the bruised lung sustained against San Marino, but the effect of Alex Oxlade-Chamberlain, when introduced, demonstrated the positive result that having round pegs in round holes can have.
How to solve a problem like Wayne Rooney?
It seems a churlish point to make after Rooney has scored three goals in two games, but will England suffer from Wayne Rooney's new role at club level? Playing in more of a no. 10 role at Manchester United, Rooney is able to make the play behind the front line, where two of Robin Van Persie, Danny Welbeck and Javier Hernandez will operate higher up the field. This works perfectly, as Rooney's tendency to drop deep is celebrated, given the attacking prowess remaining in the final third.
For England, this is not the case. Our pitchmap shows Rooney's touches of the ball against Poland, with more of his in the middle than the attacking third of the pitch. With Rooney dropping deep and just one up front, it was always likely that Defoe would become isolated, and so it transpired: Defoe touched the ball just 16 times in the entire game.
Without his club strikers Rooney is too often ineffective, and his influence is certainly diluted. He did not create a single chance against Poland and his pass completion was lower than any other outfield player. Food for thought for Hodgson.
The fact is that England do not have the striking talent that United possess. Despite his slight fall from grace in the last two years Rooney is England's best striker, and therefore should be playing as such. However, if he is successful in his altered role at club level, Hodgson will have little choice but to follow suit. It is a dichotomy for the England manager, but in a club vs country battle, there will only be one winner. Would you tell Fergie that you didn't want to play where he believed to be best?
Did the 20 hour delay affect England?
As international footballers, it would be nice to think that England's players were able to adapt to the delay, but in reality it may not be that simple. It was reported on Thursday morning that players took caffeine pills in preparation for the match on Tuesday, and then required sleeping pills to sleep on the Tuesday night. This may be a mountain out of a mole hill, but it does emphasise the fact that coaches and players tune their preparation for a period of up to 72 hours before the game in order to peak at kick-off.
The condition of the pitch was also less than ideal, and it began to cut up significantly after around half an hour of the game. Given the amount of water taken on board that is unsurprising (and it would be brave to blame England's lethargy and sloppiness in possession solely on the conditions), but the fact remains that with the roof closed on Tuesday the surface would have been more conducive for a quick tempo of passing, presumably suiting England.
Clearly the 20-hour delay and conditions were anything but perfect, but the old adage that it is 'same for both teams' rings true. Excuses, excuses.