Mills on England U21s
Danny Mills played for England Under-21s at the European U21 Championship finals in 2000. Sky Sports' Jon Holmes asked him about his experiences of that tournament, and his hopes for Israel 2013.
Last Updated: 02/06/13 1:04pm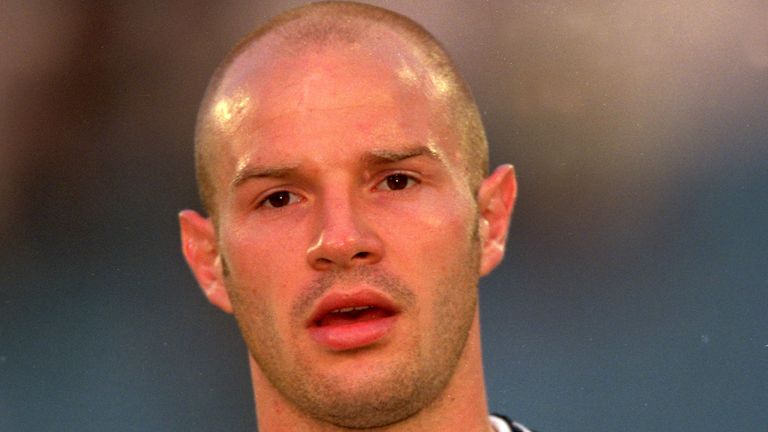 A relatively smooth qualification period, a rash of key pre-tournament withdrawals and then a national debate about our approach to the game after the team's exit - there's been a familiar pattern to England Under-21 life under Stuart Pearce in recent years.
However, it was much the same at U21 level even before Pearce took the reins six years ago. Back in March 2000, Danny Mills played alongside the likes of Steven Gerrard, Gareth Barry and Emile Heskey as the Young Lions beat Yugoslavia 3-0 in a one-off play-off tie in Barcelona to qualify for the first eight-team European U21 Championship finals in Slovakia. Yet when summer arrived, senior call-ups as a result of Euro 2000 in Holland and Belgium affected the U21 squad - and the team found themselves up against it from the start.
"We had an unbelievable squad at the time," recalls Mills. "In qualifying, we'd won every single game without conceding a goal under Peter Taylor. But in terms of the strength of the squad that we took to the finals, I think it was probably only myself, Frank Lampard and Jamie Carragher that went to Slovakia that were regulars of the team that played in qualification."
Taylor had boasted a superb U21 record, but was squeezed out by then technical director Howard Wilkinson as part of the post-Hoddle shake-up at the FA. After initially appointing Peter Reid to the role, Wilkinson chose to take the job himself but having seen off the Yugoslavians, the finals did not go according to plan.
"Along with Italy, we were the favourites to win the tournament and we played them first up in Bratislava," said Mills. "They had Pirlo, Gattuso, Zanetti... it was a tough game, and we lost 2-0 in a vast stadium which was virtually empty. We thrashed Turkey 6-0 in the second match, and then had to beat the hosts by two goals to have any chance of making the final.
"But when Slovakia scored, we realised it wasn't going to happen. I don't think we were mentally right - we'd been out there a while, the conditions weren't fantastic, and we didn't acquit ourselves as well as we could have done. We lost 2-0 and were out.
"I remember Howard Wilkinson being quite good about it. He pulled myself, Frank and Jamie into a room and apologised, saying it should have been a much stronger squad. We had good players, don't get me wrong - David Dunn, Lee Hendrie, Ledley King to name a few - but it wasn't the full-strength squad."
Pressure's off
Two years later, Mills would be on the plane to the 2002 World Cup in Japan and Korea with the senior squad. We're often told of the value of previous tournament experience when youngsters make the step up to the biggest stage, but having been through such a progression himself, the former right-back is far from convinced.
"Playing Under-21 football is important development but as far as tournament football is concerned, it doesn't make an awful lot of difference," added Mills.
"You cannot replicate the higher standard and the pressure when you go up to the seniors. Away from home with the U21s, you're playing in front of a couple of thousand fans at most. With the senior squad, there's up to 80,000 watching, and the media scrutiny is on you completely.
"It's a taste of international action, and you learn to play with different players, but it's wrong to say a U21 tournament makes you ready for a World Cup or European Championship. The Champions League is more beneficial - that's quality knockout football with a high profile, and the pressure you're under is far greater. You always know when you're with the U21s that the pressure's off.
"When you look back, England have always had good U21 sides. You look at some of the players in those squads, and at times you think 'wow, that was some team'... but they never went on to win anything. That's because when you step up to senior level, the expectations don't go through the roof - they go through the moon."
One vision
Mills believes that relative lack of pressure at U21 level should be embraced and with Sir Trevor Brooking saying this week that it could take 10 years for English football to catch up with its German equivalent, the need for one vision across all age groups is paramount.
"We have to look at the Under-21s and think about how the team plays," said Mills. "Results are not the be-all and end-all.
"We have to look at the progression of England as a whole - right through from the youth levels, to the U21s and then the senior squad. We need a blueprint where every team should play with the same passing ethos and mentality, like a club such as Swansea does.
"Then, when you get into the higher-pressure situations in U21 games and higher still in senior internationals, you know what's coming. You know the style of play that's expected. That's what Germany did when they reinvented themselves. We need a plan that says 'this is England'."
After England U21s' lacklustre showing at Denmark 2011, Mills branded the team "robots... who couldn't think for themselves". In the first game, Spain completely bossed the show but England managed to snatch a draw through Danny Welbeck. A lacklustre 0-0 draw with Ukraine followed and when Pearce's team did finally take a lead in the decider against the Czech Republic, they failed to see the game out, losing 2-1. Damning stats showed frailty when in possession, a propensity to play long balls and a lack of concentration when it counted. Fear seemed to set in, with no player prepared to take risks.
Stepping stone
Should we expect better this time around? Some have suggested that the younger players in Roy Hodgson's squad in Rio should be out in Israel instead, or at least flying there immediately after the Maracana match (there will be delayed player arrivals for both Norway and Russia). However, Mills suspects that view is avoiding the issue.
"If you're good enough, you should be with the seniors," he added. "The whole point of the U21s is that it's a stepping stone to the senior squad. Besides, it's very difficult as a player to play all summer long. That's not so much a physical element - just that by November time in the following season, it gets in your head.
"At Manchester United, Sir Alex Ferguson used to give individual players a week off around that time. When I was at Leeds, Brian Kidd came in and he too was fully aware of the complications a summer tournament had later on in the year. Sometimes we have to protect players from mental burnout. It becomes a very long hard season when you've had little time off."
England Under-21s are being tipped to reach the semi-finals at least at Israel 2013, which would extend the players' season well into mid-June. However far they go, the Young Lions' style of play under Pearce should be studied even more closely than the personnel on show. Trying to identify the stars of tomorrow is always enjoyable - but in the long term, following a blueprint for the future is more important.
Danny Mills was talking to Jon Holmes.
Watch the England Under-21 team in action this summer only on Sky Sports, with live and exclusive coverage of the UEFA European U21 Championship - and for more updates in the build-up and during the tournament in Israel, follow Jon on Twitter at @jonboy79.