Davidson salutes Sandaza
Murray Davidson has praised Francisco Sandaza for staying focused and keeping his level of performance high amid interest from Rangers.
Last Updated: 12/01/12 9:22pm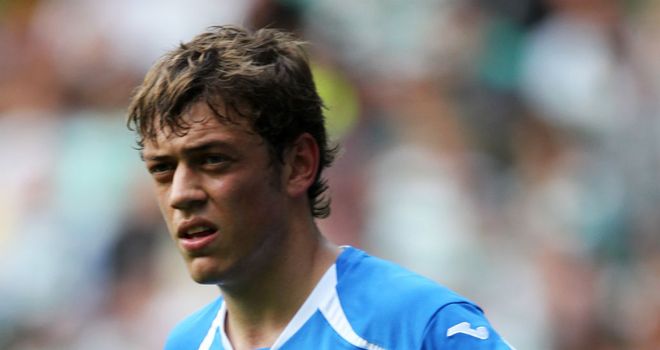 Murray Davidson has praised St Johnstone team-mate Francisco Sandaza for staying focused and keeping his level of performance high amid interest from Rangers, but admitted the striker is good enough for a move to Ibrox.
Davidson is confident Sandaza will demonstrate his qualities to full effect when Saints host the Scottish champions in the SPL on Saturday.
Rangers boss Ally McCoist confirmed at the weekend that Sandaza is one of a number of forwards that he is 'really, really interested in'.
Asked if he believes the player could make the step up, one-time Rangers target Davidson said: "I think his goalscoring record speaks for itself.
"He has come in and been excellent for us.
"Everybody at St Johnstone knows the ability he has got and his goalscoring record will probably be up there with the best.
"Fran keeps himself to himself but everyone at St Johnstone is aware of the interest that's there.
"I'm not too sure what's happening. But in training and in games - even last week against Brechin - Fran has been 100 per cent focused on St Johnstone."
Midfielder Davidson admits retaining focus amid interest from the Old Firm can be tough though, adding: "It's very difficult.
"It's more off the park when you are walking about and you've got fans asking things and it's constant.
"For me, it sort of dragged on a bit. But when I was training and playing, it was the last thing on my mind.
"The best place for me to be was playing football and putting it to the back of my mind.
"I can't speak for Fran but I would imagine it would be the same.
"As soon as he steps on to the park on Saturday, he will be 100% focused on St Johnstone."
Under contract
McCoist tried to sign Davidson in the summer but Rangers failed to match Saints' valuation.
The player says he is unaware of any fresh interest from the Ibrox side since the transfer window reopened.
Davidson said: "It's not for me to worry about, I've got a year-and-a-half left on my contract.
"I think there was a bid in the summer and it was turned down by the chairman.
"It's up to me to try to keep my performances up at a level that I'm happy with.
"Until I'm told that a bid has been accepted, there's not much I can do.
"Every player wants to play at the highest level possible, wherever that may be.
"But I've got 18 months left on my contract and I'm just 100% focused on doing well for St Johnstone."
Prove
While backing Sandaza, Davidson has faith in his own ability if Rangers come calling again one day.
He said: "You have to have confidence. If I didn't think I was good enough, there would be no point being here.
"I don't go about shouting this or that but, within myself, I'm quietly confident.
"If a team wants you, you've obviously done something right.
"If anything came up - at Rangers or any other club - then it's up to me to prove that I am good enough.
"But, while I'm at St Johnstone, it's up to me to prove I'm good enough to have people talking about me."