SPFL: New leagues to boost football in Scotland - Neil Doncaster
The newly-merged leagues are great news for Scottish football, insists the chief executive of the SPFL.
Last Updated: 29/07/13 4:19pm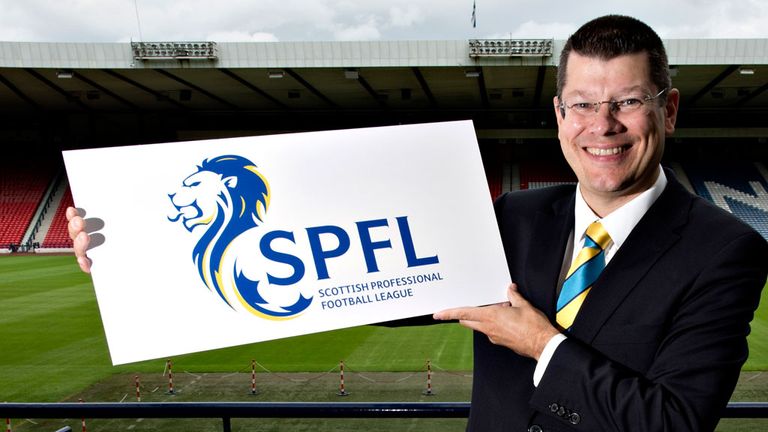 After months of mammoth discussions and negotiations, the Scottish Premier League and the Scottish Football League finally agreed to a restructure and rebranding at the end of June with the new season kicking off this weekend.
The top-flight will still have 12 teams and 10 in the three lower divisions, with play-offs between the top and second tier league.
Despite some concerns there will be too much focus on the top division leaving smaller teams lagging behind, Neil Doncaster, chief executive of the SPFL, told Sky Sports News: "It's very important you have a strong tier beneath the premiership.
"There is a lot of money being redistributed towards the championship this season. In England there was a real elevation of a second tier with the rebranding and that's exactly what we're hoping for.
"The premiership will be strong, but will all the money coming in it's important we continue to focus on developing young players. We now have a strong second tier with the rebranded championship, play-offs to increase drama at both ends of the table and we hope there will be improvements on the field.
"The success on the pitch is a longer term endeavour but our hope is that with clubs continuing to invest in young good Scottish players and with the coverage we are enjoying, Scottish football will carry on providing drama and showing the passion we are renowned for all round the world."
Finding a sponsor is still a major headache for the SPFL, but Doncaster remained upbeat that a solution would soon be found.
"We've only been in existence as a merged organisation for three weeks so we have a new look and a new feel," he added.
"And with all the coverage we have on Sky Sports, we are confident of attracting a new sponsor. The market hates uncertainty but we have been talking to a number of different companies and now we've got that certainty we will be talking to them again."