Chris Iwelumo eyes Scottish Cup glory with St Johnstone ahead of Raith Rovers tie
Chris Iwelumo is determined to help St Johnstone make history and reach the Scottish Cup final for the first time.
Last Updated: 08/03/14 11:38am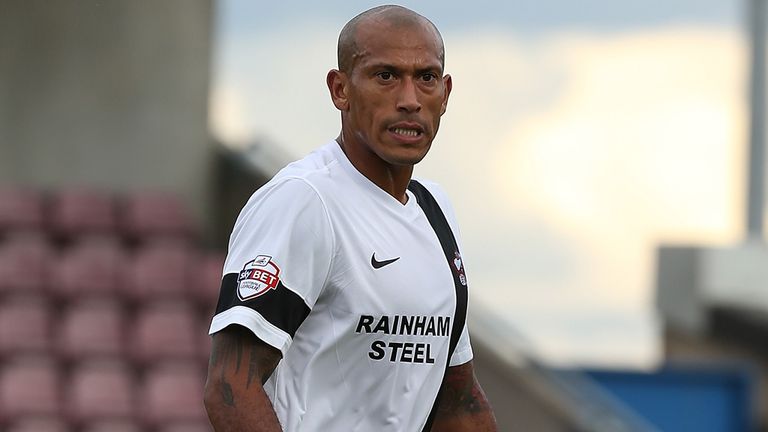 The veteran striker, who began his career with St Mirren 18 years ago, moved to Perth in the January transfer window.
St Johnstone tackle Raith Rovers in their Sky Live Scottish Cup quarter-final on Saturday and Iwelumo has set his sights on a trophy before the end of the season.
He told Sky Sports News: "I think the fascination and love for the cup is that you know there's always room for that banana slip, but we will prepare properly for the match.
"We respect them, we are on form at the minute, we're going well and we'll go there with complete respect for the team and we will do the basics well and we'll get the right result.
"We take a lot of experience from the League Cup semi-final loss (defeat by Aberdeen). We have never reached the Scottish Cup final before but we are all in the right mindset, we are all on the same page. So hopefully we can achieve something very special together as a group."
Stevie May has not scored in his last four games but Iwelumo is confident the goals will soon start flowing again for his strike partner.
"You say he's on a bit of a drought but he brings so much else to the game," he said. "I think he has scored 21 or 22 goals this year. He has led the line, he's started every match.
"He's a fantastic player with a great attitude and he works his socks off for the team. He'll bounce back, he's mentally strong and that's an important thing as a footballer, you've got to be mentally prepared to do what you have to do. If the goals aren't coming, he does everything else, he ticks every other box."
England manager Roy Hodgson has raised a few eyebrows by bringing in a sports psychologist to help with his team's World Cup preparations.
Iwelumo is not surprised by the move and admits that he had benefited from cognitive support in the past.
"Phil Parkinson was very strong on that and he brought in a psychologist when I was going through a similar sort of drought," he said. "I had one week with him and scored in the next game.
"We are all athletes and the body is a machine at the end of the day and a sports psychologist can help you react to certain scenarios in a beneficial way. So any one or two per cent extra you can get out of yourself from doing that is definitely a positive."
You can see Raith Rovers v St Johnstone in the sixth round of the Scottish Cup live on Sky Sports 1 from midday on Saturday.