Tommy Wright questions disallowed goal after St Johnstone's 1-0 defeat by Ross County
St Johnstone manager Tommy Wright rued the decision that denied his side a late equaliser against Ross County.
Last Updated: 15/03/14 9:42pm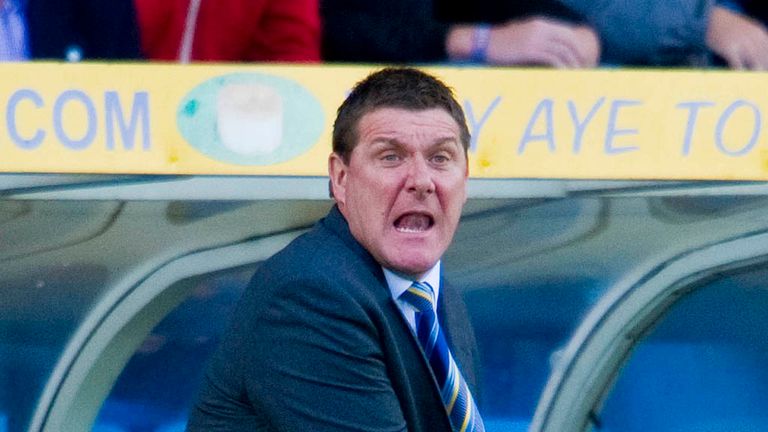 In the third minute of added time, with County leading through Melvin de Leeuw's goal, Steven Anderson headed in from close range.
The Saints defender's celebrations were cut short by the referee's assistant, who deemed that St Johnstone substitute Chris Iwelumo had handled in the build-up.
"As far as I am concerned, it has to be deliberate handball," said Wright.
"It has gone slightly in front of Chris, he has adjusted his position to head it, his hand was there for balance and it hit his hand.
"It is a good spot but, earlier on, when the Ross County player was challenged and he fell on the ball and controlled with his hand, I had asked the reason it wasn't given and was told it wasn't deliberate. So I can't see how he can say Chris's was deliberate.
"It was poor. It was lacklustre. I didn't see it coming given the form we were in.
"To win any game of football, you need eight or nine playing at a decent level. I think we only had two or three, maximum.
"We were outworked in the first half. There were too many mistakes and we didn't compete with them.
"Truth be told, although we did have some good chances in the second half, Ross County deserved to win."
County were winning away from home for only the second time this season, and manager Derek Adams said: "I thought, overall, it was a very good performance.
"I haven't been able to see it (the disallowed goal) but I was told it was a handball and that was the reason it wasn't given.
"It was thoroughly deserved victory and it could have been more."