Scottish cup semi-final: Tommy Wright back in the dugout for St Johnstone
St Johnstone boss Tommy Wright is looking forward to taking his place in the dugout against Aberdeen this weekend.
Last Updated: 13/04/14 12:08pm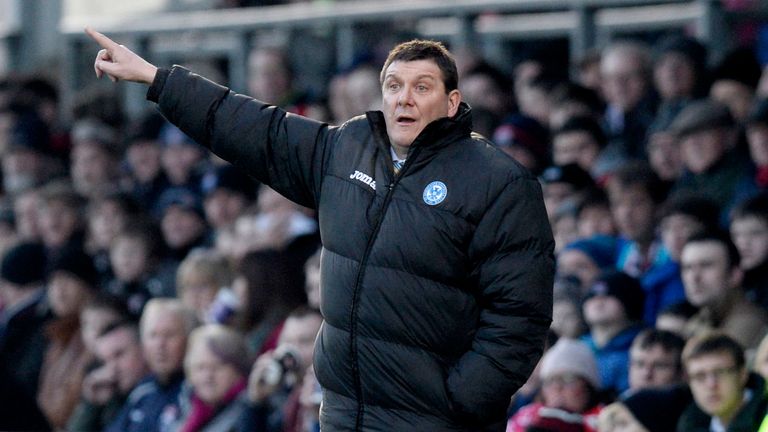 Wright has been forced to watch games from the directors' box recently after undergoing surgery but will be back on the touchline for the clash at Ibrox.
Aberdeen beat St Johnstone in the League Cup semi-final earlier this year, before going on to lift the trophy, and Wright wants his side to be fully focused as they look for revenge.
He told Sky Sports News: "We have had a tremendous season, both in the league and in the cups. We got to the semi-final of the League Cup but the Scottish Cup is the premier competition, it's the big showpiece so it's a massive game for the club.
"We have only picked up one point and haven't scored against them so we will certainly look at doing something different against them.
"In the League Cup semi-final we contributed to our own downfall, we had two or three mistakes which led to their first couple of goals.
"Against Aberdeen you have to play well and cut out the mistakes because they do punish you, they have got a lot of quality in the team. We have to go into the game fully focused and believing we can get through to the final.
"A few weeks ago, I had to have my gall bladder out, they couldn't do a keyhole so had to do open surgery. I got my stitches out last week and have been taking it easy.
"I have been attending the last couple of games and being involved but from the directors box but on Sunday I'd like to take my place in the dugout. Being higher up you get a better and clearer view of the game so I have enjoyed it and the chairman's company.
"In the last couple of seasons we have been sixth and third but this season it has been well documented that we have had to tighten our budget or cut the budget so we have had a great season so far. But it would be no good getting to the final and not going on to win it, so maybe it is out year."
Watch St Johnstone take on Aberdeen for a place in the Scottish Cup Final live on Sky Sports 2 HD from 12.30pm on Sunday.