Given urges Guzan to stay
Goalkeeper Shay Given has urged his Aston Villa understudy, Brad Guzan, to remain at the club.
By Razwan Mirza
Last Updated: 18/02/12 1:37pm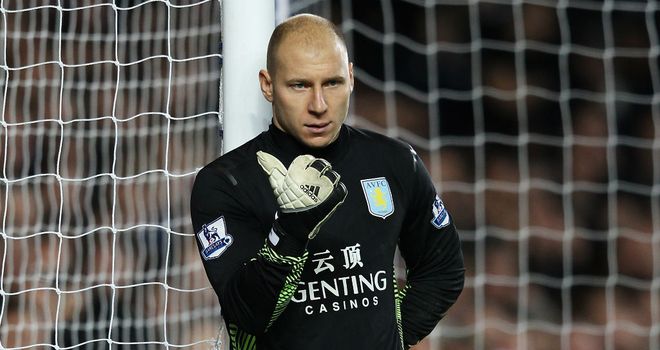 Goalkeeper Shay Given has urged his Aston Villa understudy, Brad Guzan, to remain at the club, despite his deal being set to expire at the end of the season.
The offer of an extension at Villa Park is reportedly on the table for the 27-year-old, but Guzan is mulling over whether to remain as the No.2 or move on.
Guzan enjoyed a lengthy spell between the sticks after Given was ruled for six weeks around the turn of the year, but the Republic of Ireland international regained the first-choice jersey as soon as he recovered from his hamstring injury.
And now the player who arrived in the West Midlands from Chivas USA in July 2008 is contemplating his future at the club.
However, Given would love Guzan to stay and has compared the American's situation to the one he had at Manchester City last summer.
Same
"It's a difficult one because we're in the same position," Given told the Birmingham Mail.
"I'm sure he's got his own advisors, but we're all the same, we all want to play.
"I think any age is crucial, you don't get to an age where you say, 'I'm too old now' I want to be sitting on the bench.
"And even when you're just 19 or 20 you don't think, 'I'm happy to stay on the bench'.
"If you want to be a top player, you want to play every week and that's the same whatever age you are.
"I'd love him to stay, but I'm sure Brad's got ambitions as well to be playing regularly, so it's a difficult one as we all know.
"I was in the same position last year at Man City, we all want to play football, so it's a tricky one."
Character
Given, 35, who is just seven months into a five-year contract, believes if Guzan was to move on then Villa could look to youth in the shape of Swiss sensation Benjamin Siegrist.
"He's still in good form, to be fair," added Given.
"Brad's a great guy away from football and around the changing room he's a really good character as well.
"When I got back in the team he wished me really well and he took it on the chin.
"Brad should be very proud of how he played for the club and I think he showed a lot of fans, not just Aston Villa, but a lot of fans around the country how good a goalkeeper he is.
"I think he can take great credit from his performances when he did play."