Pirelli pride
Burton boss Gary Rowett discusses play-off heartache, summer plans and stepping up into a top job.
Last Updated: 27/05/13 11:54am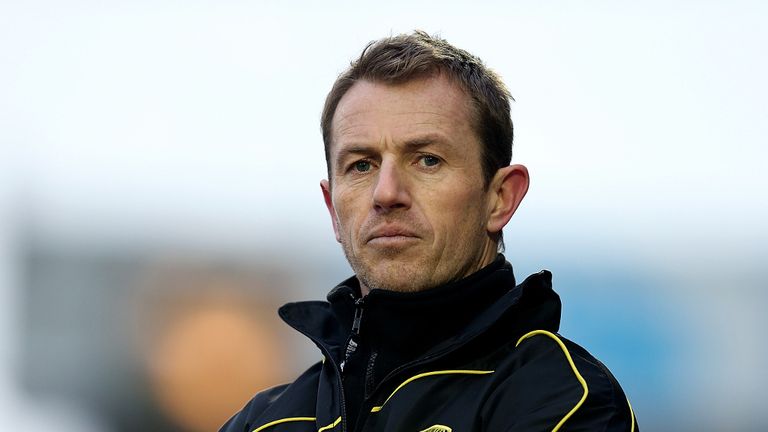 The 2012/13 campaign has almost reached a conclusion, with promotion pushes coming to a close and relegation battles either won or lost.
Here at Sky Sports, we continue to take you to the very heart of the Football League, with our Spotlight features intended to give you a greater insight into the clubs and players that keep us on the edge of our seats.
We are hoping to bring you the views and thoughts of a representative from each of the 72 teams over the course of the season, with those involved asked to give their take on the division they compete in, the club that pays their wages and those we should all be keeping an eye on.
Next in our hot seat is Burton Albion's Gary Rowett, with the Brewers boss taking time out to discuss play-off heartache, summer plans and stepping up into a top job with Chris Burton.
I appreciate the play-off defeat is still raw, but are you in a position now to be able to look back on the season and be really proud of what you achieved?
Yeah, I think so. We set off at the start of the season looking to improve on the previous two seasons and trying to achieve something that we felt would be really good for the group that we have recruited. We have seen a lot of changes at the start of the season - I think we brought in something like 15 new players over the course of the year and some new staff - so we changed things heavily. To reflect after the play-off games, it was nice to know that we achieved something. It's disappointing obviously in the end, and I would love to say we are in the final or we have managed to get up to League One, but there are four teams in it and not everyone can do that. I know there are a lot more teams who probably spent a lot more money than us, with a lot bigger expectations, that would have loved to have been in the play-offs.
No-one really expected Burton to be up there challenging - did that play into your hands a bit? Did it allow you to play with a bit more freedom?
A little bit. I said to the players quite consistently throughout the year that there is no expectation on anyone, it is about what we think we can achieve and knowing that there is no pressure on that. That possibly helped the players, I don't know. Maybe you could argue that it worked against them in the end - after the first leg of the play-offs against Bradford, people then felt that we were favourites and it was an unusual position to be in. But I think we were favourites for relegation at the start of the season, we were hotly tipped for relegation. I think first and foremost it was nice to have rammed that back down people's throats and show what a small club can achieve when done properly.
There is an expectation now, but it's important to remember how far the club have come in the last few years isn't it?
Massively. I played for the club in the Conference and you saw the small steps Nigel (Clough) took and eventually getting into the Football League. To stay in the Football League, first and foremost, is always our priority because it's a huge bonus for the club. Slowly but surely, over the three years, we have seen fleeting glimpses of what we might be able to do. I think at one point we were fifth a couple of seasons ago, but we just haven't managed to do it consistently. To have the season we've had - after seven games we were in the top 10, and stayed in the top 10. I think for the last third of the season we were in the top five. We have been really consistent all season and I think we have got a really, really strong group of players.
Have you already made a start with your summer plans?
Yeah. I'm sat down now going through one or two things. I had three days away with my wife and just really chilled in terms of turning my phone off, and that will probably be the only three days I get off all summer! It's about now. The key for us is to try and improve, that's the way I see it. We have got to try and go one better. We have to try and go up automatically, but to do that we have to recruit better players than we have got, which is going to be very difficult. That's all in place now and we are going to push as hard as we can to get those players in place over the summer.
You appear to have the core of a really good side, is it just about making minor tweaks?
I think so. We have brought the right type of players in and I keep talking about character and players with desire to achieve something, and that's where I think we did really well last summer. The thing now is to try and get better players. I believe we can. I believe our position of fourth and getting into the play-offs will entice one or two other players that possibly wouldn't have seen Burton as an attractive club to join. That is a reality and we will try and get better players. I think we can definitely achieve something better, along with the group we have got, next season.
Is character a really important asset in League Two, along with maybe a goalscorer?
Massively. I look at this league and I think you have to fit the criteria of what it takes to be successful in League Two. There isn't always one thing, but certainly trying and character and desire and having a team that will give you everything that they've got has taken us an awful long way this season. We have had some good individuals in there, but at the same time, we have probably achieved a lot more than some other clubs who have got better individuals who have played at higher levels. The strength for us is in our group and, for me, that's the biggest thing. You can get players who have played at higher levels and they are on their way down, but I would rather get players who want to go up and head in the right direction with their careers. That is something I have learnt from other managers over my career.
I take it away form will be something you will be looking to work on as well - given that you won 17 games at home and only five on the road?
It was a strange season. There were certain reasons, various reasons, why that happened and we have to try and identify them over the summer and make sure they don't happen again. I'm not looking forward to trying to better our home form - I think it was the best in the country, so that's going to be very difficult. But I think we can balance it out by improving away from home. Again, there are going to be certain characteristics we are going to need in the team and we will need to recruit over the summer in order to fix the things that maybe led to us only winning five games away from home last season.
If your form away from home had been a bit better, you would have been top-three guaranteed wouldn't you?
Yeah, but if you look at from Christmas - I think we would have been automatic if it had only been half a season long. You can talk about ifs and buts, but the second half of the season - the last 23 games - we were as good as any team. I think we were top of the form charts over a 20-game period at one stage, so we are capable of doing it. We are capable of making that leap. Maybe the teams up there just had a little bit of an extra edge, or extra players. Whatever it was, we just have to try and find that and take that next step next season. That's what we will try and do, we will genuinely start the season feeling that we have got a chance of being up there again.
Finally, on a personal level, have you been able to enjoy stepping up into a managerial role?
Yes, I have. We haven't had any pressure this season really, apart from what you put on yourself in terms of trying to achieve something. We were disappointed in the end, but when you look back and review it, I think we have had a very, very good season, which is nice. All the plans and preparations that you make have been done without doing a manager's job before, so it's nice to see some of those ideas come to fruition. I have certainly enjoyed it. It's been something I've wanted to do for a while and it's a good fit for me at the moment.