League Two: Gary Rowett knows Burton line-up for play-off final
Burton boss Gary Rowett has already picked his starting line-up for the Sky Bet League Two play-off final.
Last Updated: 22/05/14 4:39pm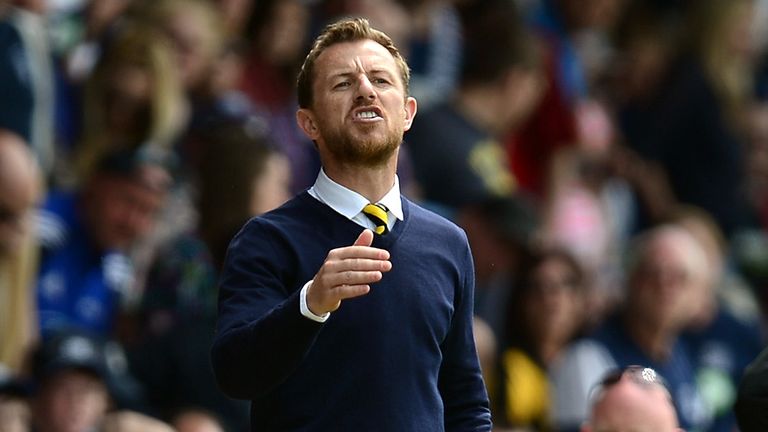 And he is not looking forward to the difficult job of having to break the bad news to those players who will not be involved at Wembley in what is the biggest game in the club's history.
Albion face Fleetwood on Monday with promotion and a place in League One next season the prize on offer for the winners.
Depending on injuries, Rowett knows his team and he also knows he is going to leave some of his players broken-hearted.
"I've got a good idea, I know what I am going to go with," said Rowett.
"That's obviously dependent on one or two recovering from injuries and that fine line between picking your best 11 and having some who can come on and make an impact from the bench.
"But I can't be too concerned with that, I've got to pick a team to win the game and some of the lads are obviously going to be disappointed - they can't all play unfortunately.
"But we've got to stick together. Some are going to be lucky and some are going to miss out.
"It's good to do that early so they can get it out of their system. It's my job and I've got to do it - it's part of it. It's part of being a manager.
"These can be tough decisions and you just have to take it on the chin.
"I didn't pick Alex MacDonald in the semi-final against Southend. Alex was distraught when I told him, but with half an hour to go he came on and helped change the game.
"At the end of it he was probably the most elated player."
One player who looks likely to miss out through injury is Zeli Ismail.
The winger faces a race against time to be fit for Monday's match after suffering a hamstring injury during the first leg of the semi-final against Southend - ruling him out of the return at Roots Hall last weekend.
"It's looking like he'll be extremely doubtful. He wasn't fit for the last game," said Rowett.
"It's a fine margin between getting someone fully fit and getting someone where they might then only last half an hour - and he only lasted half the game in the first leg."
Burton have already gone a step further than last season, when they were knocked out by Bradford despite winning the first leg in west Yorkshire.
Rowett added: "That was a big motivation for us, (what happened) last season. The key for the players is, yes, it's going to be a great day, but we need to make sure we're focused because there's a massive prize at the end of it."