U21 Euro classics
Sky Sports has televised the last three European Under-21 Championships - and we're now ready for Israel 2013. Jon Holmes picks out the best action from recent tournaments.
Last Updated: 02/06/13 11:17pm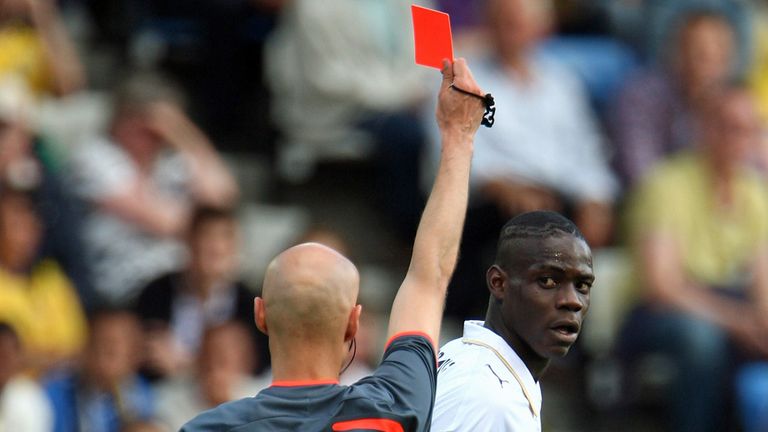 Ahead of Wednesday's big kick-off in the UEFA European Under-21 Championship in Israel, Sky Sports looks back through the archives to pick out seven of the best moments and matches from the three previous editions in Holland, Sweden and Denmark.
England's adventures are accounted for, plus there's footage of Italy's Mario Balotelli, Germany's Mesut Ozil, Switzerland's Xherdan Shaqiri and Spain's Thiago Alcantara.
Derbyshire goal angers Serbia
Serbia had won both their first two games in Group A at the 2007 finals in Holland, while England had started with back-to-back draws. The Young Lions therefore knew that only a victory in Nijmegen would assure them of a semi-final spot. Leroy Lita scored early on for Stuart Pearce's side, and Matt Derbyshire showed superb control and accuracy to double the lead. However, his strike was highly controversial as Slobodan Rajkovic, who played him onside, was down injured at the time. Serbia protested bitterly but the goal was allowed to stand. Five years later, England would face an atmosphere that went beyond hostile when they faced Serbia again in the qualifying play-off second-leg tie in Krusevac.
England lose epic shootout
Leroy Lita was again on target in the semi-final against the hosts in Heerenveen, but a late Maceo Rigters equaliser forced extra-time and then penalties. What followed is unlikely to ever be forgotten by all those inside the stadium, including Sky Sports' commentary team of Martin Tyler and Brian Marwood, and those watching on TV. A save from Justin Hoyte's spot-kick led to sudden death; Nigel Reo-Coker was reprieved by Arnold Kruiswijk's failure; and then the Dutch coach Foppe de Haan insisted that the hobbling Steven Taylor had to step up. However, the Newcastle defender promptly dispatched one of the bravest penalties you will ever see. Back to the start - eight English and Dutch players returned to score, Matt Derbyshire was denied but left off when Scott Carson did the same to Daniel De Ridder, and then Anton Ferdinand... hit the bar. Gianni Zuiverloon made no mistake, and the shootout incredibly ended 13-12 to the Jong Oranje.
Magic Mario sees red
Mario Balotelli was already earning his maverick reputation when he rocked up to Sweden 2009 at the age of just 18. After an opening stalemate with Serbia, the Azzurini needed to beat the hosts in Helsingborg and Balotelli set them on their way with a fantastic first-half finish from outside the area. However, within 15 minutes, he was heading down the tunnel after reacting aggressively to a heavy tackle from Pontus Wernbloom. Balotelli considered a sit-in protest, knowing French referee Tony Chapron was about to show him the red card - but eventually trudged off. Pierluigi Casiraghi's team ended up winning 2-1 and both sides were knocked out in the semi-finals.
Germany simply too good
England beat Finland and Spain before taking on Germany in Halmstad in their final Group A encounter, Jack Rodwell scoring in a 1-1 draw. The two teams were to meet again in the final a week later - but England were under strength due to suspensions, with Joe Hart particularly missed in Malmo. Mesut Ozil ran the show, claiming two assists and the second goal - his long-range free-kick finding the net after an error from Hart's stand-in Scott Loach. A year later, Ozil would again be giving England the runaround in the World Cup 2010 last-16 tie in Bloemfontein.
Shaq attack for Swiss
Juan Mata claimed the coveted Golden Player award at Denmark 2011, but Switzerland's Xherdan Shaqiri certainly ran him close. Short in stature but stocky in build and blessed with outstanding balance, the Kosovan-born attacking midfielder was at the heart of everything good about the Swiss. He demonstrated his individual ability with the only goal against the hosts in the Group A opener in Aalborg, celebrating in confident fashion and kick-starting his side's run to the final. A year later, Shaqiri would move from Basel to Bayern Munich and end the campaign with a Champions League winners' medal.
England Czech out
Like four years previously, England began their 2011 finals campaign with two draws - a fortunate 1-1 with Spain in which they were thoroughly outplayed, and a tortuous stalemate with Ukraine. But when the 'Double Danny' attack linked up in impressive effect in Viborg (Welbeck expertly heading home a magnificent Sturridge cross), the semis were in sight again. But Czech pressure told late on as Jan Chramosta equalised and with England pouring forward to find a winner at the death, Tomas Pekhart dished out the punishment and sent the Young Lions home.
Thiago's Spain stunner
After that opening draw with England, Spain had cruised through Group A but almost came unstuck in the semi-final against Belarus. They were minutes away from a shock one-goal defeat, only for top scorer Adrian to save them and force extra-time - and La Rojita prevailed 3-1. They kept their focus for the final in Aarhus, and profited from Thiago's quick thinking in the 81st minute. Spotting Swiss keeper Yann Sommer off his line, the midfielder audaciously chipped him from fully 40 yards, sealing a 2-0 win and Spain's first U21 Euro title for 15 years.
Watch the England Under-21 team in action this summer only on Sky Sports, with live and exclusive coverage of the UEFA European U21 Championship - and for more updates in the build-up and during the tournament in Israel, follow Jon on Twitter at @jonboy79.