Summer Scout - Marco van Ginkel
The Summer Scout eyes Holland starlet Marco van Ginkel, spotted at the European Under-21s.
Last Updated: 21/05/14 12:00pm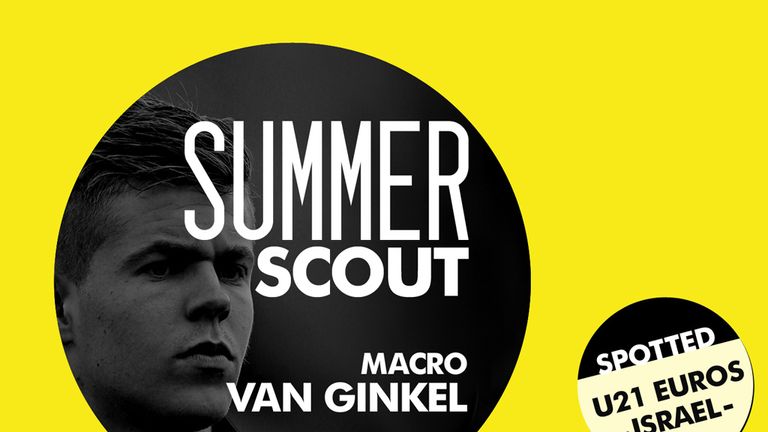 Our Scout will report back and you can comment on what you think of our appraisal.
You can only nominate a player by emailing here, including the word 'Scout' in your subject line and please check to make sure we have not already covered the player.
You can also now interact with the scout via his all-new Twitter feed! You can get in touch with him and interact here or just search for @skysportsscout
The latest player under our scout's gaze is Holland's Marco van Ginkel.
The scout reports...
Safe to say if your the stand-out player for Holland at a tournament, then there is something about you and that is very much true for Marco van Ginkel.
Van Ginkel arrived at the tournament in Israel with many people anticipating he would see most of his action from the bench.
Adam Maher and Kevin Strootman were always definite starters, but many presumed coach Cor Pot would opt for the experienced Leroy Fer or the highly-rated Jordy Clasie in the most defensive role in midfield - but no it was van Ginkel.
Normally seen as an attacking midfielder, Pot asked van Ginkel to play a more regimented role, and he did with great aplomb against both Germany and Russia - also creating a goal in each match.
Van Ginkel's reputation has now soared following his displays at Israel - he is now seen as a complete midfielder, able to play in any role handed to him.
Early this year Ajax had van Ginkel in their sights, but it soon became clearer that some of Europe's giants - mainly from England, were taking close attention.
Vitesse's parent club Chelsea have been alerted to van Ginkel and are now in pole position to take a player, who admitted that he saw Frank Lampard as a role model - whilst Manchester United have also been suitably impressed by his performances in the Euros.
Clearly no club would pay a reported near £10million fee for a player on the back of his performances in an Under-21 competition, and that is the case here - but van Ginkel has been producing some outstanding displays for Vitesse over the last couple of years.
He began his career very young with local side Valleivogels before he joined Vitesse's youth academy at the tender age of 10. His progress was good and he was called into the international set-up at 15.
At 17 he was making his Vitesse debut in April 2010 and within six-months he had cemented a first-team place. Now just over three-years later he has over 100 appearances under his belt and looks ready to move on.
A composed midfielder who can tackle, his reading of the game is outstanding - whilst his passing is top-class. Both long cross-field balls to clinical through balls, van Ginkel has all the weapons in his armoury - which include an eye for goal.
Likened to his hero Lampard, that comparison is easy to make - although as he has shown in recent weeks, van Ginkel is more capable of subduing his attacking instincts to take on a more defensive role.
The scout says...
Looks set to move on this summer and could have his choice of clubs, with Chelsea being the most likely.
Many will say he could do with an extra year in Holland, but he is capable and could make an instant impact given the chance.
The Scout rating...
Shooting: 7 out of 10
Passing: 8 out of 10
Tackling: 6 out of 10
Heading: 6 out of 10
Pace: 7 out of 10
Vision: 8 out of 10
Current ability: 7 out of 10
Potential ability: 10 out of 10
OVERALL SCOUT RATING:59/80
Current value: £10million
Potential value: £55million
Your opinion...
You have read our opinion of van Ginkel - now we want your views. Have you seen van Ginkel in action? Do you agree with our assessment? Do you think he will make it?
Get in touch, either using the form below, email or the scout's Twitter feed - @skysportsscout